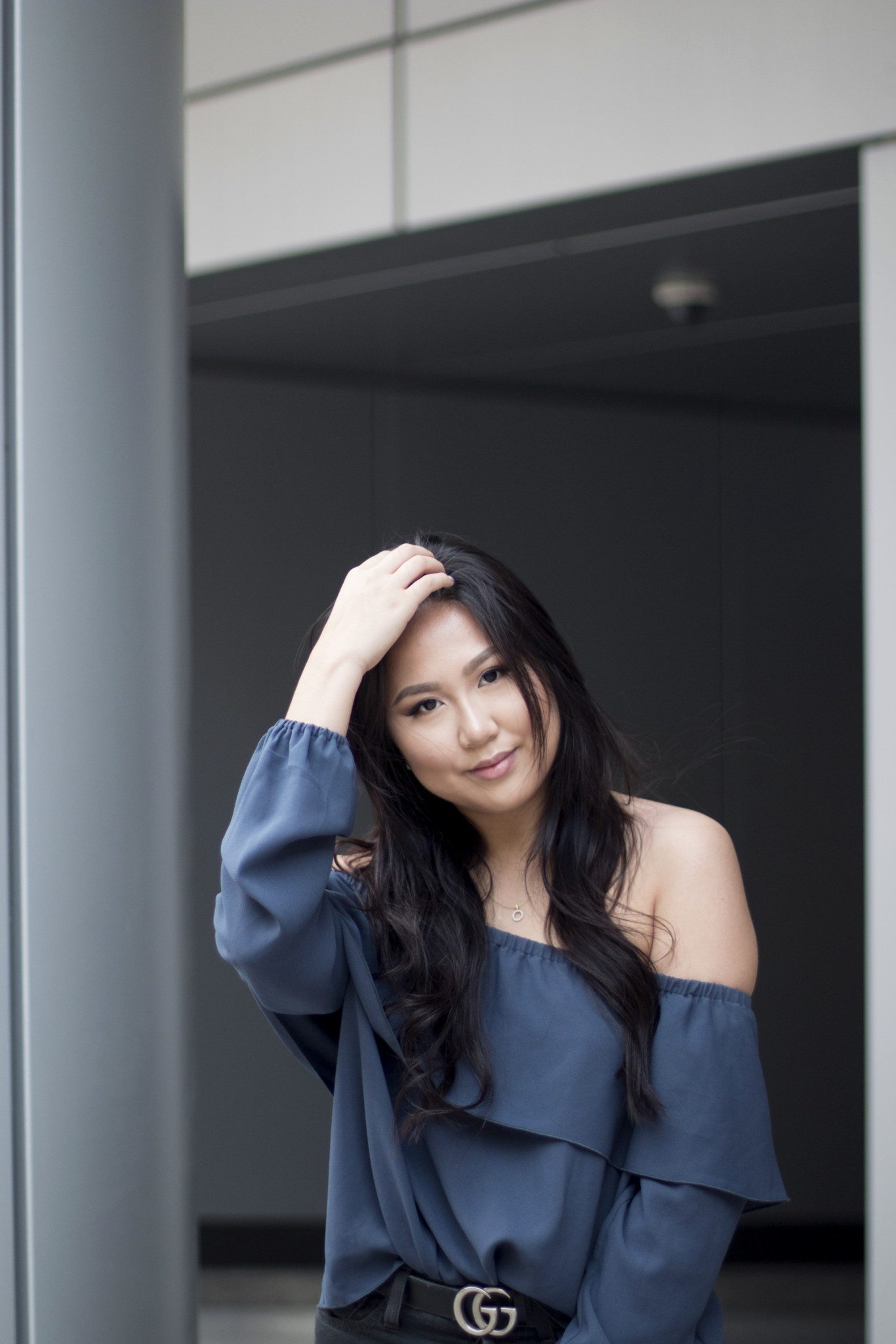 Ambitious yet seemingly reserved, Allysha Yung is a girl with ideas. From launching her flagship clothing line YUNG ² to starting her globe trotting ways, this girl is keen on trying her hand at creating, and unafraid of the hard work that accompanies it. We met in a quiet coffee shop tucked away on the east side of Toronto, and roamed the streets to find photogenic alleyways and watched her come to life in front of a camera. Read on for more about Allysha's brand and this fiery content creator.
How did you get started on your site? What was the premise of it?
It all started through Instagram – that inspired the blogging. You don't get to know me through that platform because it's just a photo and a short caption, but through my blog I get to write a little bit more and you can see more of my personality.  There's more of my journey. For instance [me] going to LA, you only see a couple of photos on Instagram but on my blog you could see what places I really enjoyed and places that my audience should go and I recommend. I feel like I build more of a connection through the blog.
So what is that narrative that you're building on your own site, when you're talking about showcasing your personality outside of Instagram?
I find myself a very sarcastic person which Instagram's community doesn't even know about me. A lot of people I meet are surprised that I'm this funny individual rather than reserved. I get to write a little bit more and express myself through there so even my sarcasm and humor gets thrown in there. I think this lets people relate more to me.
What is that aesthetic that you are presenting, what does it say about who you are?
My aesthetic is reserved and minimal. I'm not too street and grungy and that's why I guess it does reflect on who I am a bit. It always changes, it has changed over the years from back in the day when I used to be more Brandy Melville or Aritiza and now it's just like evolved into finding more of those classic pieces. That's how also this brand YUNG ² was created, because I wanted to create pieces that are timeless classics but can be worn as a statement. Looking for quality over quantity.
What is your take on travel and movement? You've been to Miami, New York, and LA lately and it seems like you take full advantage of each place you go.
This year I caught the traveling bug. I feel more inspired when I travel, and even through my content I feel that it's a lot better when I travel. Traveling is great to meet new people and connect with individuals that are likeminded. I went to New York and met another blogger and ended up going to LA. We are planning to go to Paris together. She also helped inspire me and I've learned so much more from this opportunity.
How do you view entrepreneurship?
I always wanted to be my own boss and it was great working with people and learning from them, but at the end of the day it's really great to be independent. It's something else to see your hard work and all the creativity come to life. To see that end to end and final product, that's what it pushes me to want to do it.
Were there any challenges or roadblocks that you anticipated going in?
Definitely a lot of roadblocks. I was in school and had a part time job, if you want to be an entrepreneur sometimes finances are a little bit tighter. So trying to balance it all out, school, part time job and blogging. All of that was overwhelming at some points and I had those breakdowns, but through those roadblocks I've learned about myself. It's helped me gain more confidence and be stronger to be where I am today. Starting my own brand, I've learned so much. I think you have to go through mistakes to learn.
I think that's part of all of it. There is no set course for any type of business, it's just the process of going through mistakes.
Yeah! I would Google things like what is the smartest way to order sizes in bulk? I would google it and it would help but at the same time I would have to go with my instincts and what I think maybe is right. Even when I worked retail it really did help to see what sizes sold well and what pieces sold well. Most of the time I go with my instinct, and I was always cautious. Sometimes I felt like being cautious was a roadblock as well, because sometimes you have to go for it.
Isn't it interesting with your business right now, the unglamorous side of it? Like running around getting the product or samples. You're presenting this polished image but behind the scenes you're rummaging through all the finances, running around with samples?
Many entrepreneurs talk about their emotional journey. They would say that the journey is amazing during launch, but so much work to do because we need to get customers. When you get customers and you're booming, they would say shit we have growth pains. You're happy but you have work to do. Then when you finally get funding and you feel incredible but you have to deliver.
The journey is never ending! There's always going to be more and more as you grow. This one friend (entrepreneur) went into depression after 10 years of running his business and he realized that its not the end goal you should try to hit. If you choose to be an entrepreneur you have to really enjoy the journey. The process.  The ups and downs. You have to be able to thrive on that roller coaster. If you can't survive on that it's not your thing.
"If you choose to be an entrepreneur you have to really enjoy the journey. The process.  The ups and downs. You have to be able to thrive on that roller coaster."
I find personally that you connect with people much more deeply because of the journey if you happen to be on the same path. You need that support too when you're doing something like this. How do you strike a balance between capturing a moment and living in it with others?
I think it really depends on the environment and who I am surrounded by, so I just read the situation. For instance if I'm with a blogger and if she wants to take a photo when the food comes, we will re-arrange the food and take our time with it. Sometimes I'd rather just eat too, cause there is no point in waiting. It all depends on who I'm with and I just read the situation pretty much.
So for example when you're travelling, how do you know this is a moment I want to capture vs. a moment I want to live and breathe through and enjoy?
If it's a beautiful sunset I want to capture it and inspire my followers. You can capture the moment and still live it, you don't have to take a photo and just be done with it. I think some bloggers end up not living in the moment and getting consumed into taking the perfect photo. They didn't get to really experience the moment. I try to do a little bit of both.
What is your decision making processing when it comes to your essentials? It's kind of common to start hoarding items, but it seems like you're doing a good job of curating and keeping the things you like and maybe that ties in with your clothing line?
Recently I did a closet cleanse and just restarted. I realized that a lot of my clothing I didn't even like anymore. So now, I just buy or invest in classic pieces that I feel like I can wear more. I made sure that when I was creating these pieces it reflected who I am and what my personality is and what I like. So I made it more of a relaxed fit and the same time a bit reserved and timeless. I made sure when I was creating this line that you could layer the pieces or wear them alone.
What are some ways to spark an idea when it comes to creating? Like where do you go find these ideas of what you want to create because you've got a lot of interesting materials and colors?
I don't really like look for it. I feel like it just comes.  Sometimes I could be watching a show and it comes to me. I was watching a show and thinking about reversible tops, thinking about how to put the label on it, and the idea would show up.
I feel like I can be inspired by anything. Traveling helps. It seems like I'm always looking for it. My iPhone is always open trying to find inspiration. I feel like I don't realize, now that I'm more into fashion I look more into detail. It's so interesting to see
Who is your ideal consumer?
The YUNG ² women is active, confident but with a little bit of an attitude. She's around 20-34 which is the target audience, but anyone could actually wear this piece. I kept it a small collection, so it is 5 styles and 8 pieces as I grow. I didn't want to create a 12 piece collection. I didn't want to invest all my money and create a whole collection that everyone will like. It's not necessary that everyone will like it. I can only relate it to so many people and I've created it based on who I am.
I can't please everyone. I was going through my video and saying some people might not like this or some might be offended. It's just hard to please everyone, because even the littlest thing I say could offend someone.
I feel like when I was younger, I would be more subconscious of what people thought of me but as I got older I became more confident in who I am and embraced who I was. So if people didn't like me for who I was I would say take it or leave it.
---
Shop YUNG ², visit Allysha's blog, and follow her on Instagram.