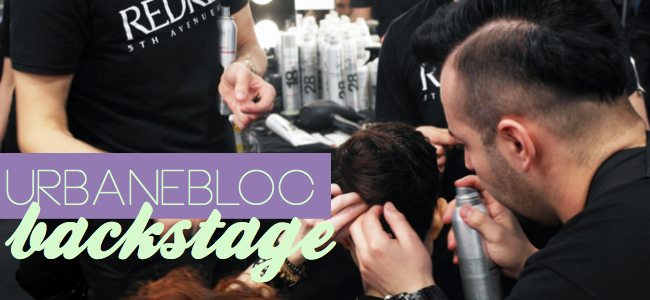 How many stylists does it take to create all the magical hairstyles for Toronto Fashion Week? Apparently 35 international artists, according to Jorge Joao, Lead Stylist of Redken Canada.
It was fascinating watching the organized chaos behind the scenes at World Mastercard Fashion Week. From the models sitting at the hair and makeup stations pampered with all the latest Redken and Maybelline products, to the hardworking team of hairstylists and make up artists, to those waiting patiently for their turn, everyone seemed to know what role they were playing backstage.
We had a chance to chat with Jorge about the hairier side of things and this is what we've learned:
Q: What trends are you seeing on the Fall/Winter 2013 runways?
A: Disheveled hair is all the rage, where it's meant to look messy and not completely well kept. A few flyaways here and there are okay. We're working with natural textures, with not too many hot tools.
Q: Any fave products used to create models' looks?
A: Fashion Work 12 (versatile working spray), and Control Addict 28 (high-control hairspray) by Redken
Q: What's the significance behind the numbers?
A: "0" is the hold that water will give you, in other words, the strength of the hairspray. So Control Addict 28 means the spray will hold the hair 28x stronger than the hold of water.
Q: What regime would you recommend to care for your hair?
A: I recommend using products using a lot of moisture and protein, for example, anything from the "All Soft" line could work. Argan oil is also great between shows.
Q: How does Toronto Fashion Week compare to New York or Paris?
A: Out of all the weeks, Toronto is the one that's most intense where we're doing anywhere from six to seven shows a day under one roof. In New York and Paris, there are often a lot of off-site shows where we travel from one to another, effectively styling for less time. Though there can be long days too.
Thanks Joao for being so informative, friendly and helpful during our time spent backstage! Lucky for us, we walked away with some hair product to try of our own from the shows and we can't wait to put them to the test!