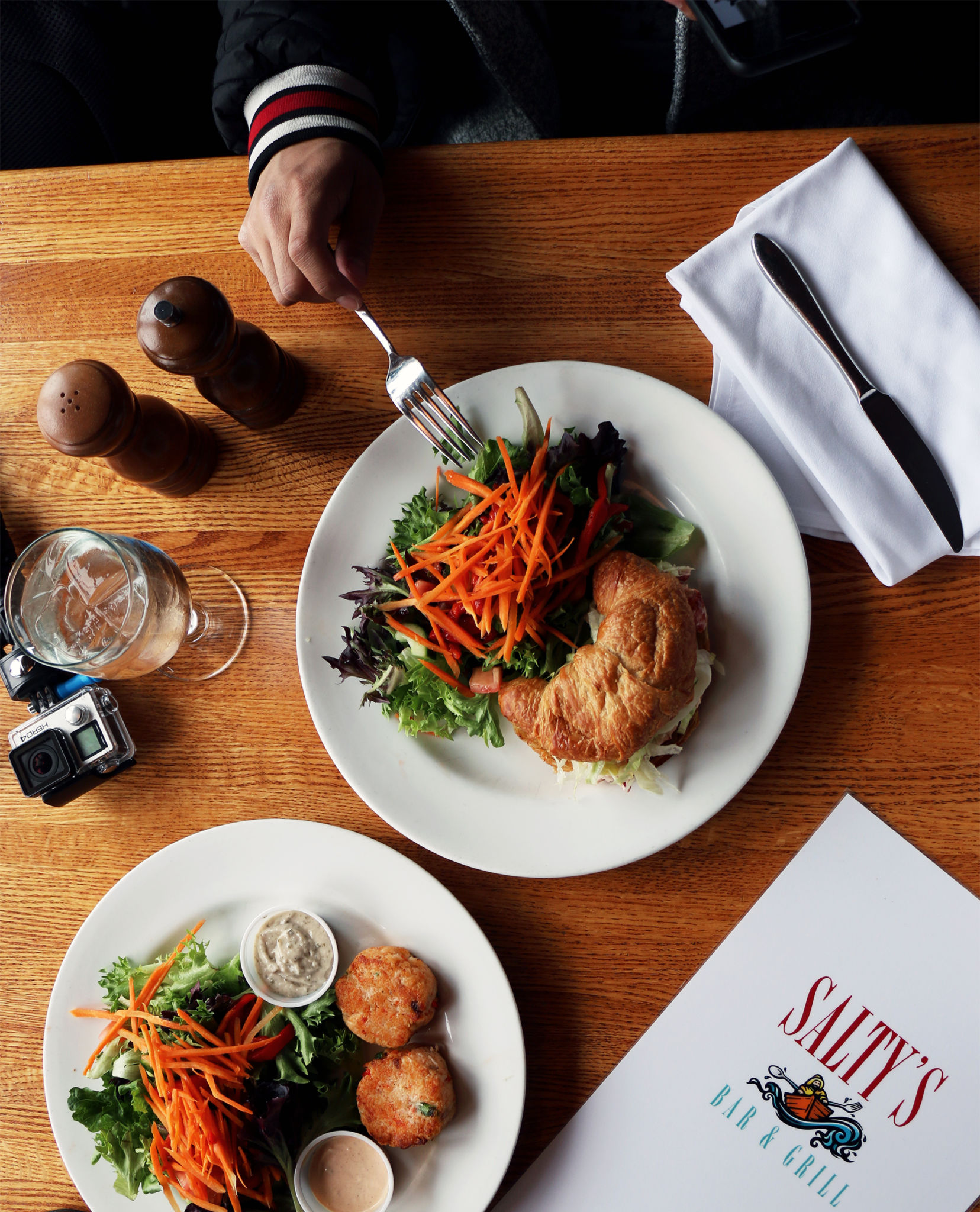 I'm in love with travel, and in the last year, more so within Canada. I'll admit it – I've been of the school of thought that spending money to go to Asia or Europe would be more worthwhile than travelling within Canada (it's expensive!) – but having been born and raised in this fine country, I decided that celebrating our natural beauty was a must this year.
I recently enrolled in the Expedia.ca #BigWorldExplorer program, and snagged an opportunity to go to Halifax. Shockingly, the flight is only 1.5 hours, but you'll find a world of a difference in culture, culinary (read: SEAFOOD), and the general attitude of Halifax Locals. Still top of mind for me is the food, the food, the FOOD.
(PS: Sorry for some of the photos being grainy, did the best we could in PITCH BLACK LIGHT)

The Seafood
Everyone wants to know how the seafood is in Halifax. It's outstanding. That's all you need to know. There's a reason they offer to pack a lobster for you in the airport on your way home – it's a brilliantly fresh and delicious commodity that they seem to have mastered how to prepare. Naturally, every spot that my company (@gunnarolla) and I went, we had to try crudo, lobster rolls, crab cakes, and more lobster. No regrets.
My favorite meal that still burns in my mind, is from Prince George Hotel's Gio Restaurant. Outrageous cocktails, lobster on lobster ravioli, and much more.
The Hospitality
People are incredibly friendly, hospitable, and eager to offer up recommendations of where to go next. Everywhere you turn, there's someone that will point you in the right direction, to provide a local experience. From meals to attractions, I felt like we were wandering an East Coast pleasantville.
Attention to Detail
I was amazed at how inventive, experimental, and detailed each restaurant we visited was. From Shuck Raw Bar's opening (a venue full of nautical rope, lights, and candles) to little lemon meringue cookies inside a cocktail at Gio…I felt my mind was happily blown.
Newness
It seemed like there were a ton of restaurants popping up in Halifax. While several of the restaurants / coffee shops we stopped by were new landmarks, there were only more and more recommendations that seemed to come with each person we spoke with.
Eats with a View
Who doesn't love large bodies of water? Salty's is a seaside gem, with lots of nautical element indoors and outdoors. They serve their fresh lobster rolls on a croissant (whaaat) and crabcakes come with a delicious dipping sauce. Divine.
---
Have you visited Halifax? If not, what are you waiting for? G'luck!