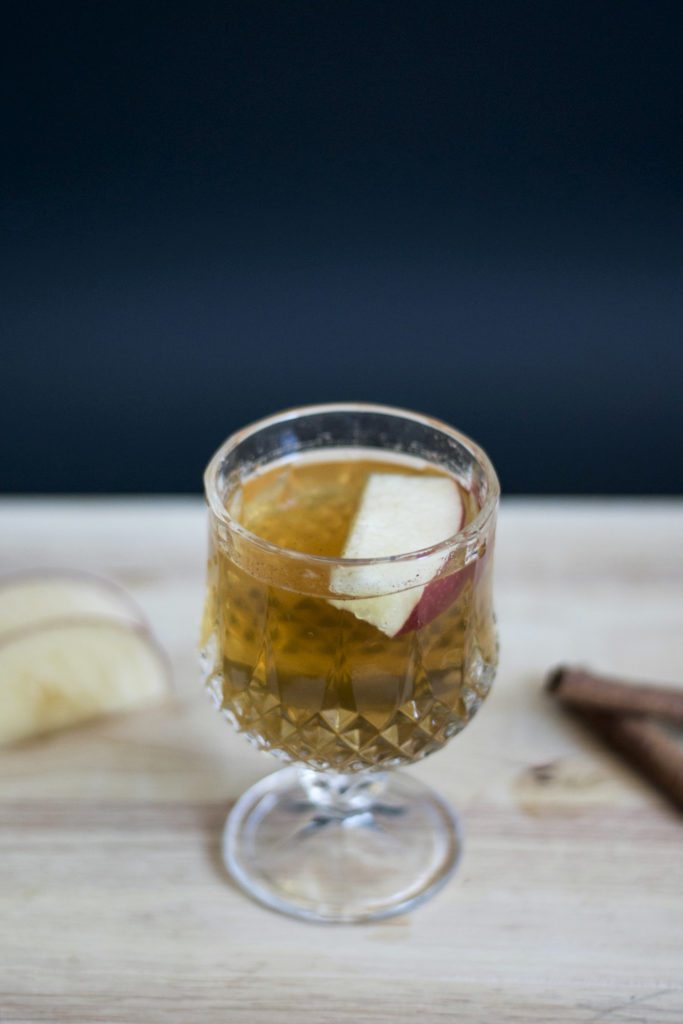 Apples have always been a usually interesting fruit to me – you can find it in pies, desserts, as chips, and my personal favourite, as a phone. You also plan entire days around picking them, where most of the time it's not even about the apples. In Shanghai, where I lived before Toronto, I only knew apples as the fruit with the crunch that slightly hurt my teeth. It was uncommon to see a cooked apple in China, so you can imagine the shock when I discovered how it was consumed in the west.
It's almost cliché to talk about apples in September but allow me this one concession for this week's cocktail. Why? Because yet again the apple is another fabulous ingredient to something – meet the Maple Bourbon Cider. With a slight kick from the cinnamon and lemon, combined with the maple-sweetness, this week's drink is a treat perfect for late-summer patio hangs, or cozy fall snuggles.
---
INGREDIENTS:
1.5 oz of Bourbon (We used Jim Beam)
4 oz Apple Cider (Pure apple juice works too)
1 Lady Apple
Maple Syrup
1/4 teaspoon Cinnamon
0.5 oz Lemon Juice
Ice
METHOD: 
In a shaker combine cinnamon, maple syrup, bourbon and lemon juice. Stir mixture until everything, especially the cinnamon, is blended together. Stir in the ice and apple cider. Strain mixture into glass and finish with a slice of lady apple.
---
As the fall weather gets cooler try preparing a hotter Maple Bourbon Cider! Just heat the ingredients in a pot until it's hot and not boiling. Serve the drink with an apple slice in your favourite mug and you've got yourself the perfect drink for a cozy night in.
Make often and enjoy!