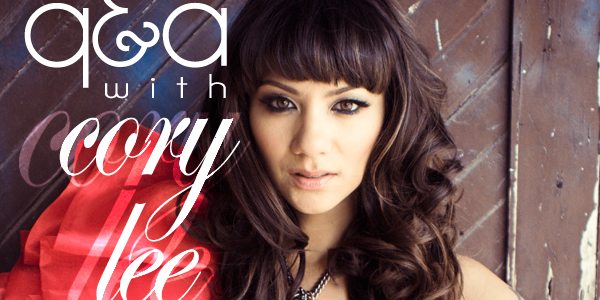 Cory Lee is a triple threat. Gorgeous and a talented singer, songwriter, actor, dancer, performer…wait, better make that a quintuple treat! In between her trips to New York to complete her next album to drop in November and her Asian music tour, I was very lucky to have had the chance to catch up and talk about her hot hot hot single "Best Shot" featuring Shaggy!
A: Hi Cory! Thank you so much for coming to the office today! Really excited to see you again and to hear all about your new music.
C: Not a problem! Just got back from a short trip to New York, where I finished up my last track with Angela Hunte, the writer of New York State of Mind. It was a really wonderful experience.
A: That's really exciting. I'm so glad we found some time to connect, in between your busy schedule! I really enjoyed "Best Shot", it's a great blend of pop and dance, fun and upbeat! This track will be featured on your 3rd solo album, how do you feel this compares to your previous singles and albums?
C: I definitely feel like I've had a lot of song writing practice. I always hope that each single and each song I write just gets better. More catchy. More emotional. I think that this album is really strong and I love the songs on it. Just very happy about how the album turned out. And I just went to New York and wrote my last three songs with Angela Hunte who wrote Empire State of Mind. These three songs are the cherry on top. All three songs are really meaningful to me and I'm very happy with how it turned out.
A: I can't wait to hear them. You talk a lot about songwriting and experience. Where do you get your inspiration from?
C: I'm inspired by real life. I like to talk about situations I've been in or experiences my friends have been in. It's all about writing and inspiration from day-to-day life.
A: I ran into you at the Robyn concert this summer. I can definitely hear that you've inspired by her music as well. What are some of the top tracks on your ipod? and other musical muses? Top tracks on your ipod?
C: Robyn is definitely one of my all time favourites. She's such an amazing performer. My top ipod tracks are: Dancing on my own, bum like you, and handle me by Robyn. I also love Beyonce- Starting over. Aliya – one in a million. Britney Spears- Freak Show, Amos Lee- Arms of a woman, Adele- Turning Tables, J.Lo- I'm into you, and Collie Budz- Mamacita.
A: There is definitely a parallel in the type of music you like to listen to and the music you write. It's a lot of dance and pop, sung by strong women!
C: Absolutely, I love urban pop! I like to think that I create pop with a bit of urban edge or electro. It's music I love and listen to.
A: "Best shot" features Shaggy, who is your dream collaboration?
C:  Robyn is my favorite artist. We could just duet on one of her songs. She is my all-time favorite.
A: You will be doing a tour of Asia later this week, tell me about it.
C: I will be going on a tour of Thailand, Singapore and Hong Kong. The tour is sponsored by La Perla and Armani. It's going to be the perfect mix of Fashion and music. Two of my greatest loves.
A: That's wonderful. Have you visited these places before?
C: I've only been to Hong Kong before. I fly into Hong Kong and will be doing store events and performances at La Perla and Armani stores. Really looking forward to it and interested to see how I will be received in all the countries.
A: You have had such wonderful success in your music and acting. What is the one big thing that will help you realize that you've "made it"? What is your one big moment?
C: I aspire to win an Oscar and a Grammy in one year. That's my dream and that's when I'll know I've reached a very high level of success.
A: You've also toured and worked with lots of well known musicians and actors…what's next?
C: Right now, I am really excited to focus on my music career. On the short term I'm mixing and mastering the album. And once I release your baby (the album) into the world, it's a whole other project. Then it'll be all about promoting and performing anywhere and everywhere I can.
A: A tour sponsored by La Perla and Armani are only just the start! Fashion and music are such a huge part of your personality. Tell me about your personal style.
C: I am all about high end designer goods for low end prices. I love to shop at Holt Renfrew Last Call, Winners and outlet malls. I am also a huge supporter of Canadian designers. My favourites to name a few are Joe Fresh, Pink Tartan, Coco Lily, Brazen Hussy, and Rudsak to name a few. I am also really inspired by local designers from Toronto or from European fashion shows. OH and I am a huge Hello Kitty fan!!
A: Yes! I've seen that on your Twitter and Facebook page! You will feel right at home in Hong Kong. I am sure there will be plenty of Hello Kitty. haha
C: Absolutely.
A: Thank you so much for coming by Cory and I hope you have an amazing time on tour.
C: Definitely! I will be back on the set of Degrassi early October to shoot the remainder of Season 11. Can't wait. There is definitely a lot to look forward to.
A: Have a safe trip and can't wait to hear all about it and all your new music.
You can check our Cory's latest track "Best Shot" featuring Shaggy here.