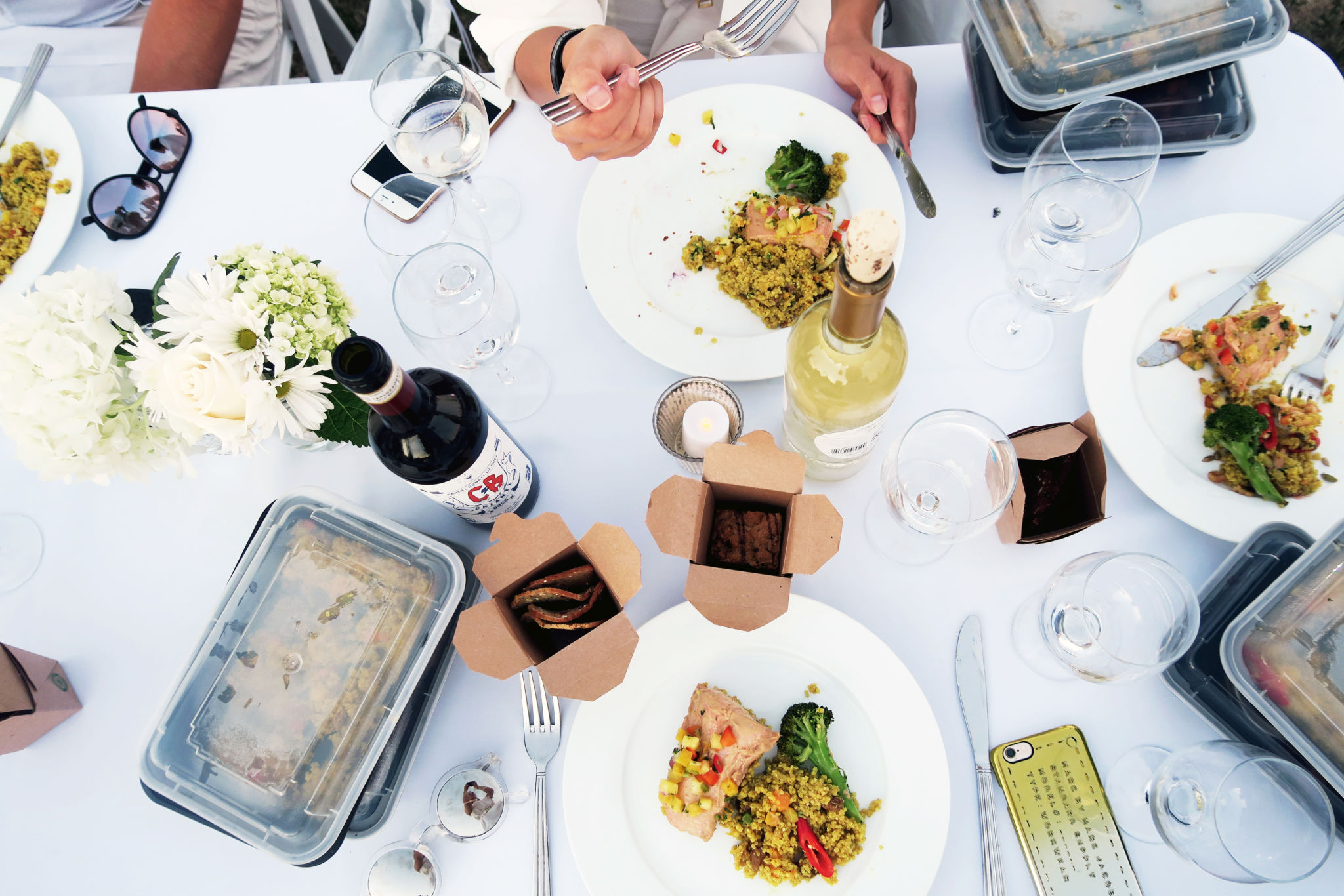 I haven't yet decided if dressing all in white, dining at sunset, and twirling sparklers in the night is romantic, or vaguely reminiscent of a Miami party. I'll go with the former. My first Dîner en Blanc experience in Toronto felt festive, was a scrumptious, instagram-visual overload of an evening. There was cake! There were balloons! There were fascinators and kilts and lots of tulle worn. And most impressive of all…outrageously great food and company.
It would almost be a Gatsby like experience if it wasn't for the electronic dance music blaring in the background at the close of the evening. If you're not familiar, Dîner en Blanc is a once a year event that invites over 2,500+ guests (and counting) to dine in a secret location, announced 1-2 hours prior to the event.
In other words, an event that surefire can't disappoint with its elements of surprise, DIY, and friends. With two of my favorite people in tow, we donned ourselves in crisp light clothing to enjoy an evening of mild temperature, smiles, and good photos. Here's how to do your Dîner en Blanc right:
Pick Good Company
Grab your pals and go. While we were spoiled silly with food from the Food Dudes, the creative self-catered guests brought charcuterie boards, sandwiches, and steaks to enjoy with good friends. Deep sigh for memories.
Adventure in your Clothing
While I was fully prepared to wear a white crop top and high waisted denim jeans…life didn't let me feel upstaged. Grabbing my university (haha) grad dress from the GAP (they had a designer white tee collection awhile ago), lace from the dollarama to turn into a choker, and my favorite Reebok Classics…suddenly we had a funky outfit that I wouldn't dare wear on a regular occasion.

Get your Photos Early
I doubt it's a coincidence that the dinner happens to collide with magic hour. Get your dslr, your point and shoot, your cell phones ready for light, bright, and naturally lit photos for days. You'll want to get the gorgeous sunset in there too while you're at it.

Eat Light
As if it's not hard enough already to eat without getting food all over your beautiful brights, but eat something light…because there's always more to come. Metro Foods sponsored the event cheese cakes, vanilla cakes, and cupcakes to faint over.
Genuinely Enjoy
Eat slow, digest information thoroughly, and contribute to conversations meaningfully. We don't get a lot of summer nights like these with good friends, so smile and soak it all in.
All photos by GLORIA CHIK