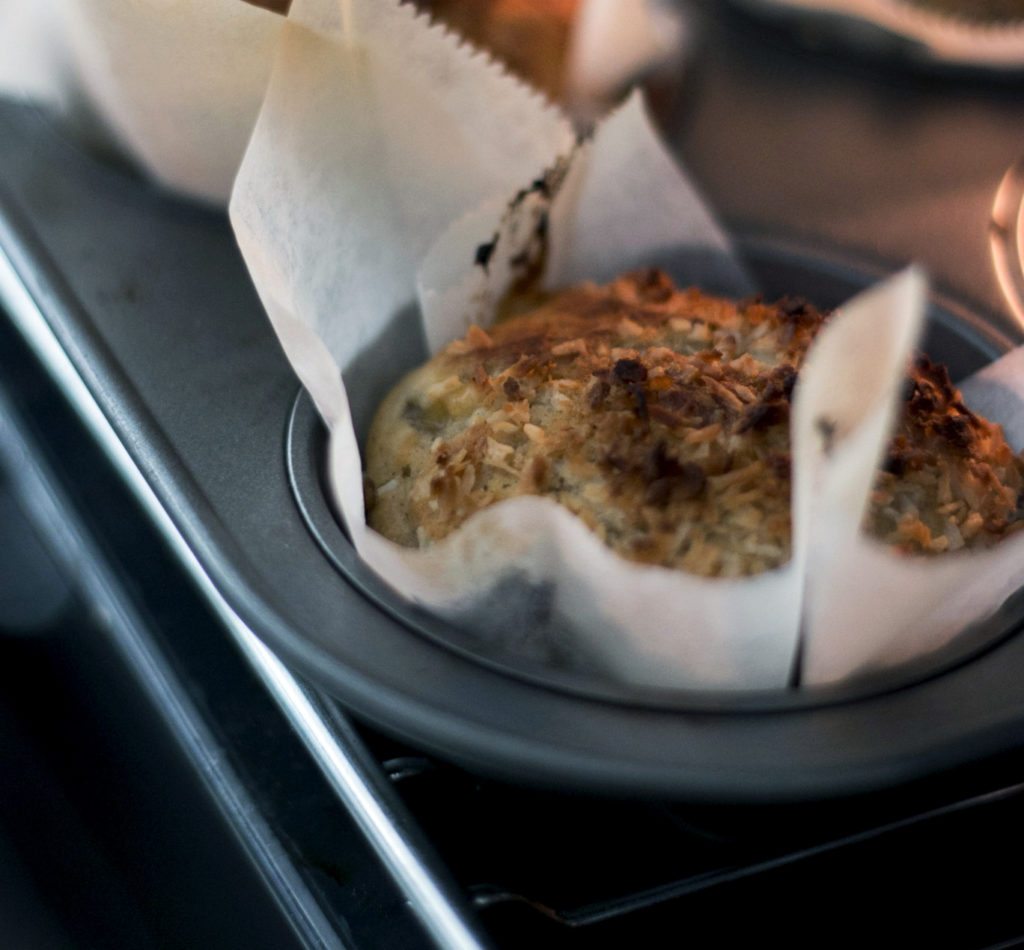 I'd like to trick myself and the people reading this into thinking that I made these fancy, because I'm a fancy person. But realistically, I just did what I could with what I had. So Banana Coconut Muffins it is.
It's not really a secret that when bananas go bad (that sounds like a horrible coming of age animated film), you throw them into things like pancakes, bread, or other baked goods filled with sweets to hide the ripe texture…but let's try muffins here. Here's an ezpz way to go about making 8 (or more if you're badass) muffins for your week ahead:

INGREDIENTS:
(2) Mushy aka Ripe Bananas, mashed
(1) 1/2 cups of flour (I use unbleached)
1/2 cup of sugar – your choice (cane, raw, whatever)
(1) Egg (not vegan, sorry kids)
1/2 cup of melted butter (some people say to use a full stick…eh…)
1/2 cup of shredded coconut, unsweetened
Pinch of salt
2 tsp of baking powder
1 tsp of vanilla extract
2 tsp of Greek Yogurt (this makes them moist, hayyy)
1/2 cup of Chocolate Hungry Buddha Chips to top
METHOD:
Pre-heat oven for 350 degrees
Mix dry ingredients together (all the flour, sugar, powders, half of the shredded coconut)
Beat together wet ingredients – mashed bananas, egg, vanilla, etc
Combine the dry and wet until just mixed – mixing it more will make them tough, weird, and awkward at parties (kidding..sorta)
Line muffin tray with parchment paper (I don't believe in buying muffin cups, sorry!) The paper will move around until you fill with batter
Fill up with the muffin mixture, top with lots of remaining shredded coconut to get toasty, and throw 'em in the oven for 25 mins or so
MAKE OFTEN, AND ENJOY.