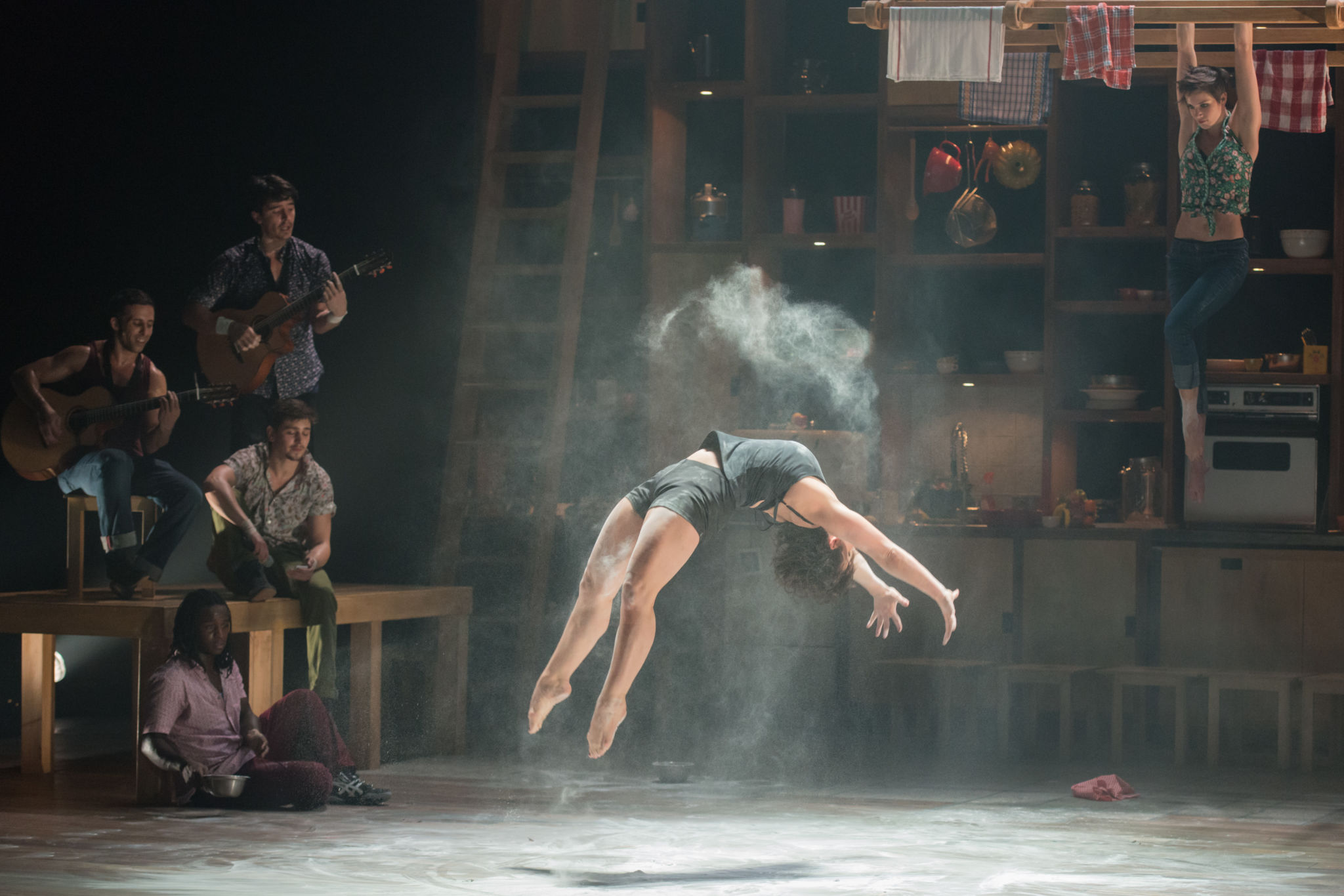 Cuisine and Confessions is not your average play, or show, or any other theatrical experience you're familiar with. Described as a "culinary Cirque du Soleil" and performed by The 7 Fingers, it is impossible to describe thoroughly without spoiling expectations, or the show's many surprise delights.
The stories of Cuisine and Confessions revolve around the relationship between food and memory. Aside from the monologues, there are no other recognizable cues. The actors do deliver long and earnest speeches, but they are the real-life stories of the cast: unpacking the leftist uprising in 1970s Argentina, complicated Italian family politics, and black masculinity in America. It's staged, but there's only one set: a homey kitchen accented with the casts' own personal kitchen items. Yes, there is song and dance, but think of it more as a concoction of jazz and circus acrobatics. While it all unfolds, dishes are actually being made and cooked in the background.
Cuisine and Confessions felt like the open-faced-sandwich take on the meaty submarine that is traditional theatre. The deconstruction of the genre is disorienting in the best ways: In one particularly heart-stopping moment, acrobat and cast member Matias Plaul plunges head-first down a Chinese pole. I found myself getting oddly choked up at the aerial silk work of Anna Kichtchenko, who performed a gravity-defying ballet with the red-checkered tablecloth we only find in mom-and-pop establishments these days. If you're the type to find audience participation cheesy, prepare to be pleasantly surprised. You will get to partake in the food.
More than the remarkable physical feats or the chocolate banana bread, the biggest takeaway from Cuisine and Confessions was that our most memorable meals aren't defined by fancy presentation or ingredients. They're defined by the people around the table. The stories they tell. The long, rambling conversations that require you to get up and reheat the homemade dish in question, whether it's vegetarian chili or chicken cacciatore.
Bring your most open-minded foodie friend—go hungry—with a dinner reservation at an old favourite for after. Cuisine and Confessions is the kind of show that will bubble up childhood stories and Thanksgiving anecdotes.