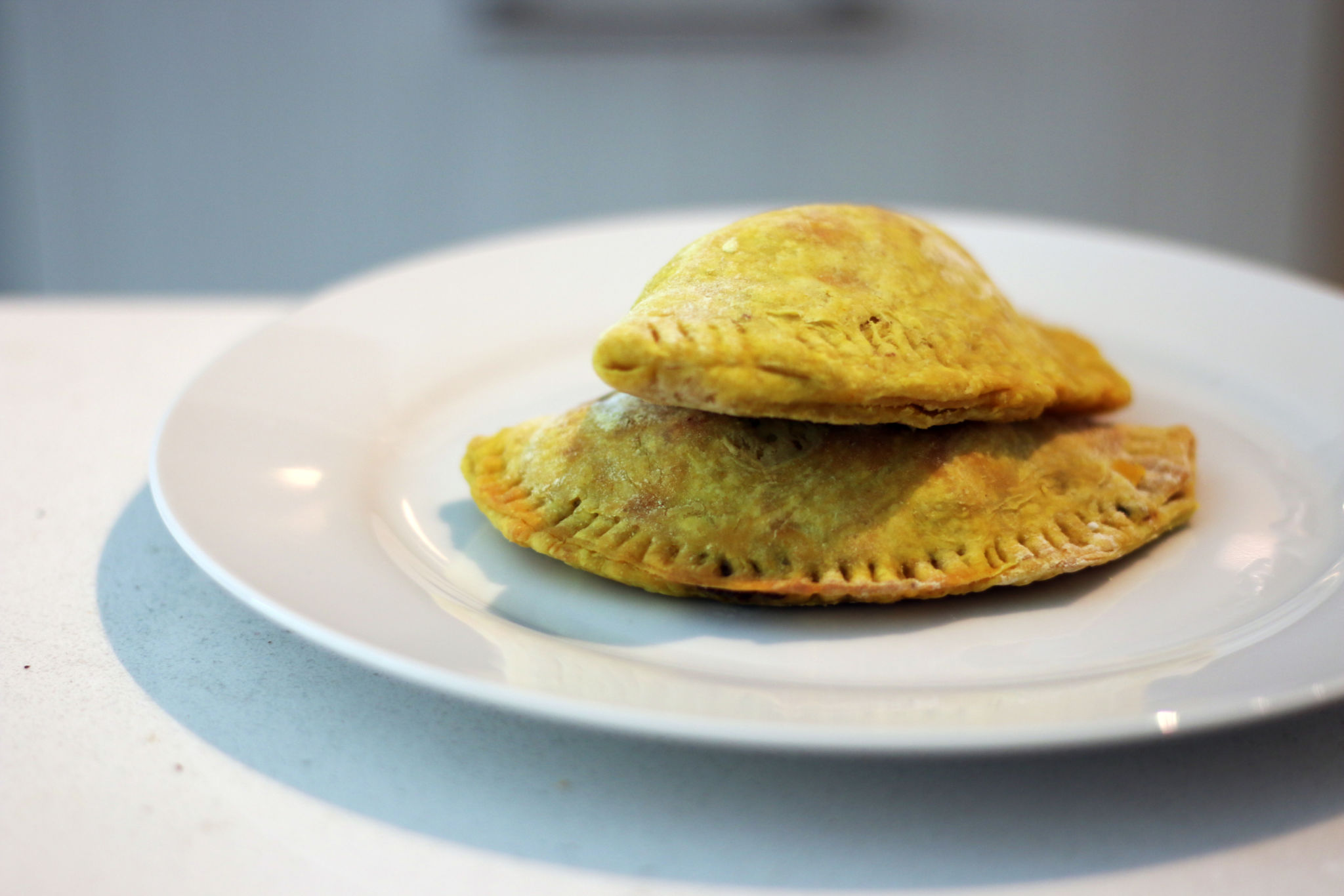 A few weeks ago I developed an unhealthy obsession with learning to make Jamaican Beef Patties. While they're typically found in small, specialty shops (or, if you're in the Toronto area…subway stations have the best ones), I found the low pricing mildly suspicious.
You'll come to find when watching some great Jamaican Beef Patty recipes online, that most of those shops sell beef patties that are filled with bread crumbs / lower quality ingredients, and a ton of lard. Not sayin' that I don't enjoy that (cause hey, everything has a place), but endeavoring on making my own was a fun challenge that I wasn't about to pass up. Here's what you need to do for your own juicy little wonders:
INGREDIENTS:
Yo, if it isn't fresh, don't buy it.
CRUST:
(1) tbsp Turmeric
(2) tbsp Curry Powder (yellow)
1/2 Stick Butter (you can add more based on preference)
(3) Cups All Purpose Flour
(1) Egg – some say this is optional, I liked this for the color
(1) tbsp Sea Salt
1/2 Cup of Cold Water (keep some on the side in case your dough gets dry)
(2) tsbp of Sugar
(1) tsbp Baking Powder is optional
PATTY FILLING:
(2) lb Ground Beef
(3) stalks of Chives
(1) White Onion
(2) tsbp of Curry Powder
(1) tbsp of Salt
(1) tsbp of Garlic Powder
(1) Cup of Bread Crumbs (I just made my own from rye bread + blender)
1/2 Cup of Water
Fresh Cracked Pepper (to your liking)
(2) Pinches of Red Chili Flakes
(2) tsbp of oil (I like coconut oil)

STEPS:
FILLING:
Chop onions and prep the pan with oil of your liking
Add onions to pan and sauté until softened
Add ground beef, spices, peppers, and chives
Cook down and add water as needed
Turn off when cooked through and let it cool
PASTRY:
Sift the flour out into a bowl
Add dry ingredients (salt, sugar, baking powder, turmeric, curry powder)
Crack in Egg + Add water in a well to the middle of your dough and begin to knead
Add more flour or water depending if the dough is sticky or too dry
Press in butter (but don't over knead, you want those bits in there to create flakes when the pastry bakes)
Wrap in plastic wrap and leave in the fridge for 1-2 hours
When ready, take out the dough and begin to roll into circles or long rounded rectangles
Fill with beef (when cooled) and fold patty closed, empanada style
Seal with a fork and warm up that oven! Bake for 20 mins until golden and crispy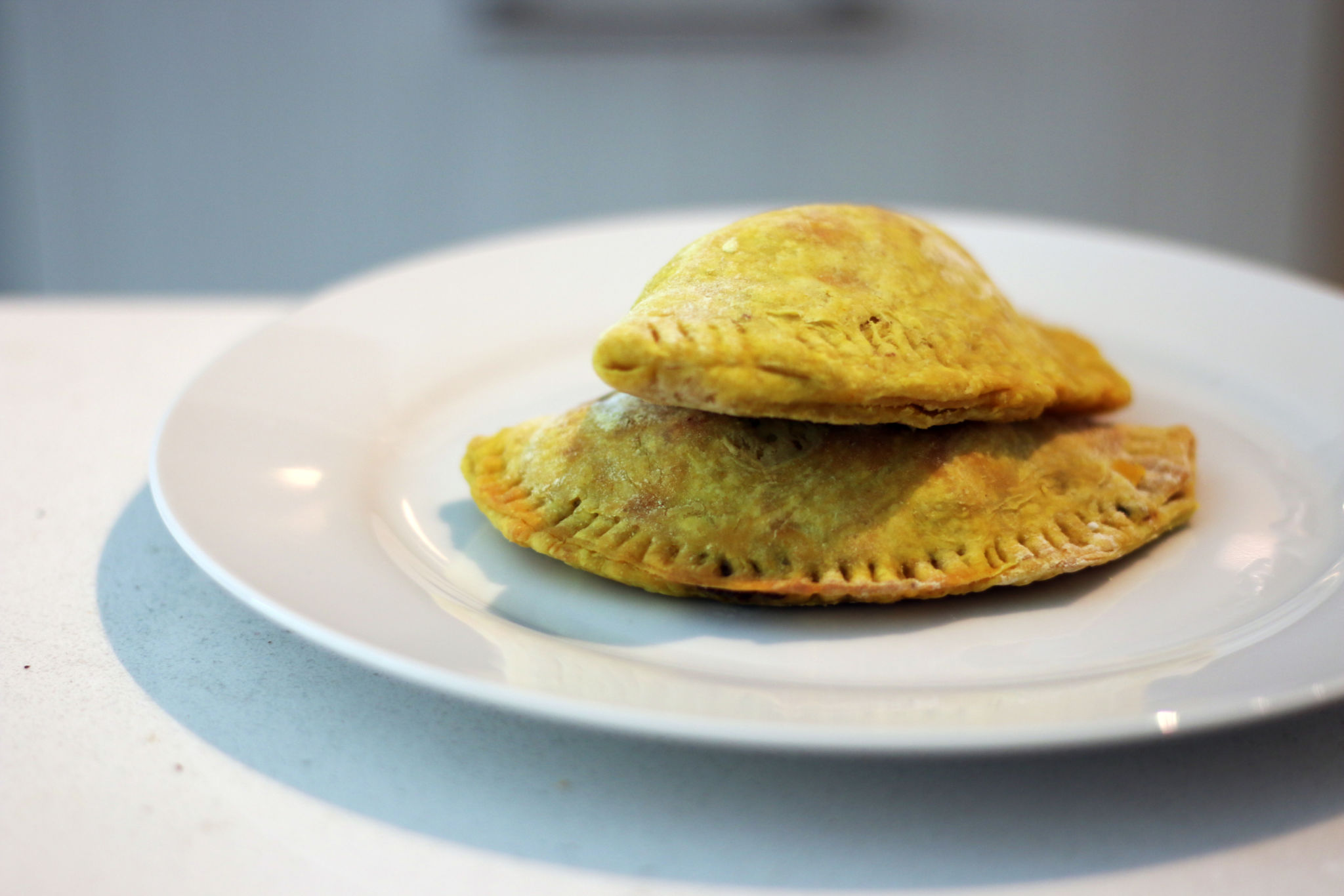 If you're in need of additional recipes, I loved Keith's Jamaican Patty Recipe (YouTube also rules), and Chef Ricardo. Don't go too fancy though, everything tastes better with love in it 😉