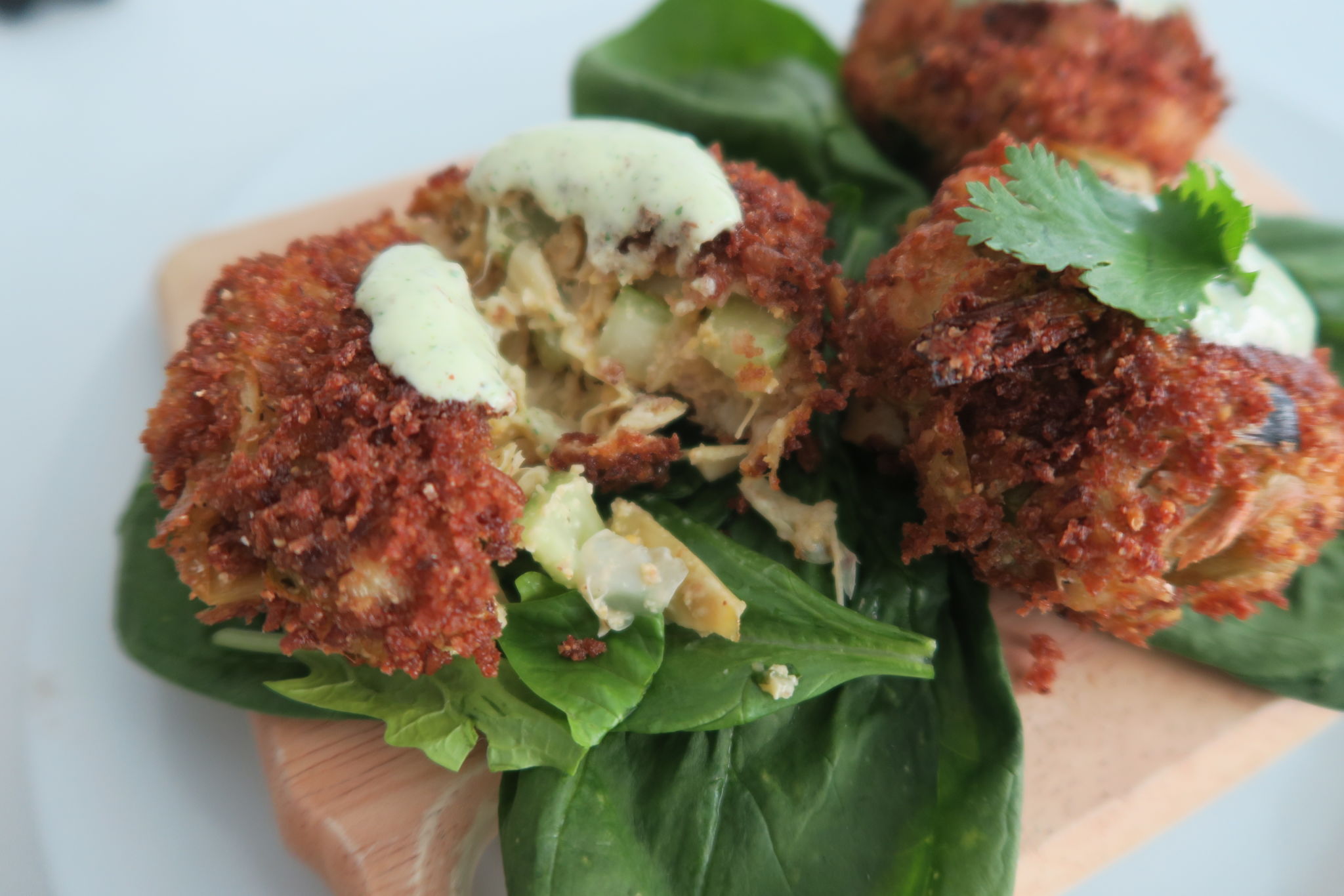 One of my cooking rituals when learning a new recipe from an online source, is to watch their videos 5 times or more. It helps engrain what the steps are so I'm not struggling and watching the recipe come to life, while trying to do it myself. Luckily, for these crabless (there's a pun here…uncrabby? Something?) cakes by hot for food  was a charming and lighthearted watch.
Made from artichokes, these crispy, flavorful cakes are not just filling, but easier than most things I've tried to make. Oh yeah, and vegan. VEGAN. Here's the recipe:
CRABLESS CAKE INGREDIENTS:
2 C marinated artichoke hearts
1/4 C finely chopped shallot
1/2 C finely chopped celery
2 tbsp liquid from marinated artichokes
1 tsp lemon juice
1/2 C chickpea flour
2 teaspoons coconut sugar
1 tsp old bay seasoning
1/4 tsp ground pepper
1/4 tsp sea salt
BATTER INGREDIENTS:
1/4 C chickpea flour
1 1/4 C multigrain bread crumbs
1/2 C almond milk
1 1/2 C vegetable oil (for frying)
For the sauce, I made a cilantro vegan mayo instead – blended soy milk, lemon juice, oil, and cilantro together.
STEPS:
Drain artichoke hearts and chop finely. Mix ingredients together for the crabless cakes
I used a French / Dutch oven to fry everything, so put 1 1/2 cups of oil (or more) on high to prep for fryin'
Set up your 'dredging' station. I found that these suckers had a hard time sticking together, so I used a pair of gloves to really get them packed together without creating a mess. Rather than straight up tossing them in the chick pea flour, I would coat them from up top on both sides, do the same with the almond milk, and then finished with the bread crumbs
from hot for food: Take ¼ cup of the artichoke mixture and form a round thick patty with your hands. Place the crab cake in the chickpea flour and coat all sides evenly. Quickly submerge in almond milk and remove it from the liquid, then place in breadcrumbs. Using your hands cover the crab cake in breadcrumbs getting all sides well coated then lightly shake off excess.  Batter 2-3 at a time right before frying.

from hot for food: Delicately place 2-3 breaded crab cakes in hot oil at once, depending on the size of your pan. Fry for 3 to 4 minutes until golden brown, flipping half way through.

from hot for food: Remove the cakes from the frying pan and place onto a plate covered with paper towel to absorb any excess oil.
Babam. Crabless cakes for the whole fam. Or if it's just you…then…for the rest of the week.
EAT UP.