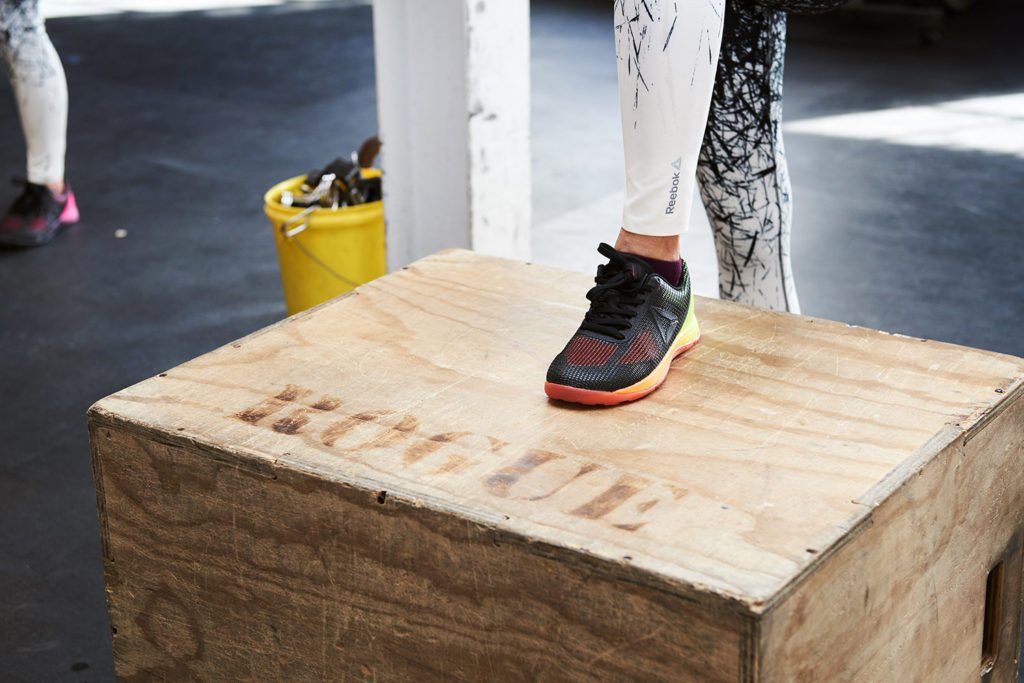 Photography by Jeff Stiggs
I have a sorted history with exercise – I don't do it nearly enough (or consistently). It's hard finding time to eat right, be active, and find something that you love fitting into your schedule. I hopped on over to the Reebok Cross Fit Gym in Liberty Village (Toronto), and was greeted by the loveliest (and some of the most fit) people to walk us through the Nano 7 shoe. Having consumed a whole bunch of energy prior to the session (read: banana), I was ready to burn some calories. Read on to witness my sweat fest (haha):
A lightweight, colorful little kick, the Reebok Nano 7 is designed with a variety of activities in mind. With a sturdy heel, grippy bottom, and variety of fun colors (six options), we tested its abilities with a series of exercises and uh, photos.
I knocked on the hard plastic heel piece, wondering what it provided. The Reebok Nano 7's heel gives a "fit lockdown", which adds stability specifically for lifting. A few other fun features:
Anatomical toe box and a low-cut design for a natural feel and ankle mobility
Ortholite sockliner for cushion
360 degree TPU heel wrap for a locked in feel
Crystallised rubber outsole flexes naturally for balance and stability
A series of kettle bell squats, lunges, box jumps, and rowing had me thinking all sorts of High Intensity Interval Training thoughts (for more details on the exact workout, head over to Christina's blog). After a group workout, I sauntered out of the gym with Jeff Stiggs (who had an Oreo McFlurry in hand, mind you), feeling grateful for the high performing gear I was loaded up with by Reebok.
The shoe retails for $145 CAD, and is claimed to have been created by Crossfitters, for Crossfitters. A slick design with mobility in mind, the shoe is complete with an upper weave for all kinds of flexibility and breathability (phew).
To learn more about the Nano 7, head over to Reebok.ca and have a good browse! Special thanks to Coach Amy for being encouraging and being #crossfitgoals.
Disclaimer: This article was sponsored by Reebok