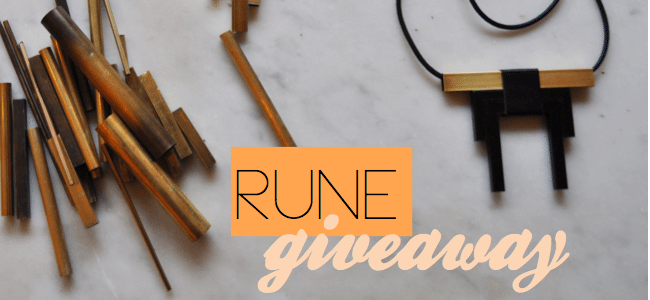 One of the things that we love most about Toronto, is all the emerging talent that we have in our bustling city. At the latest Junction Flea event, we discovered RUNE, a jewelry design collaborative started by three artistic and creative friends including Sharon Leung, Kristen Lim-Tung and Jane Kate Wong. As soon as we laid our eyes on the edgy, futuristic and unique pieces, we knew we just had to share their story and goodies on urbanebloc!
We had a chance to catch up with them at The Mascot, a rustic and cozy cafe on Queen Street West where we talked about their story, the inspiration behind their design, and why they love what they do. Read on to learn more about this up and coming jewelry design collaborative based out of Toronto, New York and Copenhagen and how you can win one of their best-selling items from their latest collection! Special thanks to Michael Jo for all of the beautiful photography.

Sharon and Kristen at The Mascot
How did RUNE get started?
We've always loved making jewelry and art pieces for friends, and never had the intention of starting our own company. Sharon and Jane met first through work, and it was a stroke of luck and timing that Kristen was looking to sink her teeth into a project. Our first event was in December 2012 where we prepared an exhibit for
Maker's Cartel
and that really propelled us to launch our pieces into full production. With our first collection behind us, we're already working on a second collection to come later this year.
What's the inspiration behind your design?
With the three of us in different cities, we're able to draw inspiration from not only the different cities, but also from our unique backgrounds in architecture, interactive design and ceramics and paper installation. We're all about exploring shapes and connections, and are constantly experimenting how different materials interact with one another. A lot of our pieces are actually inspired by artifacts such as the
VI
. We like to analyze how things fit together for a seamless connection and showcase the material for what it is in its raw form.
What materials do you use?
We use a mix of materials including brass we discovered in New York, along with cord, chain, acrylic and leather all from Toronto. To get the different colours in the brass, we use a special oxidization technique.
Where can one buy RUNE?
Where do you see yourselves in 5 years?
Who knows! We are constantly evolving as a collaborative, and we definitely see ourselves based out of different cities in the future and collaborating with different people. The one great thing about being a flexible group is that we can still design separately but have a concise collection of pieces. It would be great to branch out into larger work in accessories like earrings and bracelets, but also sculpture and art pieces as well.
Who would you love to see wear RUNE one day?
We have so many designer and celeb crushes, but ultimately 
RUNE
 is for anyone who appreciates well-crafted and designed artifacts with a refined cool factor. Our muse in our mind is minimalist and basic, like Tilda Swinton if you will. We started our first collection with specific brands in mind –
Surface to Air
,
Helmut Lang
and
Acne
to name a few. We would love to collaborate with one of those companies in the future!
What's one thing that you would want urbanebloc readers to know about RUNE?
Never underestimate how amazing and resourceful your friends can be. We wouldn't have been this far without all of their wisdom and support!
Enter to win!
It was a pleasure to connect with RUNE and we're thrilled to be giving away one of their best-selling pieces to one of you lucky readers out there!
III
, is one of their gorgeous pieces from their current collection featuring a custom design and laser cut acrylic pendant on a 30″ hypoallergenic and nickle-free brass chain. The perfect finish to a simple yet edgy look!
Kristen (L), Sharon (R) and I

HOME | www.rune-rune.com
SHOP | http://shop.rune-rune.com/
TWITTER | https://twitter.com/hello_rune
INSTAGRAM | http://instagram.com/hello_rune
Special thanks to The Mascot for the venue, and Michael Jo for the photography.