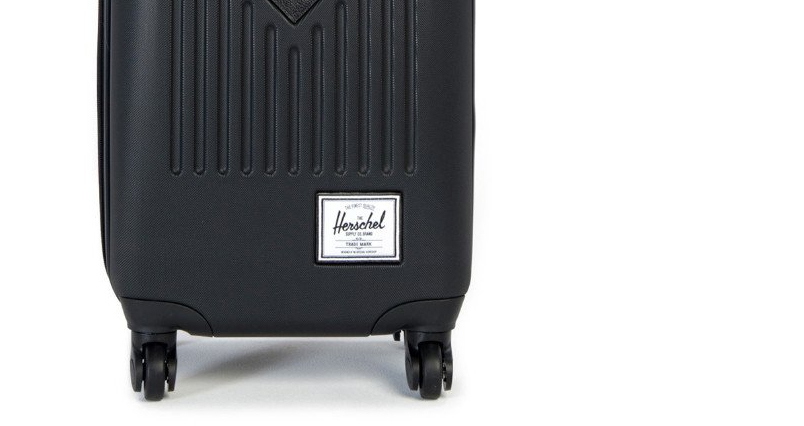 With more airlines adding fees to checked luggage, that can add up on your travel costs. For those who are like me and travel on budget, this means that you need to be strategic when packing. When you try to pack as much as you can in your carry-on in order to avoid checking a bag, that can be overwhelming if you are an overpacker like me. You also want to pack your bag so that anything you think you would need access to before or during the flight, you can easily access it without needing to take too many things in and out.
Here are some tips I follow when I pack my carry-on:

image source: @eggcanvas
Roll your clothes.
When putting your clothes into your bag roll each piece of clothing instead of folding or just throwing it in your bag. You get more space in your carry-on that way for other items, they aren't as wrinkled, and you will feel more organized with what's in your bag. Put your clothes at the bottom and in the surroundings to give a layer of cushioning for other items that might be fragile in your bag.
Image from Native Union
Bring your charger and adapter
.
You never know how long you might have to wait at the airport and if you travel with your phone, camera, and/or your laptop, the worst thing that could happen is running out of battery when you need it the most. In addition to your charger, remember to bring your travel adapter depending on which country(ies) you are travelling to. The Heys All-In-One Travel Adapter™ or the Native Union Adaptor are good ones to have because they're both one adapter that can plug into the outlets of more than 150 countries with just a twist. These items can be packed in the side pockets of your bag for easy access when you are waiting at the airport.
Bring your toothbrush and travel sized toothpaste.
Sometimes after a long flight, and even the short ones, you might feel groggy and want to brush your teeth when you get off your flight, or because you have an important meeting when you land. Pack your toothbrush and travel sized toothpaste that you would get after seeing a dentist or at your local drugstore into the side pockets of your bag so that you can easily access it should you decide to brush your teeth when you land at your destination airport washroom.
Travelling with essentials like your hair care products, accessories, bandaids, and face products (including makeup).
When packing your essentials into your carry-on, remember that any liquids, such as your shampoo, conditioner, face wash,etc., are not over the limit of 100ml/bottle. To avoid getting products onto items in your bag or inside of your bag in general, pack them inside a ziplock bag first before putting it into the middle of your carry-on with your rolled up clothes surrounding it. I would recommend using a travel kit bag like The Flight Pack to keep your essentials together and then put them into the middle of your carry-on. That way you always ensure you have everything you need for your daily regime organized in one bag that you can easily take out of your carry-on once you arrive at your destination. It would also be easy for you to pack up your essentials at the end of your trip.
When you bring your laptop or tablet.
Pack this last as this is the item you want to have at the top in your bag if you have a carry-on suitcase or duffle bag. If you have a backpack, put it in an easy to access compartment. That way, when you need to open it up your bag to take out your laptop or tablet at the airport security checkpoint you can quickly take it out for security without needing to scour through your things when there is a line waiting behind you. It also makes it easier to pack it back when you are done at security.
Photo by Joanna Kosinska on Unsplash
Bring snacks.
Food inside the airport once you check-in and go through security can be limited and/or costly. Try to bring easy and carry-on friendly snacks with you. This can include chocolate bars, chips, granola bars, candies, etc. For healthier options, you can bring fruit (fresh/dry) and nuts, but remember to try to finish those before you land in your destination as certain countries restrict you from bringing in nuts and fruits into the country. I like to travel with a bag of chips and gummies from Squish Candies handy. The gummies come in easy packable sizes that include a zip packaging allowing you to save the gummies for later if you don't finish it right away.
Check any restrictions to your carry-on items ahead of time.
With many restrictions as to what you can or cannot bring on board a plan, it is important to know ahead of time and keep yourself up to date with the restrictions on your local airport and destination(s) airport sites as they do change on a regular basis. That way, you can go through security swiftly without getting stopped and pulled aside which can delay you from getting onboard. Also check with your airline(s) with regards to your carry-on size restrictions.
Put your passport, credit cards, money and cell phone on you.
Whether it is a purse, messenger bag, satchel, fanny pack or personal pockets, it is always best to keep your prized possessions in them and close to your body to avoid losing them.
Whether you pack weeks in advance or a last minute packer, properly packing your items into your carry-on will save you space and time when going through security. It will also save you time when you start unpacking at your destination so that you have more time to do more exciting things.
Happy packing and safe travels!