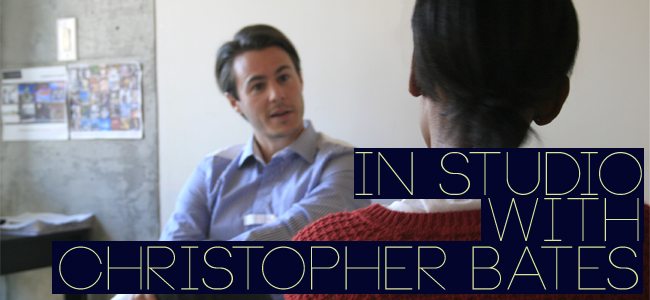 The walk to Christopher Bate's studio is a pleasant one. His street, adjacent to Queen West, is pebbled with ad agencies and creative studios on either side. His building, a rather raw live/work space feels intimate and sleek, yet very unpretentious. The man who opens the door for us, is of much the same philosophy it seems. He is dressed of course in own clothes, looking impeccable in the "Lelio Dress Shirt."
SC: I know that when I met you at Fashion Week, I heard a little bit about your background, but could you touch on that again for our readers?
CB: Well, I was born and raised in Vancouver, I've been passionate about fashion since I was a kid, but I didn't know it was an industry or career choice  until about my mid twenties. I did a couple of trips to Europe and I saw that –wow– there is this whole other world out there and there's people out there who'd appreciate these ideas I've been having for clothes since I was a kid. I had a sketchbook full of designs. I was working in marketing for five years and I decided, okay, I'm going to follow my dream and I sold my apartment and moved to Milan. I studied at Marangoni and then moved back to Vancouver to start my line in 2008. Then I moved to Toronto in 2010 to grow the business.
SC: Why did you choose to be in Toronto and not Milan, Vancouver, or New York?
CB: When I first graduated, I was intending to stay in Milan. I actually had an opportunity to go to Armani, which would have been amazing, but I had visa issues, because my visa had expired, so I had to come back to Canada. I'm a Canadian citizen, so my options were Canada…to start anyway. So I started in Vancouver, but my plan was to go somewhere else as soon as I could. I started doing a fair bit of business out in Toronto, so I said, okay, let's go to Toronto next.
SC: Why did you choose men's wear and not women's wear?
CB: Well, for a number of reasons. At my program, we did two women's collections and we did two men's collections. I am a man and it's easier to design for myself. I know what I like and what other guys like. I also saw that the women's market was over-saturated, you know one in ten designers does menswear. So I decided it might be better to make a name for myself in a slightly less competitive arena. Then at that time, menswear was getting hot and I saw that at the time. It was a growing market, so it was good business sense.
SC: So what do you think caused the shift of consciousness in men? Going from not really being interested in fashion to becoming a huge emerging market?
CB: I think it's gone up and down over the decades and centuries. Guys used to get dressed up a lot more, but I think it was the nineties, you know grunge and loose fitting clothes, it was really a sloppy decade. Early in the 2000's it started to shift and slowly gain momentum and there was the whole metrosexual thing. We're way beyond that now. Its just expected that a man does those things. and takes some care in his appearance. Now it's getting to a point where some guys are as into it as women are. So I think it's awesome and that it still is growing.
SC: Where do you draw your inspiration from?
CB: Oh, just life. It's not one thing in particular, I just always have my eyes open. It could be architecture, it could be music, it could be automotive, it could be other fashion… I just have a lot of ideas.
SC: What does the design process look like then for you? From start to finish.
CB: I start with just ideas for small details. It just starts with the details really. I have a pretty consistent silhouette that I use. Fabrics inspire me and I create technical designs and then I go out and make the prototype, so it's nothing too bizarre.
SC: Now for some more personal, fun questions – what are your favourite places to eat in Toronto?
CB: Strada 241, it's by the Rubino brothers and it's rustic Italian. It opened up recently and I had a great meal there, it's really authentic Italian food.
SC: You would know!
CB: We're a long way from Italy and they did a great job with that. I love it. La Palette (is also great), I was there for dinner last night and they serve this rare horse,  which I know is controversial,but it shouldn't be.It was outstanding.
SC: I find for myself and for people who don't work a typical 9-5 it's hard to say focused, how do you stay motivated? How do you not just….sit on the couch
CB: I don't have a couch! *laughter* Those aren't issues that I face. I am super motivated. i am the most motivated person you'll ever meet. So that's not an issue for me. I am disciplined. I was raised pretty strict, but it's really up to myself. I knew when I started this that it's something that I'm passionate about, so it's not really like work. I'm obsessed, I just love it!
SC: Where's your favourite place to spend the weekend in Toronto, or let's say Ontario, even Canada…
CB: My aunt and uncle have a place in lake of the woods and that's  my favourite place in Ontario. It's immaculate, you're out there in the wilderness but it's really nice nice it's clean and has great fishing. I love fishing. You can drink the water while you're swimming, it's that clear and pristine.
SC: What's next for you?
CB: Well, I'm working on my fall 2013 collection right now, it's in production. I have one more piece to start on.
SC: Are you showing this season?
CB: Yes, I am hoping to show my new collection for Fall 2013 at World MasterCard Fashion Week in Toronto.
SC: Are you selling at Gotstyle?
CB: Both Gotstyles. They've got the new one in the distillery, so I just delivered new stuff there January. and then I have some other stuff at the Bathurst and Wellington location.
Christopher Bates on Facebook, Twitter, and YouTube.
All photos were taken by Kaja Jorgensen of troisxtrois.