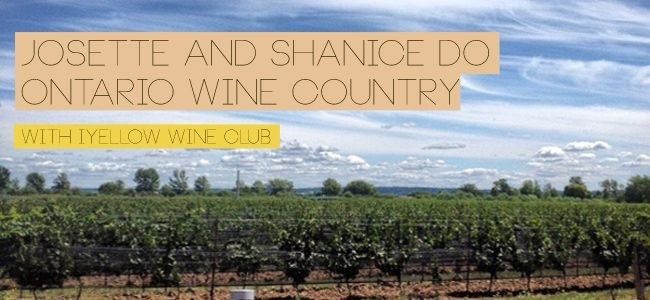 I have to say: this past Saturday was one of the best days I've had in a very long time.
Shanice, myself and our +1s packed up and headed to Ontario Wine Country with Angela Aiello, founder of the iYellow Wine Club and about 50 of our new closest friends.
We didn't know what to expect, but from the onset we were all very impressed with the warmth of Angela and her friends (staff?) and some family who made the trip extremely comfortable. What other bus trip would give you good music, homemade banana bread (OMG moist and delicious), fruit, and brownies from the hostess and her sis? Very considerate touches that made us see why iYellow was voted Toronto's coolest place to learn about wine.
Our first stop was Southbrook Vineyards where we sat down to our first tasting, and a delicious lunch. We were treated to a white, rose, and red from Southbrook's award winning collection, tasted grapes that tasted like green peppers and apples, and shopped at the on-site shop.
Next stop was the beautiful Chateau des Charmes, a winery founded in the late '70s that has been practicing sustainability since before it was "buzz". We tasted so much wine here, took so many pictures in front of the crystal blue fountain, and even got some champers (or sparkling wine – we're not in France) along the way.
The last winery we visited was Vineland Estates, makers of Angela's favourite white wine. Again, not at all disappointed.  Actually, by this point of the trip we were really craving cheese, and behold – we were able to buy some cheese! I was lucky enough to win a draw, and my prize – a Riesling from Vineland! Everybody won here.
We had an amazing day.  The company was great, the food was good, we were blessed with amazing weather, and yes, we actually learned a few things along the way.
I highly recommend going on a wine tour with iYellow Wine Club. Membership is free and it's not the "pinkies-up" type of affair you may be thinking of.
You relax.
Also, Ontario is one of the best places in the world for wine, especially whites, so you get some good stuff!
For more information, and to join, go to www.iYellowWineClub.com.
On Twitter, follow @AngelaAiello and @iYellowWineClub