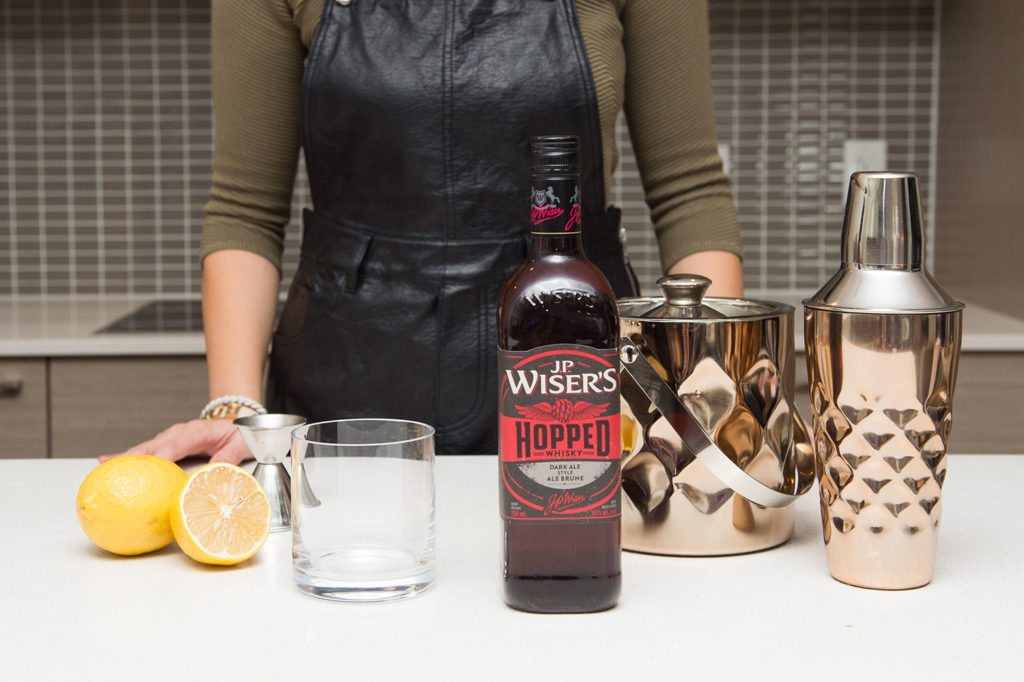 Holidays mean gatherings, and gatherings mean beverages to enjoy good company over. I've been mildly giddy over giving everything a twist, and whiskey appropriated for women makes things a little less intimidating when mixing something new.
J.P. Wiser's Hopped Whisky is blended with natural bravo hops using an IPA craft beer method called  Dry Hopping. This delivers the fresh hops aroma and flavour (aw yeah).
We've got on tap (no pun) two cocktails that will make life easier this season. Whether it's putting something together for an evening or a brunch, get snazzy with these drinks:
---
"J.P. WISER'S Hopped WHISKY SOUR"
2oz JP Wiser's Hopped Whisky
1 oz fresh lemon juice
1 oz simple syrup
Shake all ingredients with ice and strain into a rocks glass filled with ice. Garnish with a lemon wedge.
PHOTOGRAPHY BY @STEPHANIEKWHO. VIDEOS by @GUNNAROLLA
---
"J.P. WISER'S Hopped Whisky TWISTED CAESAR"
1.5 oz JP Wiser's Hopped Whisky
6 oz Clamato® Juice
2 Dashes of Sriracha Sauce
1 Dash of Fresh Lime Juice
1 Slice of Crispy Bacon (or as we like to call…bae-con)
1 celery stalk
Fill a highball glass with ice (or mason jar). Add 1.5 oz of JP Wiser's Hopped Whiskey. 2 dashes of Sriracha hot sauce, 1 dash of fresh lime juice, and 6 oz of Clamato® Juice. Stir gently and garnish with bacon and celery stalk.
PLEASE NOTE: This post was created in collaboration with the team at JP Wiser's Hopped Whiskey. Happy Holidays!