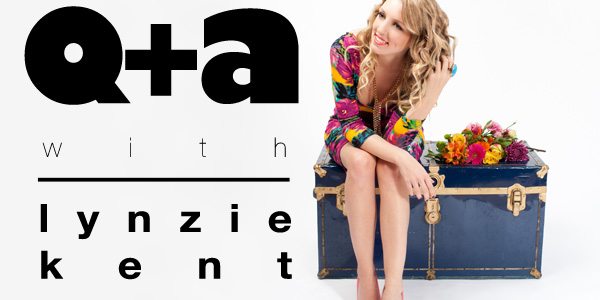 In the mood for a fun new artist? Check out Lynzie Kent, a Toronto-based pop artist and YouTube sensation (with over 10M collective views for her popular cover videos!)
Lynzie writes her own music and is bringing her DIY fashion approach along for the ride! I got the chance to catch up with her for an interview and a Q&A.
(1) First off, I love your new video "Whoop Dee Doo"! What was your inspiration? It was so lively and fun.
I was inspired by proms from the 1950's, DIY wedding projects and bold colour. I wanted it to be really bright and fun to contrast the serious message of the song. I wanted it to feel like we were making fun of ourselves by doing everything in excess. I made the giant flowers surrounding the band and those green shoes, and I helped style all the clothing in the shoot. It was an absolute blast and a great opportunity to get creative.
(2) I like the folky meets dance meets great vocals in your music. From some of your older tracks such as Seventeen and Dreamer, there is definitely a wonderful Taylor Swift and Lizzie vibe. Just really strong vocals and emotion. Was that your intention? What are your musical inspirations?
Thanks for the Lissie comparison, I absolutely love her. Seventeen and Dreamer aren't actually older tracks- everything on my album Something Wild is totally brand new and just released. I feel like music is very narrow minded these days and I wanted to make an album that was pop music, but that differed from your traditional view of pop. I didn't want to pitch correct my voice or over produce it. I wanted the songs, the lyrics and the vocals to feel authentic and honest, but still relevant to music today. I am so inspired by female artists who can sing and who are not afraid to be themselves and I wanted to make a record that would put me in this category of women.
(3) What are your top 10 songs on your iPod?
Right now I am totally obsessed with Florence and the Machine's "What the Water Gave Me" and "Only if for a Night", Ellie Goulding's "Guns and Horses", Foreigner's "Cold As Ice", The Black Key's "Lonely Boy", "You and I" by Gaga, "The One you Belong to" and "I Don't get by" by the Sheepdogs, Janis Ian's "At Seventeen" and Janelle Monae's "Cold War".
(4) You have already achieved a lot in your music and art career- notably accomplishing over 11 million views on YouTube for your originals and covers! What is the one thing that you want to accomplish, and get that "you've made it" feeling?
It's really hard for me to define "making it". I would obviously love to hear my music on widespread radio and to touch listeners all over the world. But, I feel like I am so lucky to be making music and creating ideas for a living. If I can keep strolling along the path I'm on, then I will get to live life doing something I'm truly passionate about and that is a true blessing.
(5) Where are you heading next? You create art, photography, music! So much! How do you find the time, and what are you creating next?
I will be spending the next while promoting Something Wild. Right now I am running a contest where fans can make a Christmas song cover request and win a prize pack from me and Dress911. I'll be releasing these covers online in December. And then in the new year, I will be holding an official album release celebration forSomething Wild which no doubt will keep me busy. I'm trying to plan some surprises for the audience and I'll be releasing info about this on my facebook page and my website, www.lynziekent.com<http://www.lynziekent.com> .
(6) You have done a lot of performances, appearing at the Montreal Jazz Festival, NXNE, Midpoint Music Festival! If you could choose ANY band/ artist to tour with, who would it be?
Oh man, this is a toughy- there are so many! I'd love to perform with Anne Wilson from Heart as she is my absolute favourite singer or Chris Martin, as I would feel like I died and went to heaven, so dreamy. I would love to tour with so many artists who I believe are doing something unique with music these days like The Sheepdogs, Ellie Goulding, Florence and the Machine, Lissie and so many more.
(7) Now that we're approaching the end of 2011, looking back at the year- what were your favourite albums?
Well, I know I was late to jump on the bandwagon, but Janelle Monae's Archandroid has been a huge fave for a while, I loved 21 by Adele, and althought I have said their names so many times now, Lights by Ellie Goulding and Learn and Burn by the Sheepdogs are still on repeat.
(8) You are a supporter of Canadian Fashion! What are some of your favorite designers and places to shop in Toronto?
I'm mostly obsessed with vintage fashion and I just can't tell you all my fave's as I don't want them to become to popular so I never get the good stuff!! But I will say I love Penny Arcade at Dundas and Ossington, Tribal Rhythm always has great stuff on Queen. I also love Headmistress hair accessories, and this adorable  shop on Queen called Durumi and Chocolate Shoes.  Fashion Crimes, whose dresses I wear in the "Whoop Dee Doo" video, is an obvious Toronto fashion mecca.
Thank you Lynzie. You can find out more about her at: www.lynziekent.com.