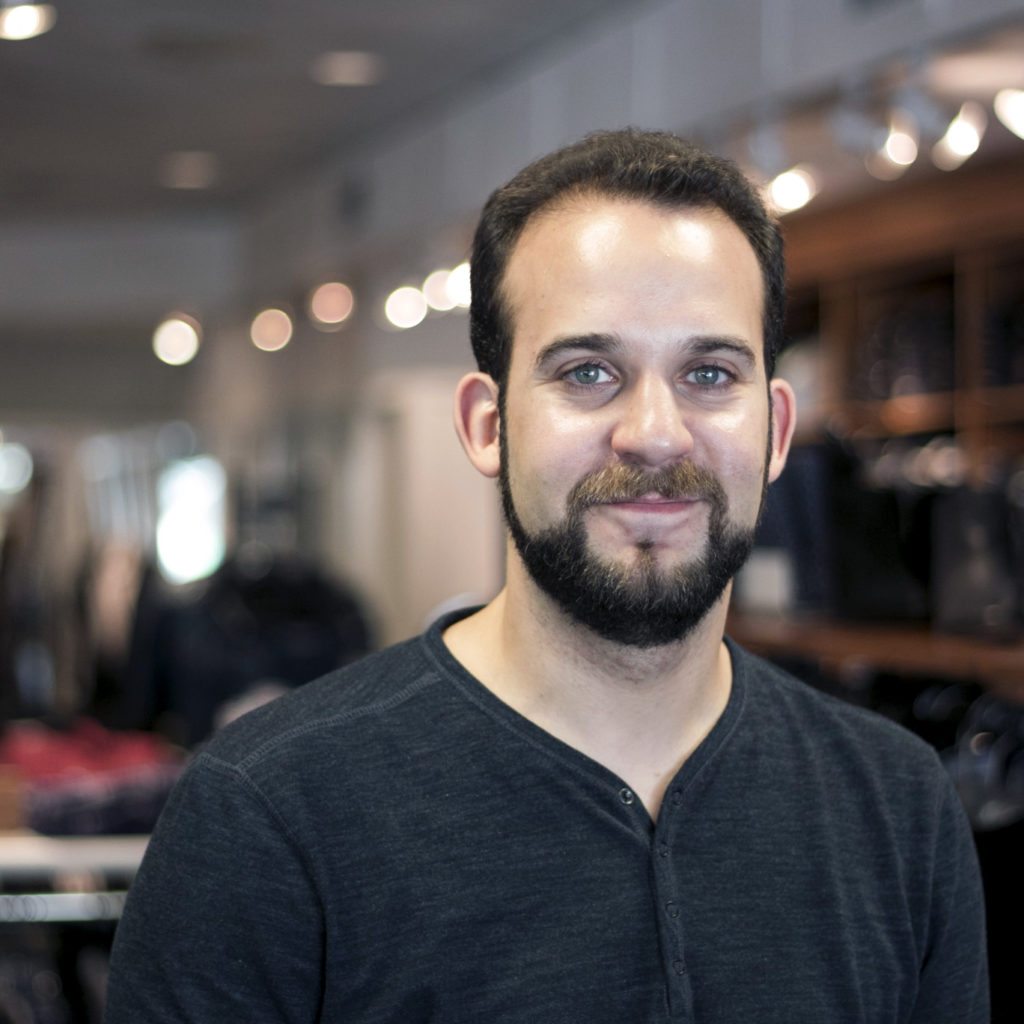 Over the Rainbow is a staple of Yorkville history. It started in 1975, and even when you go back to the About section of your homepage, there's a vintage photo of the shop then. What's your take on the growth and change of this neighbourhood?
The area has evolved a lot from this boho, hippie, music-driven area—which was mainly visited by teenagers and young people—to this house of luxury. We've evolved with that, but we've managed to stay a little more grounded because we were one of the original Yorkville businesses. We don't want to evolve TOO much whereby we become completely consumed by this luxurious lifestyle. At the same time, we've seen what the area has become, so we need to adapt in our own way without sacrificing who we are.
I believe evolution means we get better. Otherwise, it's not really evolution; it's just change. It's important we maintain our roots to show people we come from somewhere. I respect that. Though I wasn't there—I wasn't born yet—I understand what those ideals are, and I try to maintain them as best as I can in an ever-changing environment.
What are the origins of the name Over the Rainbow? 
I think it was just the era. It was the 70s. I knew Joel, the founder, really liked the song. It was a catchy name. Obviously, the colours of the rainbow. We give Jujubes to people in the store because they're all different colours. It was a way to attract people into the store—by having this vibrant, colourful name. Over the years, it became this household name based on the experiences that people had while shopping there.
What is the experience you give people?
Not everybody sells jeans the way we do. A lot of stores sell them as a self-service item, when really jeans are one of those things that need to fit perfectly. Very few clothing items need that kind of help; most items are self-shoppable. Jeans are not one of those things; it is a full-service shopping experience.
We've turned this traditionally uncomfortable jean shopping experience and turned it into an easily great one. I believe that is the staying power of Over the Rainbow. It's our unique knowledge of denim, and our way of fitting people with denim. Fitting customers is something you learn over time, and we've had 40 years to learn it. When you're in business for that long, you know a thing or two about helping people.
We also don't take ourselves too seriously. When you walk into the store, you're not greeted by a bunch of stone-faced staff members. They're smiling at you, they want to help you, engage with you. They want you to leave with something you're going to wear all the time. That's our goal.
You grew up in the business. What's been your relationship with denim?
It's been a long relationship. It's a business that's provided a really good life for me. Even as a kid, I try to give back to the store that created this life for me. When the time came for me to pick a career, choosing Over the Rainbow wasn't by default. I knew I wanted to be a small business owner; to be a leader and a role model. I chose to do it within the store because I felt there was enough room for evolution, where I can come in and make it my own. I could continue a legacy that really started with my family, and take it to the next level.
Often the term 'patronage' gets thrown around. If you learn about me as a person—as not just someone who works in the store, but as somebody who worked in a lot of different places in the fashion industry —I've accumulated a lot of experiences. I've worked every job in fashion, from the most bottom level jobs and up, and everything I've learned I brought back with me to make Over the Rainbow the best it possibly can be.
It's my belief that even after 40 years, our best years are still to come. I believe the future of the store is extremely bright. Right now, we're an amazing store, and we've grown even in the ten years I've been here. The future is exciting because there's a lot of room to grow and evolve, and that's going to come from people like myself, my sister Amy, and the team who works here. I couldn't do this without the group of incredibly talented people who want to grow it in the same way.
My relationship with the store is deep. I'm proud to be a part of a family business that has influence over people to look and feel good.
You've always kept things quite local, with your involvement in the community and your selection of brands. Was that important for you?
Going local means connecting with community. When we started in 1975, Over the Rainbow wasn't a household name; it was something people discovered. Those people who supported it were a part of the community. They were people who worked hard for their money and decided to spend it with us. The local community built this store, and continues, to this day, to support it.
Community involvement is important to us because it's a way to say thank you to those people who made it possible for us. You develop relationships with your customers. They become your friends, people you talk to, people who you create loyalties with. In the beginning, that relationship is about us servicing you with clothing. Eventually, that evolves to other things in their lives that matter to them. To build these relationships into something real, you have to support them back. You have to be grateful for their support and not take it for granted.
My biggest regret is that we can't help everybody who comes to us. As a family business, we believe in saying thank you to people by going beyond selling nice clothes. Of course, we are always going to sell clothes, but we understand people are human beings, and want more from us now than just clothing.
People who don't support their communities are not grateful to the customers who shop with them. To them, it's just a transaction. To us, it's a relationship. Transactions can be one result of that relationship. Whether it's with the Bloor-Yorkville BIA, or charity events, or denim drives, we're always going to be active in the community.
You've always been about the customers. Although it ends with the product, the experience is really about the service. That could get exhausting. What do you do to keep that energy and quality up?
It's in our nature. We don't get tired of it. To us, it's everyday life: meeting somebody for the first time, helping them out, giving them what they want as far as their look or desire goes. We keep up by constantly talking to our customers about what they want and adjusting our store, product selection, and service to cater to them. We listen to them.
There's a difference between a store that tells you what you should wear, versus stores that listen and give you what you want. By keeping our ears and minds open, we're able to keep improving and learning every single day. Because we're only one store, we have the opportunity to listen to customers. I'm not high in the sky overlooking everybody; I'm actually talking to my staff and customers. Being engaged, and conquering new challenges keep us motivated daily.
The business of fashion is constantly evolving. How do you maintain the consistency of your brand and experience?
Consistency lies in what you're good at, what your roots are, and trying to maintain those core values while evolving in other areas. The game of shopping and fashion has changed so much, especially over the past ten years. We keep playing the game, but the rules have changed. To be an all star, we've had to learn what the new rules and avenues of shopping are. It is possible to stay current and hold onto your roots at the same time. It just requires knowing what it takes to get there, and keeping an open mind as to where the patterns and trends—the ebbs and flows—of the industry are going.
Luckily, we're surrounded by a lot of people who are in the know. My staff and management team are always keeping their ears open as to what's going on in the world of fashion and shopping. And we are adapting to them in our own way. It's a balancing act of evolving enough without completely changing your entire store just to be cool to a new generation of customers. If the desire and passion is there, we'll be right there to satisfy them.
What was the dynamic back then with jeans in comparison to now? Were there fewer options back then?
When we started, it was incredibly progressive, alternative and rebellious to wear jeans. At the time, there weren't really any jean stores like Over the Rainbow that existed in the city catered to rebel teenagers. Now, jeans are mainstream; everyone can wear them! And they're constantly changing, mixing with other fabrics with new technologies. It's amazing how far jeans have come!
Our need as far as jeans store has always been there, but it's for a wider audience now. There are new age groups and new purposes. It used to be you could only wear jeans in certain places; now it's acceptable to wear them almost anywhere. Restaurants and nightclubs aren't turning jeans away from the door anymore. This shift only creates a bigger need for us as a store to satisfy people. Based on our selection of brands, finishes, and styles, I think we do. I wear jeans everywhere, and I love how accepted jeans are universally.
Is it clear what Over the Rainbow's best years are going to be like?
It's a little early to visualize—or for me to even tell you what that is. There are definitely some things in the pipeline we're working on. Over the next year or so, we'll be able to paint a much brighter picture as to what our store could do and even look like. When I do, you'll be one of the first to know. Most recently, we launched our e-commerce store with a full selection of our best brands and products. This took a long time to build, but I am happy it is here to serve our loyal customers. Our plans are to continue growing the digital shopping experience and integrating it better with our in-store experience. It's the new era of retail.
---
Learn more about Over the Rainbow by following them on Instagram, Facebook, and their website.