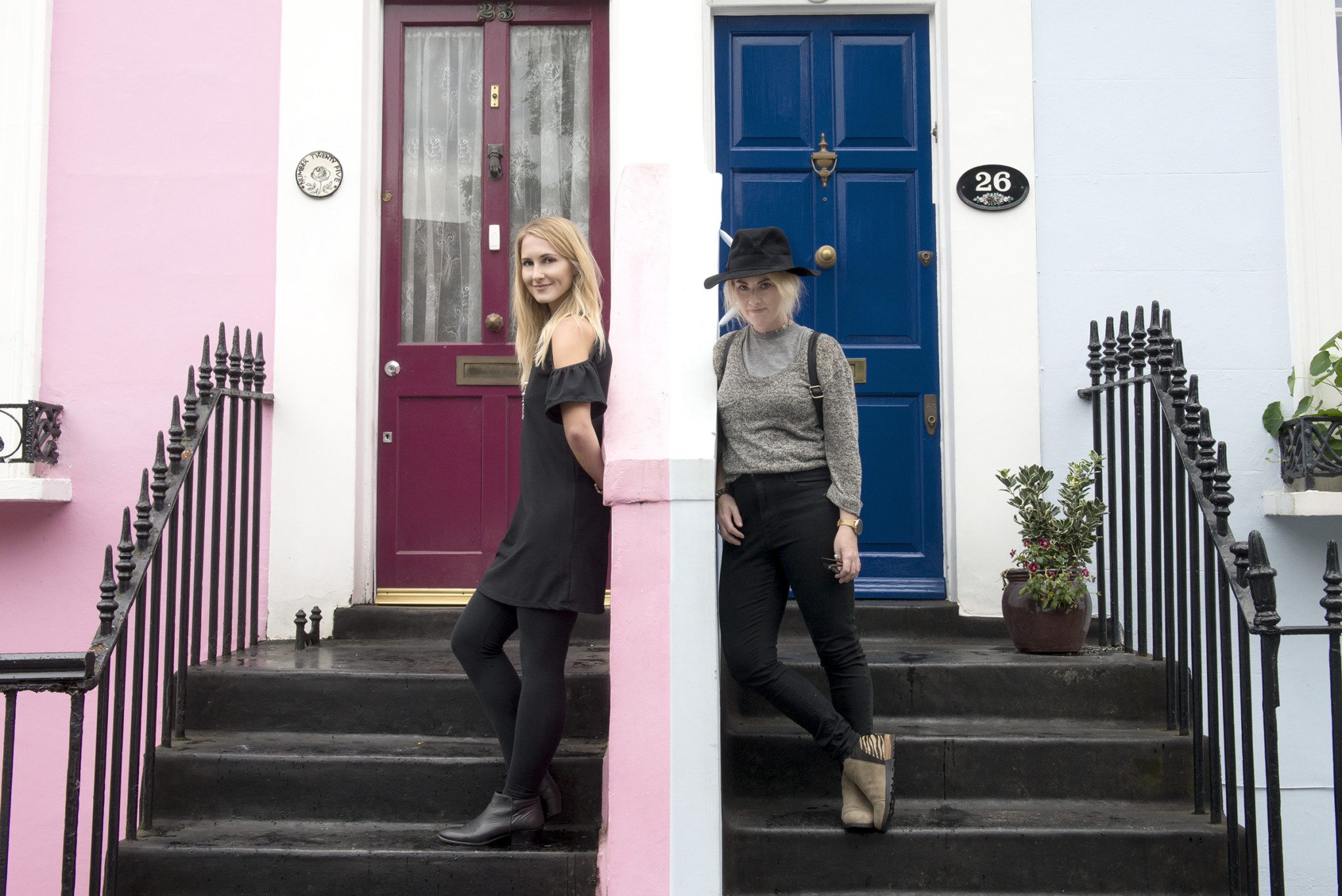 I met Aleyah Solomon and Julia Eskins through the creative community in Toronto. Aleyah was always a photographer whose work I admired from afar, and I leapt on the opportunity to collaborate with her when the right client came along. When I noticed that Aleyah and Julia had started on an almost manic-travel-spree, I knew there was a connection.
Here & There Magazine is a visually rich, quarterly magazine. It's stunning. It makes you want to get off your ass and travel like these girls have, and seek art, culture, and fashion around the world. And hey, if your budget doesn't allow, live vibrantly and vicariously through these ladies, because they're onto something. Read on for more about their travels (and scroll through a stunning library of photos):
What are the quirks / tricks of finding the perfect travel buddy (especially someone you work with)?
Aleyah: If you have a strong dynamic on most days, chances are you will travel well together. You have to have enough similarities and differences to keep your relationship strong. It's important to find someone who is equally open minded to exploring new things outside of their comfort zone. Julia and I have slightly different travel styles. Julia likes to do more research and plan ahead of time and I am open to wandering and exploring as we go, so it gives us some structure but also leaves room to explore and stumble on new things.
Julia: Who you're travelling with can make or break a trip. Anything can happen, so I tend to seek out a travel buddy who is flexible and easy going enough to adjust if plans change. It's also key to find someone with a similar desire for activity and adventure. We both love walking everywhere and trying new things, and almost push ourselves to the brink of exhaustion on our trips. I don't think I could ever travel with someone who just wanted to laze around and take cabs everywhere. I think finding a travel buddy is a pretty intuitive process – generally if you have similar habits and interests, and complementary personalities, it will be a good match.  
What are the first questions that you ask when you realize you're about to travel to a new city?
Julia: These questions differ depending on the type of trip but for Here & There Magazine, we always ask, "Does this city have a thriving arts and culture scene?" and from a journalistic perspective, "How can I cover this city in a new way?"
Aleyah: I like to know "Is it easily accessible by walking, biking or metro?" And of course as a photographer, "How I can shoot the city from a new angle?" – if it's a place that is very popular for tourists and other journalists, you always want to try to show a fresh perspective.
Any specific things you seek out when you land in a new place (coffee shops, biking, etc)?
Aleyah: I love finding interesting cafes and fresh food markets. Nearby grocery stores are also great for grabbing healthy snacks when we're on the go.  
Julia: Cafes with wifi are a must. We'll often take our laptops to a coffee shop near our hotel to do work for a change of scenery. We love exploring different neighbourhoods and are especially drawn to ones with great cafes, boutiques and galleries. As a result, we've started doing one "neighbourhood in focus" piece per issue. Our first one ran in the Paris issue, where we explored Canal Saint-Martin. Since being in Barcelona, we've been spending a lot of time in Gràcia, a vibrant little village with several restaurants, shops and colourful buildings that encapsulate Barcelona's bohemian vibe.  
Aleyah: We really enjoy walking around and stumbling upon artisan markets that highlight local artist's work – prints, bags, jewelry, etc. It gives us the chance to meet these artists and talk with locals about the work, and also find out about where they like to go in the area.
Julia: Yes, we went to a market in Poble Sec, Barcelona's emerging design district, which was great. We were able to chat with several local creatives that we might have not discovered otherwise.
How do you plan a trip with someone in a different city? (funny enough I just did that and it was VERY hard)
Aleyah: Since I left Toronto, it's not necessarily more difficult planning our trips, it's more a matter of waiting for the other to respond because of the time difference. I was in Halifax so the one hour difference wasn't too bad but now that I am in Paris, having six hours between us just means we plan and schedule our meetings ahead of time. With texting and social media we are always able to reach each other so it's not too bad!
Julia: Aside from not being able to meet up in person, it hasn't changed our process too much. We've always used tools and apps like Skype, FaceTime and Slack to communicate daily. We have very separate and distinct roles which also makes it easier. Before we travel, we'll usually research designers, artists and neighbourhoods ahead of time together and go through a detailed process of narrowing down who we would like to feature. We'll usually find hotels in the neighbourhoods we like, and choose a time of year to travel that is conducive to shooting and being outside for long hours. From there, I reach out to the designers and artists to schedule interviews and Aleyah coordinates the editorial photo shoots. We'll then create a rough travel schedule via Google docs with plenty of room for spontaneity.
---
Follow Here & There Magazine on Instagram, Facebook, and their website.