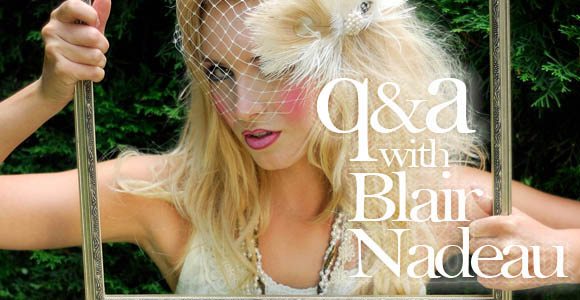 Blair Nadeau brings beautiful to life – and to your head pieces. Delicate yet bold, stylish and statement filled, I approached Blair quite awhile back when I spotted her a few seats over at the R4 fashion show now seemingly ages ago. Though it was more than apparent that Blair had her own stellar style to start with, it was her head decorative that caught my eye. These stunning motion filled millinery pieces are handmade, individual craftsmanship, created with commitment to the art. Enjoy the Q&A after the jump with the talented Toronto designer.
Tell me about Blair Nadeau Designs

Blair Nadeau Millinery is a high end, hand made Millinery house.  Each piece is custom made by myself – Blair Nadeau, to ensure the highest quality standards possible.  My philosophy is that if I'm putting my name on each piece, I insist that I hand make and design each and every piece.Currently I have a few collections.  The  most recent has been our launch of Blair Nadeau Bridal – 6 Bridal collections for Spring 2011 that consist of Whimsical Feather Fascinators, Birdcage veils encrusted with pearls and crystals and Daring Cocktail hats.  The look of this collection is very soft and ethereal, lots of mints, apricots and nudes.  We really want to see Brides wearing colour!!In addition to Bridal I also have quite a few fascinator collections and cocktail hat collections that are more fashion related.  I just finished the Fall/Winter cocktail collection and it's HUGE! The bigger the better for this collection.  I focused a lot on the hard and tough.  Last season was all about the soft colours and lace, this season I brought out the big guns.  lots of metal, broken mirrors, studs, sequins, tartan and spiked feathers…oh and denim…it's fabulous!  Pictures will be posted of the latest editorial shoot – Dandy Androgyny, very soon!!

With the surge in headpieces as a popular accessory, what do you think makes a good quality headpiece?

First and foremost, quality resides in the materials.  At Blair Nadeau Millinery, I have spent the past 2 years sourcing the absolute best in Millinery materials.  The vast majority of the materials are imported from the UK and Spain and a bit from the US.  I have developed great working relationships with my suppliers to ensure that I receive the best product every time.  The next most important trait in quality, really depends on who is making the product.  As I said, I am the only person that makes each and every piece.  I put my all into every single design I make, whether it is a $25.00 feather clip or a $300.00 hat.  Each Blair Nadeau piece is stamped with my quality.  I have made over 1000 pieces by hand in the past 2 years (that is probably a gross underestimate) and each of them were of the absolute best in quality.  If I am not 100% happy with the product I have made, I will remake it.  Nothing will be presented to my customer unless I am proud enough to wear the piece myself and call it my own.

How does each category in your collection differ from one another?

All of my collections are pretty different, however they all tie together in one way or another.  I research the trends in terms of colours, styles and themes for each season on the runways, as well as fabrications and embellishments and decide which trends and themes are relevant to my collections and my point of view.  My cocktail hat collection is where the fabrics and themes are most apparent as i make all of my hat bases by hand so I like to experiment with many different types of fabrications.For my spring 2011 cocktail hat collection I focused on lace, antique rose, coral, bows, ivory and nude as these were the colours that were all the rage for that season.  My hats all had a similiar theme.  Each were lace covered with an accent colour underlining the lace and embellished with bows of sinamay and crin in one way shape or form.  One of my signature pieces are my hand made zippered roses that I try to incorporate into a lot of my pieces, which are a huge hit with my customers.

I had a zipper rose collection that consisted of zippered rose rings and headbands, that was for fall 2010.  I still keep that collection on my website because every now and then I receive a request for one of those pieces, but I have found that my designs are leaning more towards the bridal sector and the cocktail hat sector.

As for Fall/Winter 2011, this collection you will really be able to see the trends play out.  Each piece is HUGE! I designed them this way for events, editorials and photoshoots, however each piece can and will be toned down on a smaller scale for the every day consumer….however if any of you are daring enough to wear one of these mayjah pieces, please wear it!

We met at an event where I noticed your head piece – what does wearing a head piece mean. What kind of statement does it make?

Wearing a headpiece really is just an extension of me. Every event that I go to, I put on a new piece for all the world to see.  Putting on a cocktail hat is like putting on a jacket, or a hot pair of shoes, it's just another part of my wardrobe.  I tailor each piece for each event that I'm at.  During the day, at my day job, I will wear something more understated, like a small headband or a clip, at fashion events, the bigger the better and I pull out my most elaborate hat and at parties and functions I usually tone it down.  I'll wear a cocktail hat for sure, and it will still be a topic of conversation, but it will be a little more understated then one of my big hats.  There is a time and place for every headpiece and at every event, I make sure to wear a different one…and I have a studio full of options!A Headpiece definitely makes the "Look at Me" statement.  As they are not commonplace in most people's wardrobes one that wears a unique piece definitely stands out from the rest of the crowd.  Someone who wears one should be open to attention, comments and questions, as I have been wearing them for 2 years + now, I definitely receive comments, compliments and attention every where I go.

How do you go about styling an outfit with a piece?

Luckily, as I have a studio full of hundreds of hats, feather fascinators, veils and flowers I can pretty much choose a piece at my will from all of my collections to go with whatever I put on.  If i'm wearing something really big, I will chose something to wear that is a little more toned down and understated.  Take last night for an example, I chose to wear a Ryu textured Black Organza dress from www.myfavouritedresses.com and a Black and Brass Studded belt from REmix Clothing, and made yesterday morning a large headband that was wrapped and twisted with glorious black crin and accented with Olive (my colour of choice for Fall 2010) silk ribbons studded with brass pyramid studs.  This tied into the brass studs on the belt, but was tonal enough to blend into the dress (Cocktail Headband – Lady Corporal – to be available on www.blairnadeau.com soon!)  If i'm wearing something very bold, i'll usually tone it down and go with a Feather clip and pull a colour from my outfit and accent my hair with that colour.  I'm kind of a matchy matchy type of person and like to coordinate my garments matching something to tie everything in.  Whether it is colour, fabric or accents.

Other than twice a year at The Clothing Show, where else can we hope to find your pieces?

Blair Nadeau Millinery is available custom made directly from my website www.blairnadeau.com.  I don't offer online shopping as I believe in personal touches and really adore and appreciate getting to know each and everyone of my customers.  I have an online contact form that my clients can fill out indicating which piece they are interested in.  They will usually get a reply back within an hour and the consultation process begins.  The client can order any piece from the website and has the option to tailor it to their likes, by changing colours, adding embellishments etc.  This is also why there are no prices on the website as everything is custom made.As for retail locations, Blair Nadeau Millinery can be found at Fashion Crimes – they carry a selection of my popular England's Belle Clip – which is a small hair accessory on a barrette – colours and styles vary.  As well as my Bridal Piece – Romance in Ivory.

Charlie on Queen Street carries a selection of my seasonal product – usually England's Belle and Portia's Masquerade, again, colours and styles vary.

Black Daffodil in the Junction carries Ophelia's daydream – which is Portia's Masquerade styles on a clip with a brooch for versitile wear! (colours/styles vary)

Lolita and Frilly Lizard in London carry a good assortment of England's Belle and Portia's Masquerade.

www.aspiringcouture.com is an online website out of California that carries some pieces.

Soon, we will be available for rental and purchase at My Favourite Dresses and REmix clothing – Designer Rental Collection.

As for Bridal we will be available at Petrov Bridal in London this coming November! Just in time for the Spring/Summer Brides.

What's the most interesting material that someone has asked for you to use on a headpiece?

I was asked last year to incorporate leather in to a feather piece…it turned out really pretty!  Ive also been asked to use porcupine quills!  Some brides have asked me to incorporate heirloom pieces into their veils and fascinators which I think is so special, it's a real honor to be asked to do that!

What do you see next for Blair Nadeau Designs?

I see Blair Nadeau Millinery expanding a lot in the Bridal Sector.  I am currently looking into being available in quite a few more Bridal Boutiques in Southwestern Ontario and the GTA area.  I am also interested in expanding my editorial portfolio and collaborating with fashion magazines and blogs!  I definitely don't see it slowing down….I only forsee it getting busier and greater! which I can't be more excited for!  These past two years have been a wonderful journey and I'm super stoked to see what the future brings!