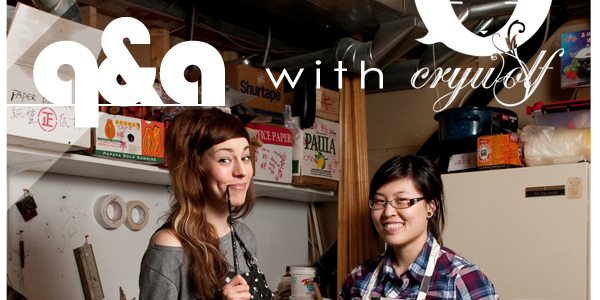 I came across
crywolf clothing
at a habitual visit to The Clothing Show. Not long after did I start to see their items everywhere – pieces of hilarity that sprinkled Toronto fashion boutiques and brought more than a little sunshine to my heart. Every time I spot something distinctively crywolf, I'm drawn. The line by Stephanie Drabik and Rose Chang started with a little printing in 2005, under the name p0isson. It's since become so much more than just a few kitschy prints…but a collective of wonderful, whimsy, satire, and sass.
1. Why crywolf (what does it mean)? Does that mean we can cry over and over again with your line?
The name Crywolf came about in a very random way. We were basically thinking of a new name for our company and tossed around different ideas. We both by chance agreed upon and liked the ring of Crywolf (which comes from Aesop's fable of The Boy Who Cried Wolf). It fit well because there is a lot of animal imagery in our designs and we were able to envision a logo almost instantly. We really wanted to focus on creating a solid brand so all of the pieces just seemed to fit and we went with it.
2. How does your previous venture p0isson affect how you put together your crywolf collection?
We learned a lot from p0isson. We were both in school and working part-time jobs when we started p0isson so it was more a side-project. It taught us a lot about the business side of things. Since neither of us had any business education (aside from high school accounting), p0isson was our teacher. We took from our successes and our failures and figured a lot of stuff out the hard way but p0isson was the stepping stone in making Crywolf into what it is today. Sometimes you just have to jump into things and hope for the best. The key is not getting discouraged when things don't turn out the way you had planned, just pick up and keep on keeping on.
3. You detail slinging 1″ buttons at people on the street – what's the best and worst reaction you've received?
Haha, looking back, I can't believe we did that. Some people get REALLY freaked out when you approach them trying to sell something, even something as innocent as a 1″ button. We did sell some but most people just look at you like you have a third eyeball and quickly walk away. On the other side of the spectrum, we did get some people who were really excited about them, and that is why we continued to do it and kept on going.
4. I love the Maneki Neko tank (the waving cat tank top – you know, the cat that greets you at every Chinese restaurant entrance). What drew you to this idea?
We both have an interest in Chinese imagery and culture and it's one of the many things that sneaks its way into our designs. We have a little porcelain maneki neko that sits on our counter at our booth at the Canadian National Exhibition to bring us some luck. Of course I dropped it one day and part of its paw smashed off. I felt horrible but glued maneki back together. After that I did a drawing of him and we made a button out of the design. Then this year decided to bring back the design as a shirt and voila!
5. Sharky boy, narwhal, mr eggplant – where do you get your creativity? Where do you find the best ideas hit you?
As mentioned above, we pull our ideas from a huge ocean of things that inspire us. I think our best ideas hit us when we are doing shows, especially long ones because we're together for long periods of time and sometimes delirious from being tired. It can spawn some ridiculous ideas and also some great ones. I think some of our best designs were concocted during a show. Doing shows also gives us a good idea of which designs people get drawn to, and sometimes that inspires us to make something along those lines, but different and new. But really, you never know what designs are going to fly. Mr. Eggplant, he's just this eggplant that is ridiculously happy and has crazy arms. We weren't sure if people would actually be into it but it made us both laugh so we figured it would have the same effect on others. Luckily, it did!
6. You've expanded into quite a few accessories too – buttons, pins, zipper pulls, necklaces. Any key favourites?
I think both of our favourite new product at the moment is our vinyl toy Bü. For the launch in June we had 18 artists whose work we love and admire customize their own Bü and had a launch party/showcase to show people the realm of possibility of what you can do with Bü! We didn't give any of the artists direction and each of them specialized in different mediums so there was such a wide range of customization that came out of it. We were blown away. Anyone can buy their own Bü off of our website and we're hoping to have them available in stores in the new year and we'll also be holding a contest for submissions from the public of their custom Bü;s. Can't wait to see what people come up with!
link: www.whatsyourbu.com
7. Where's crywolf running to next?
We will be at the One of a Kind show from November 24th – December 4th! It's our first time doing the full length of the Christmas show, so we're really excited. In the meantime we're going to be scheming up some cool stuff for 2012 – sorry, no spoilers!