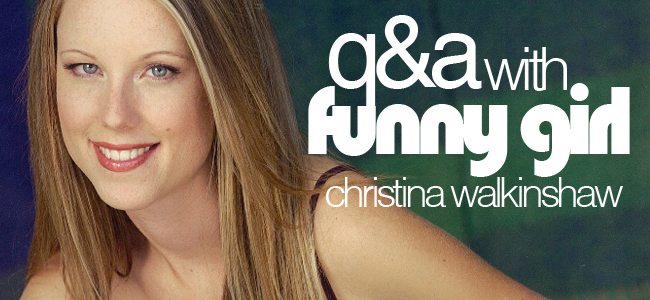 For those of you who follow Christina Walkinshaw on twitter (
@Walkinsauce
) you know she's good for laughs. Walkinshaw is a comedian who's based out of Toronto and since the age of 19 has been doing standup and has headlined at YukYuk's Comedy Clubs all across Canada. Her jokes have  been published in the book "She's So Funny" which also feature jokes from Ellen Degeneres! Her numerous funnies even landed her a full set on CTV's Comedy Now! (
check it out here
).
Abby: Great to meet you Christina! I just watched your Comedy Now! Special and it was great. Where do you find your inspiration?
Christina: I get my inspiration from my real life.  Everything is true, or comes from truth.  If you asked me about any of my jokes, I probably have another 5 details lurking behind the punchline…
A: What comedians are you inspired by?
C: I'm inspired by a lot of Canadian comedians, cuz that's who I grew up working with.  I love Heidi Foss(Montreal), Jon Dore, the late Irwin Barker, and my awesome comedian friends here on the Toronto scene, like Pete Zedlacher, Ian Sirota, Kathleen McGee, Graham Chittenden… okay, now I'm just bragging about how many friends I have…
A: haha! Speaking of bragging, The Comedy Now! Special was pretty huge! You know, lot of musicians and performers have routines before they go on stage, do you have any preshow rituals?
C: Pre-show rituals… does peeing count?  When I'm nervous I feel like I have to pee every ten minutes.  Sometimes I feel like I have to pee right when my name's called to go on stage, but then magically, when I get off stage, I don't have to pee anymore.  If I'm still doing stand up as a senior citizen, there's a good chance I will wet myself on stage.
A: You have a great twitter presence and a lot of up and coming comedians are being discovered online such as the popular @meganamram. What is your take on comedy and social media?
C: I love social media.  I love Twitter.  The worst habit for a comic is having an idea for a joke, and not writing it down.  With Twitter I get a thought and think, "I'm gonna tweet that!"  You get an immediate response to find out what's funny before you even try it on stage.  Plus with the 140 character restriction, you really have to cut down your words to get to the punchline.  That's usually always a good idea when writing.  Also, a retweet will make a comic very happy.  Last week, I tweeted I needed toilet paper at a downtown bar.  It got retweeted many times.  Thanks to you, I was saved.
A: What do see yourself doing in your comedy career besides stand-up?
C: Writing.  I love writing. I would love to get a job writing for a talk show, or comedy series.  Until then, I'll let you all know, I have my "Smart Serve."
Thanks Christina. I look forward to seeing your stand-up and to 'reading' more of you in the future! 🙂
* Side Note from Gloria: This girl can drank! She wrestled down shot after shot during her performance without flinching. Good on ya, lady.