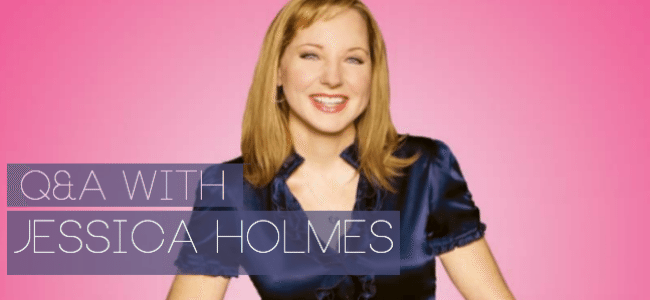 Jessica Holmes balances it all! A successful Canadian comedian, actress, motivational speaker, writer, loving mother and wife! Best known for her work on The Royal Canadian Air Farce and her early TV series- The Jessica Holmes show, she has carved a strong presence for herself as a Canadian entertainer. Recently, opening for Oprah's tour in Toronto- announcing the likes of Deepak Chopra, it is evident that she is an inspiration to many! Lucky for us, we got a chance to chat with Jessica with some tips for us urbanebloc-sters on enjoying your 20s, love, career, and perfection.
Question: Thanks for speaking with us Jessica! You've been keeping really busy!! Between motivation speaking, comedy, and raising a family, how do you find time to relax and time for yourself? Any time management tips?
Jessica: I like getting a "two-fer" – working me time into my career and family life by making it all more fun. I also expect wayyyyyyy less of myself – cause I don't think you can be everything to everyone. Perfectionism = burnout. Besides, creatively speaking, the best ideas come during off-hours: it's referred to as the "shower principle".
Q: I remember seeing you on the Royal Canadian Air Farce and on your own TV show- the Jessica Holmes show! Tell us a bit about the transition process from comedy to life-coaching and motivational speaking.
J: I was so lucky to live my dreams so early – to get to play every character I wanted on TV for ten years was incredible!! But I like being inspired in new ways – and there came a point where I had played everyone I'd ever heard of – from Michael Jackson, to Hayley Wickenheizer, to [insert name of blonde singer here]. So I turned to my other passions: self-help and positive psychology. I've benefited so much from the teachings of amazing teachers like Deepak Chopra and Martin E. Seligman that I now love getting on stage and doing a mix of comedy and motivation. The transition took some risk-taking on my part, but that keeps me sharp and energized… I think. Do I come across as sharp and energized?
Q: As someone who follows you on Twitter and Huffington Post, I really enjoy articles and one-liners about your kids (follow you @happyfeetholmes)! For those of us who are not parents yet, followers might find inspiration in your passion for chasing your dream…let's call it- making' it happen. What wise words of wisdom do you have for our struggling "quarter life crisis" troupe?
J: Since I was Mormon when I turned 20, I thought, "Well, if I'm not married in the next two years, I guess I'll just give up on that dream and find happiness as a spinster." Now I laugh about it. The world is so accommodating: there's time for everything, and finding love happens for people in their teens, twenties, fourties, nineties, etc. Families can happen conventionally in your twenties, or unconventionally in your fifties. And I'm always inspired to see that some of the most successful people in the world started their greatest careers mid-life and later. No rush, buddies! Inspiration happens all of the time.  Starting over happens all of the time.
Q: Without getting too philosophical – not knowing what is gonna happen next is a common fear in our 20somethings. From your experience, what do you wish you had known/ or could tell yourself.
J: Oh, the anxiety of being 20. I remember bawling on the porch at my parents' house, saying, "What if I fail!! What if I go broke! What if I pick the wrong career!!" After offering to let me live in a tent in their yard if times got tough, my parents pointed out that not everything has to be accomplished overnight. A friend of mine at Ryerson told me that failing isn't that awful – if I try a career and don't feel satisfied, I can just try another, then another, then another. So I gave myself permission to try comedy for two years, knowing if I hated it, I could quit and find something else. But I was passionate about comedy, and I worked hard, and I got VERY lucky early on. So no complaints. The single greatest career advice I ever got was from a professor at Ryerson who said, "Always have 9 irons in the fire, so if 8 of 'em don't work out, you'll still find success."
Some short answer questions:
Cannot leave the house without: concealer
Favorite restaurant: Swiss Chalet – I go there with up to 15 other people – parents and kids – VERY relaxing and extremely fresh. Go to www.facebook.com/swisschalet to find out about their fry truck giving away fries and coupons this summer.
Favorite comedian: So many!!  Debra DiGiovani, Jim Carrey, Patton Oswalt, Carol Burnett, Mike Myers, Seth MacFarlane, and Celine Dion (who doesn't necessarily mean to be funny)
Favorite place to shop: online
Favorite beauty product: see 'cannot leave the house without'
I bet didn't know: I'm a fantastic baker (and an equally fantastic sampler of baking).
Thank you so much for this Jessica! Looking forward to hearing what's next and this has definitely been inspiration for us at Urbanebloc. "Always leave them laughing"- Jessica Holmes.