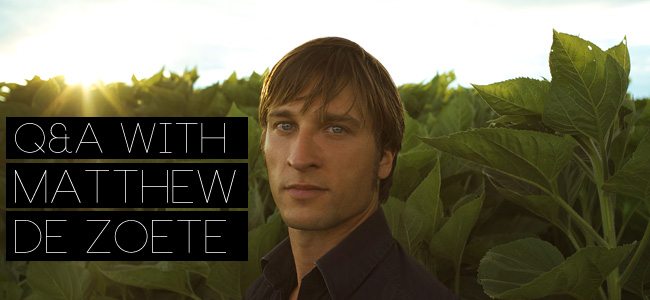 We all know that summer music is "Fun" (a la 'We are Young') and all, but there are just times you want to swoon and close your eyes to a ballad that pulls on the heartstrings. Matthew De Zoete delivers just that and more with his new album "Colour Film". For listeners of CBC radio, you might have heard him profiled here. But if you haven't it's worth a listen. I got a chance to chat with Matt and talk about his music.

A: First off, I am really loving your new album Colour Film. Especially the first track, "The Good Life". Really romantic. Tell me a bit about the inspiration for this track and album.
M: The song 'The Good Life' was actually inspired by washing dishes in my kitchen, looking out the window at the setting sun, and thinking about how good life can be sometimes.  And that often it's the other people in one's life who make it so enjoyable.  So I thought I'd turn these thoughts into a love song for my wife.The album Colour Film was initially inspired by seeing old family Super 8s from the early 1960s of my grandparents.  These movies inspired the song 'Colour Film', which in turn led to my idea to write an album of songs that were direct and succinct enough to be the soundtrack to or premise for a short film.  Songs with tight focus and easily recognizable characters, plot, or themes.  I wanted to make an album with a lot of visual imagery in the lyrics and a cinematic aspect to the sound.
A: This isn't your first album, but for the readers who haven't checked out your tunes on itunes, how would you describe your sound?
M: I call it melodic pop/rock/folk music with songs built on honest lyrics and strong melodies.
A:  Colour Film is full of ballads and sweet lyrics, tell us about your musical influences.
M: I think my biggest musical influences have been The Beatles, Leonard Cohen, Bob Dylan, and The Kinks, with a few nudges from The Who and The Byrds as well.  Whether or not those influences are audible in my music is up to the listener to decide, but those are the folks who had the biggest hand in building my musical framework.
A:  Our urbanebloc readers are always on the lookout for new songs. What are the top 10 songs from your ipod?
M: I don't want to seem too rustic or 'un-urbane', but I don't have an iPod!  But 10 songs that are really doing it for me at the moment are:
The Kinks – Days
Otis Redding – Nobody's Fault But Mine
Dinner Belles – Homewrecking Girl
Townes van Zandt – I'll be Here in the Morning
Elvis Costello – Oliver's Army
David Bowie – Rock 'n' Roll Suicide
The Band – Whispering Pines
Spoon – My Mathematical Mind
The Beatles – She Said She Said
Nilsson – Driving Along

Extra track.. Amelia Curran – Devils
Thank you so much for taking the time to interview with us! We are really excited to share your music with our readers. To find out more about Matthew De Zoete you can check out his site and twitter. Enjoy.