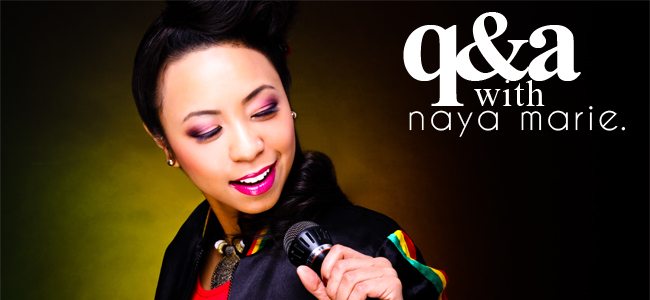 Over 1.7 Million Hits, over 11,000 subscribers, and numerous well-crooned videos uploaded later, Naya Marie has forced cracked smiles all over the interwebs. With her biggest mark made in a Lady GaGa-inspired medley styled video, this lady's got talent and spirit like no other. Lucky me got to tag team her in invading a park and candy store one sunny break of evening. Read the Q&A urbanebloc.com did with this tenacious talent after the jump.
You've recently hit over 1,500,000 views on YouTube for your Lady GaGa mashup – how did you go about creating the video, and what sparked you to do it?
It all started with my cousin Del, whom I've always wanted to collaborate with.  Being in a singing group (Legaci) who is on tour with Justin Bieber, you can just imagine his talent and how it really inspired me to put together the medley.  I knew I needed to do a cover of Lady GaGa because I love her songs.
The vocals were cut in Del's closet and I shot the video in my room using a little digi camera propped up on tripod on top of a ladder.  I wanted to do something that I could be proud of and would get others to smile about it too.
I'm still pinching myself to this day – the video's been up for over a year, and in that time, it's allowed me to work with various producers and artists  – from more YouTube covers, to featuring on other artists' records to working on my original material.  I told myself I'd be happy if even 1,000 people viewed the video, so to get to where it is now is just a big fat bonus.
You're big on continually doing YouTube shorts starting with covers and recently moving into original music. Tell us why you're  like using YouTube?
YouTube levels the playing ground – it gives everyone and anyone an opportunity. It's an audition to the world. You get honest feedback because people will often tell you exactly what they're thinking behind a computer. YouTube is the ultimate democracy (a view is a view).
What comments have struck you and stayed with you?
When people say things like "I'm not a Lady GaGa fan but I love this!" it's amazing because a cover takes her persona out of the equation and people still appreciate it for what it is.  I tune out anything that's not positive and march on
What are you currently doing with your music?
I've got a few great projects in the works: I've recently posted a few covers on YouTube (a song by Pink, Luce [an Italian song – and I don't speak the language!].  Outside of YouTube, I'm working on original projects these days so I'm in studio a lot now.
How do you find the Toronto / Canadian music scene?
Toronto is full of amazing talent!  We're really a city full of artists, and I can't wait until we're internationally known for that.  In my short time trying to do this, I've met so many people that are sincerely amazing at what they do right in my own backyard.  It's very inspiring.
You've got a bit of an innocent urban mix with your style – how would you describe it?
I'd describe it as as "skittles mixed with bubble gum and jolly ranchers, chocolate covered nibs as well". I'm a huge traveler, I love diversity, I love different genres, so I've touched into reggae, pop, drum and bass, house, dance, hip-hop/r&b, and rock.  I'm really the boho girl meets the girl next door.
How do you get into singer/songwriter and artist mode?
Being Naya Marie is all about a mood – incense, candles, and a yoga mat play key roles!  Maybe put on some music I haven't heard in awhile or long time favourites and see what happens.  Oh, and a stash of sweets doesn't hurt either.
Where'd you learn to beatbox?!
Oh my…probably about five minutes before recording!  [My cousin] Del instructed me to say "buta kata" and off I went!
You recently shot a music video in the middle of a pillow fight – tell me about that?
Ah!  The cool thing about the video for "A Million Soldiers" is that despite it having had zero planning, it couldn't have gone any smoother!  A friend of a friend wanted to take footage of the pillow fight but needed a subject – queue me. I got a call at 9pm the night before and showed up the next day in hopes that I wouldn't be stood up!  Most outfits and props were bought the morning of from a local salvo and we really just played off the people who were there.  The day was full of great energy, thanks to the pillow fight brought to us by NewMindSpace (http://newmindspace.com/).
It's all about capitalizing on these little pockets of crazy things happening in the city.
You can learn more about Naya Marie at her YouTube channel (http://www.youtube.com/nayamarie2009), or check her on Twitter @naya_marie.