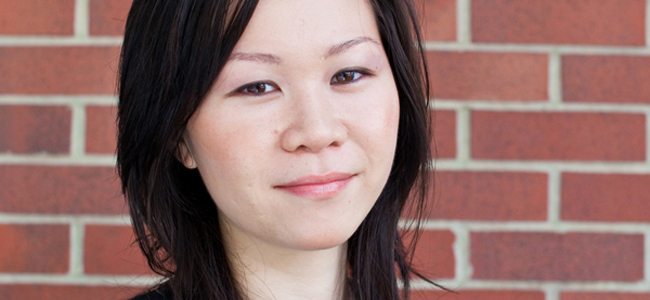 Kristen Ma is a seasoned world traveler, a dynamic beauty guru, and passionate business woman. Slated to take over the natural spa market in Toronto (and possibly North America), I had the opportunity to perch on a tall stool with her at the Pure + Simple Yonge + Eglinton location to help uncover the story for urbanebloc.com readers.
1. What's the concept behind Pure and Simple? What makes you different from other spas?
We first started out as a place that specialized in natural organic skin care – now we've moved towards something that is holistic concept. Holistic means looking at your internal body vs. external, and we've positioned ourselves as commentators on internal and external health. The two founders are Jean (my mother) and myself. We bring together Eastern medicine into our formulas, and we consider how to beautify mind body and spirit. Our first location was at Yonge and Eglinton, now we have four in Toronto.
2. Inside to out – you believe in beauty from customized diets to what you put on your face. What's the best starter advice you could give anyone?
The hardest thing is building routine into your lifestyle – being consistent, having a routine with the same steps, eating meals at the same time of the day to regulate the body…these are all things that will help your body be responsive to treating it well. It's especially important to those who have sensitive skin.
Other key things: have the discipline to say no to things, make your meals from scratch, have fresh hot meals, be organized. Ground yourself and balance yourself – if you plan it out right, you will have the time to do it. The largest imbalances are when people are stressed out, scattered, under rested. Skin becomes dehydrated, sensitive, inflamed.
Two products to start with are probably our best sellers, collagen elastin + serum because the results are so great – serum supports hydration, repairs skin tissue. Anti aging, defense – addresses acne scars and oil production. The second is sensitive skin cleansing milk – lovely because it's good for all skin types, really gentle on your skin – gel + milk – takes off makeup really easily
Philosophy from skin – if you are gentle to skin, if you support it, you immunity in your system will take care of the rest
3. Pure and Simple facials are a huge attraction – what's your most popular one this season, and what's one you suggest your fans try?
The most popular one is the urban renewal facial – balance, replenishment, and clears pores from pollution. A lot of people love it because there's a classic facial but two masks. Full arm, leg, neck and shoulder and scalp massage – there's a lot of massage in it, really treating your skin and body in a few ways.
The Sea Salt Microdermabrasian is completely natural – vs. traditional (aluminum crystals). Sea salt dissolves, whereas residue stays up to 2 weeks, it's perfect for sensitive skin.
Other honourable mentions are the Chi energy facial (showcases holistic aspects), Full facial (cleansing, extractions, face massage, in depth stomach massage – stimulating and detoxifying internal organs).

4. Beauty – the book. What is it in a nutshell and what can people hope to have epiphanies about when picking it up?
I started writing before I went to work in Australia, and edited a bunch of times. It's a self published book that got picked up by Canadian + US publishers now. It's an ayurvedic and holistic guide to beautiful skin and how to address topically – cater lifestyle internally to balancing the skin afflictions that you have. It was originally supposed to be a text book for new estheticians about general principles – afflictions, acne, rosacea, how you can treat inside and outside. But we made it less technical, and it's great as a resource, clients keep it with tabs, steps and ingredients.
6. You travelled quite heavily – how has this contributed to the Pure and Simple Concept?
It's built a great foundation – I wrote a component in India, took a few Chinese Medicine courses, learned about naturopaths and massage therapists. I really wanted to focus on why natural is important and to discover a variety of principles to share. I went to Morocco to see beauty rituals, found argon oil and decided to purchase it from a manufacturer that empowered women as part of the economic system (a source of employment). I saw beauty in such different ways, and it was a spiritual experience.
Being sustainable was important – this was pre-green movement in the media. We built an infrastructure for waste management – reusable compacts, 100% post consumer, can return glass bottles, sterilize and reuse.
Lastly, travel puts you out of your comfort – you're forced not to think about things like inventory management.
7. What's next for you and the company?
The immediate future is to focus on Holistic Vanity. Focus on building interactive video, "tub talks", formulations for sun damage, scarred skin, anti-aging, and lots of work to be done in new products. It's about trying new things – if it doesn't work it doesn't work – might lose money, at the end of the day it's good experience, experiment, learn for the next time.
Most people are hesitant of what will happen, if you don't mind whatever happens either way and look for life experience, you will probably be successful.