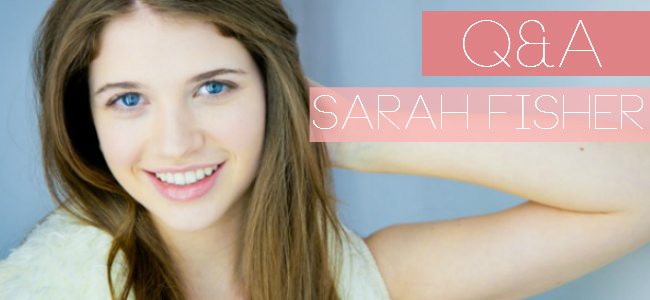 Degrassi is back!! And this summer, they're back with a summer-full of back-to-back episodes on MuchMusic and TeenNick! This new season (12 to be precise) is also back with some new faces. I got a chance to chat with one of the sweetest and most gorgeous girl to walk the hallways in Degrassi, Sarah Fisher. An Elite Model (check out our gallery pics below) turned Actress and Singer, Sarah Fisher is a talent. For those of you who are up-to-date on Degrassi's Summer Showdown, you'll know that Sarah really brings her character Becky Baker to the next level! Sweet, but there's something mischievous under the surface ;). So, let's get to it!
Question: So Sarah, not only are you a beautiful and talented model, but you've just joined the cast of Degrassi this season! Tell us briefly what to expect from your character Becky, this season?
Sarah: Aw thank you for the compliment! You can definitely expect a lot of tension between Becky and some of the other characters, she's been brought up in a very specific way that not a lot of the students at Degrassi necessarily agree with. She's been a lot of fun to play!
Q: Degrassi is going into it's 12th season! Crazy! What was it like to join this ensemble cast? Did you watch the show before?
S: It was such an unbelievable experience for me. It all happened so quickly and everyone was incredibly supportive and treated me like family the second I joined the cast. It is the best first job I could have ever hoped for and I am truly honoured to be part of such a great show. I don't watch TV that often, although I have a couple shows I follow, but once I joined Degrassi I started watching the show a lot and fell in love with it!
Q: Aside from acting and modelling, what else do you like to do for fun? Any exciting plans for the summer?
S: Singing has been my life since I was a little girl. So I spend a lot of my time writing and composing some of my own songs. I started piano two years ago and it has become a big part of my musical life. I love going to musicals! I was in a couple when I was little and had the best time! I am still being classically trained in singing and piano and will continue both!! I love sports as well, I did basketball, track, soccer and diving. I am going with the cast to Africa this summer! (*editor note: with the Charity Organization- Free The Children) I am really looking forward to the experience I think it will be life changing.
Q: UrbaneBloc readers are going to be BLOWN away by your edgy modelling photos and how it's such a contrast from the preppy style of Becky Baker on Degrassi. What's your personal style like? 
S: I have definitely had my phases of different styles but lately I have been really interested in high wasted shorts/skirts. I love to wear little summer dresses! I have always been into bright colours. I have become really interested in styling an outfit with accessories and shoes. When it comes to my nightlife I mostly wear the typical black skirt with a nice see through blouse, or a nice dress. But most importantly, I'm all about the heals 😉 haha
Q: Haha! You don't need heels! 😉 you'd look great in anything! Haha!  What are your favourite places to shop? 
S: My favourite places to shop are American Apparel, Urban Outfitters, BCBG, Zara, Michael Kors and Victoria's Secret.
Now for some short answer questions:
Nickname: My nickname since I was little has been Sasa, because my younger brother Hughie couldn't pronounce it and now everyone calls me Sasa lol.
Place to hangout in Toronto: I basically live at Menchies/Yogurty's
Food: I love going on lunch dates with my girls at Kelsey's, Moxies or Pickle Barrel. I LOVE EVERY TYPE OF PASTA! I should be Italian with how many noodles I eat a week. I am also a big fan of Thai and Chinese food.
Makeup product: When it comes to makeup I have very sensitive skin so I like to use good products from Mac and Smashbox. I just recently switched my moisturizer and cleanser etc.. to Dermalogica and it is working very well!
Can't leave home without: I can't leave home without my PHONE!! Ask my parents I am completely obsessed with my new IPhone.
Article of clothing: I love shorts! I wear them probably more than anything else.
Thank you so much for talkin' to us Sarah! We will be watching Becky get into trouble this season, and we can't wait! Oh, and to learn more about Sarah follow her on Twitter, or catch-up on her website! Cause'  you'll be seeing and hearing a lot more of her soon, just wait till you hear her sing! Talent.