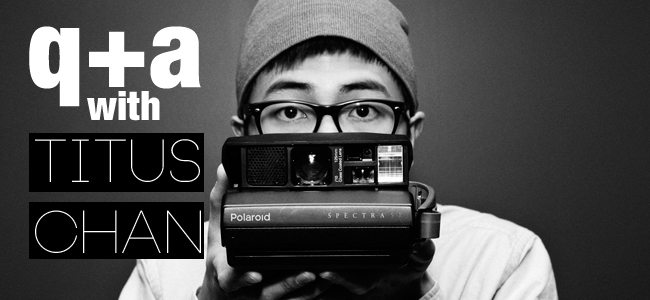 I met Titus Chan what feels like way back – he was a stranger that crossed the street and asked to take my photo for a project he was working on. That spurred on a  few fun photoshoots and a flurry of great photos. But just how did this wedding photographer / dj / young bloke get started? More after the jump.
How did you get into snapping photos?
I started taking photos just a little over a year ago when my dad bought me my first camera. When I held the camera for the first time, I feel like I'm seeing a world no one else sees. my camera is always with me now.

Your focus is engagement / wedding photography. What feeds your soul when you're doing it? How do you come up with new ideas in a "standard" world of photos?
The genuine joy in people's faces. The wonder, commitment, and love. As a wedding photographer, I am really lucky to be surrounded by love all the time and to be able to capture those moments. Coming up with new ideas…I try to stay inspired. I go to museums, see films, listen to music, travel, read a book, magazines.
Open your mind to your surroundings, look at things in a different perspective and you'd be surprise what you can find.
You're starting to travel quite a bit in pursuit of photography and refining your craft. What places do you look for when taking photos? What tips do you have?
To be honest, I'm not very good at taking travel pictures. But when I do travel, I look for the history of the place, the culture, what makes it unique and different. The only tip I have is just capture the city the way you see it.

How does someone get started in any kind of photography?
Follow your bliss. I was once told you got to love what you photograph. If you love what you do, it comes across your photographs.
Music plays a big role in your blog, website, and to some degree, your photos. How do you discover new tunes? Who are your favourites right now?
I love music. I follow a handful of dj blogs. They are the best resources to find new tunes. I'd also look through my dad's vinyl collections because I love old school music. I just heard a couple of songs by Nina Simone, Sam Cooke and Paul Simon. I'm enjoying it so far.

What defines success for you, as a photographer?
In our short attention span society, if people spend a few minutes to actually look at your work and willing to spend money on you, you are pretty successful.

What's next? You had mentioned previously going to South Africa as a volunteer photographer – what other adventures are you up to?
Hike in New Zealand. camp at the white desert. Walk on salad de uyuni. see the Northern Lights. The list goes on and on!!!
I'm planning to move to San Francisco and continue my passion there during the winter months in Toronto. I love the weather, the people, it just feels right.