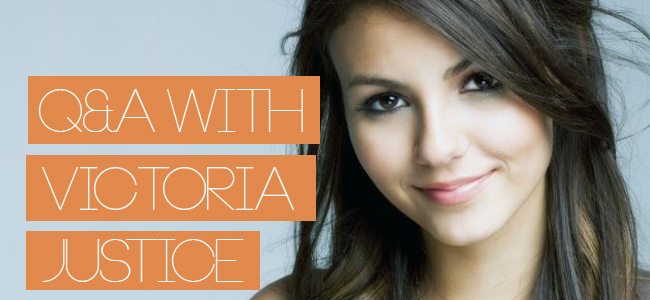 Trick-or-treat! It's that time awesome time of year again, HALLOWEEN! The spookiest, costume wearing, candy-eating holiday of the year!! Adding to all this sugar induced excitement, urbanebloc got the chance to sit and chat with the talented Victoria Justice. She was in town promoting her new Halloween themed party movie- "Fun Size". Victoria Justice plays Wren, a girl who wants nothing more than to attend a big Halloween bash thrown by her crush. However, things get a bit crazy as her family puts her in charge of her annoying little brother. Fun Size is equal parts- party flick, detective mystery, and high school romance! Fun Size is also loaded with great comedic actors Johnny Knoxville, Chelsea Handler and Jane Levy (Suburgatory).
The multi-talented 19 year-old has been super busy- acting on "Zooey 101", "Victorious" and kick-starting an amazing career as a singer, with a solo album in the near future. This beauty is a hardworking and smart member of the young Hollywood elite. As a big fan of Victorious and her awesome YouTube medleys we were very excited to get to know a bit more about her Halloween traditions, her acting, and what's her fast track career.
Question: You are a talented young and upcoming actress, and have accomplished so much in the past few years. How do you set yourself apart from other teen stars?
Victoria Justice: I've been compared to a lot of teen stars. I think that I get compared to Selena Gomez, Miley Cyrus a lot. And I think when I first started Victorious, I was always getting told that I'd be the next teen queen. But I've never been looking to be the new teen queen to be honest with you. I'm also very grateful to have had my own show on Nickelodeon. I mean, if you land a show on Nickelodeon or Disney, like my peers, it's a huge deal! And it brings in a huge fan base and audience and I'm so lucky that on my show I got the opportunity to act, sing, dance, write. I think that's what sets me apart. I'm so passionate about singing, songwriting and I've been writing since I've been 16. And I think I'm the first girl on Nickelodeon to book a lead in a big feature film outside of Nickelodeon. Yeah, I think I earned my role on Fun Size, I worked really hard, auditioned multiple times, screen tested a lot of time, and read a lot of times for the part.
Q: Fun Size is a great Halloween movie, so tell us about your most memorable Halloween experiences.
V: Favorite Halloween experiences…hmm! I grew up in Hollywood and I have a younger sister as well, so  I look back fondly when we hung out and got dressed up together. I remember one year, I was in a theatre makeup program in school and my sister wanted to be a zombie bride, and I did her makeup for the night. So that was cool! Being able to share those memories together. As for my favourite costume, I dressed up as a ketchup bottle once…I thought that was fun and different!
Q: What's your  favourite Halloween Candy?
V: I love sour candy. I like sour gummy worms. I eat the red and blue ones and then I throw the other ones out. I also like dark chocolate, warheads.
Q: You have had such a successful career already, Zoey 101, Victorious and in Fun Size you're working with Chelsea Handler, Johnny Knoxville, are there any other actors or musicians you'd like to collaborate with?
V: There are so many people I want to work with, so many talented people in this business. Film wise I'd love to work with Meryl Streep, it's any actor's dream. If she's part of any project, any material,you know you're in good company. I'd also love to work with Robert Diniro! And music wise I'd love to collaborate with Chris Martin from Coldplay, Hall and Oates. I'm also a big fan of Daryl's house! I'd love to do that. I love lots of singer, song-writers, John Mayer, Pink, Elton John, lots of people!
Q: Last question. Fun Size is kinda a Halloween party movie. Do you have any favourite teen party films? Or any movies you like to watch during Halloween?
V: Teen party movies…honestly, I'm a big fan of John Hughes. And more than just a party film, Fun Size is a bit of a coming of age film too. I'm a huge fan of Breakfast Club, I love Pretty in Pink, I love Sixteen Candles! And I also really like Cameron Crowe, I love Almost Famous! I think they're teen party movies or coming of age films. As for Halloween movie, I like scary movies, but I'm afraid of the dark so I have to take them in small doses. They're always fun. That's why I love Fun Size, cause most movies out around Halloween are bloody, gory, saw movies and that's what I love about this one, cause it's different, and more appealing to all audiences but still about Halloween.
That's all for now! Thank you so much for speaking with us Victoria. Best of luck with all your upcoming projects, your record, and we can't wait to see Fun Size- coming to a theatre near you October 26th!
Check out the trailer for FUN SIZE right hurrr:
[youtube]http://youtu.be/sBsWa9NGdZA[/youtube]