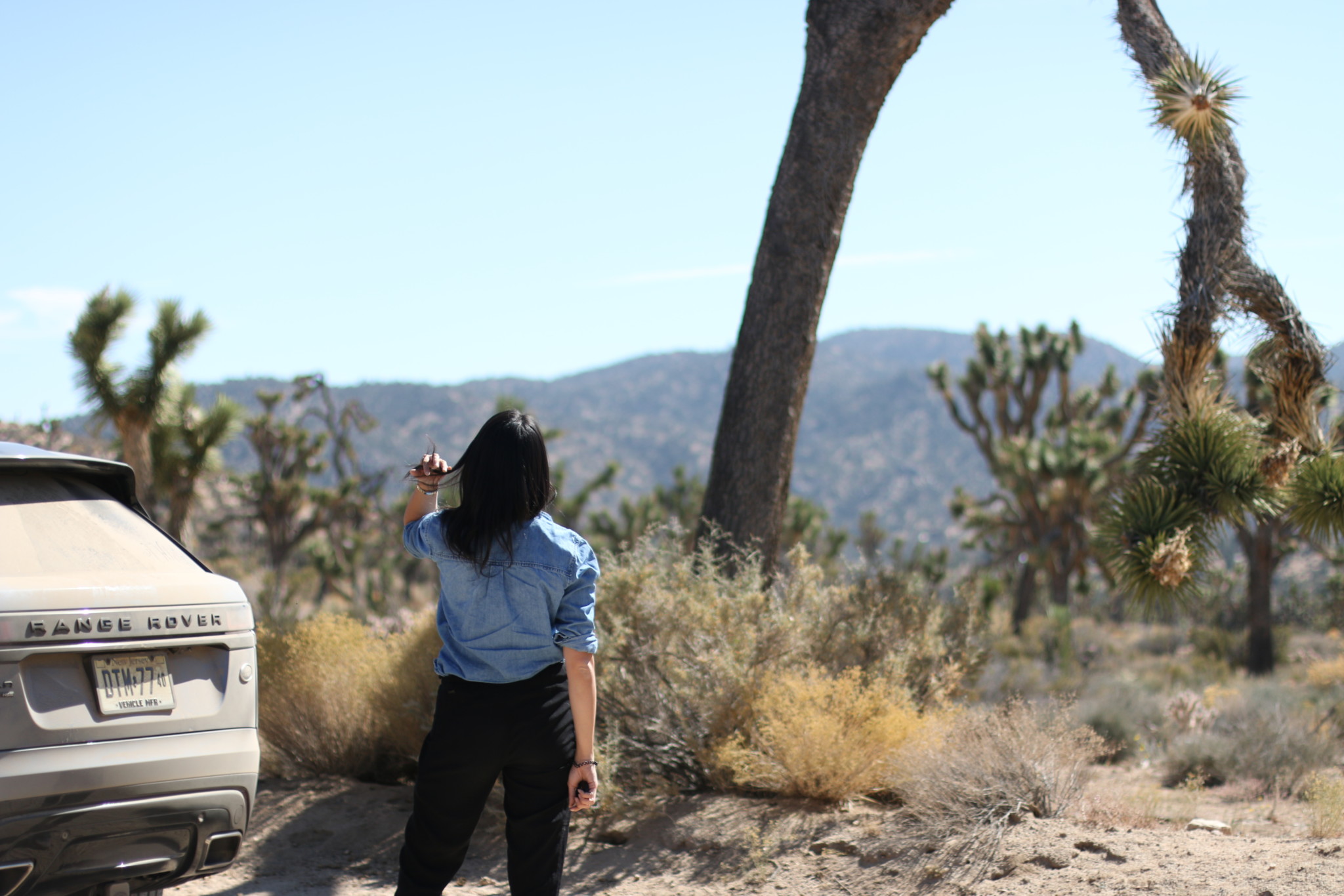 I've always accidentally fallen into work with the automotive industry. From planning a large scale car show when I was 19 (Grand Prix Auto Expo, hellooo), to one of my first clients being a huge automotive dealership network in Canada, to launching Scion (RIP) and producing for the Honda Indy, it's been an adventure learning about all the intricacies and the allure of automotive marketing.
So, when I started to get invited to driving experiences with automotive journalists, it was a new challenge to endeavour on. I'm by no means someone who can list off specs to a vehicle off the top of my head…but hell, I can appreciate a well designed piece of machinery.
We embarked on a speedy (no pun) driving experience in Palm Springs with the new Range Rover Velar, something to marvel at. Arriving at L'Horizon Palm Springs, we were whisked off to a quick dinner to preview the vehicle, and briefed early morning in the dry heat on all the glorious details of the vehicle. Read on for more:
Range Rover Velar's Design
Thanks to Instagram stories poll options, I'm now informed that most lean towards the idea of the car being sexy AF vs. minimal and clean. Rightfully so, the meticulously designed Velar is packed with polish. Starting at $62,000 (CAD), the luxury vehicle boasts an outrageously refined experience. Flush door handles, a tasteful rear spoiler, simple and clean interiors, and a profile that's perfect for the customer nudged between a Range Rover Evoque and Range Rover Sport. They call it a calm sanctuary, and it's nothing short of beautiful.
Technology
It looks great…but does it have all the expectations of a car in 2017? With heated and cooled massage seats (!!!), the Range Rover Velar has a centrally located infotainment system for you to customize your driving experience. But, as an avid non-fidgeter when I get behind the wheel, I would say it has less of a set it and forget it user interface.
If you like customization…you might not want to do it while in traffic or on the road, or on the mountains no less. Luckily, the logistics team had already plotted in the check points for navigation and the only thing to worry about was what song we could listen to while there was no reception.
Having driven nearly every car under the rainbow in the last two years (more on that later), I would claim that the Velar's infotainment UI is mostly dummy proof. The icons are intuitive, the controls are simple, and every passenger is given the right to control their experience. As for the car specs? You don't want me to drone on about aerodynamics and aluminum-intensive body structure…(copies+pastes)…so find the information here.

Animal Friendly Option
One development that had me perk up in my seat was the KVADRAT integration, a textile company that has collaborated with Adidas and the likes. I say jokingly that I'm a part time vegan (for health and environmental reasons), and this news of a luxury, animal-friendly material has me eagerly convinced that this is a progressive automotive company. "Durable wool blend and suedecloth fabrics can be selected in a choice of colourways as an alternative to leather". Plus, plus, plus.
Offroading
Here's the fun macho stuff that my masculine energy self indulges in. Offroading in the Range Rover Velar welcomed comments in the San Bernardino area like "that's too pretty to be up here" or off handed "nice cars!" callouts. While the Velar in Byron Blue would illicit guilt when you cover it in dust and sand (heh…heh), the vehicle is built for rugged experiences.
With 2.5 hours of off-roading in the company of Joshua Trees and remote mountain dwellers (just a tad eerie), our fleet of Velars rock climbed and glided through the mountains with ease. Having been a lucky off-roader previously in Utah for the Landrover Discovery, it was still novel to see such a premium car only mildly struggle with large rocks as obstacles and uncomfortable angles every-which way. Good car, good good car *pats on the dash*.
Takeaways
It's a stunning car that embodies aspirational lifestyle. While the performance features I wouldn't deem a day to day function, it's nice to know that a city car can take you anywhere. It's a stunning car that will take you places feeling first class. The capabilities and colourways are seductive – you'll find yourself pretty giddy, putting together your ideal package on the Landrover website.
For more on the car, explore their features on the Landrover Canada website.