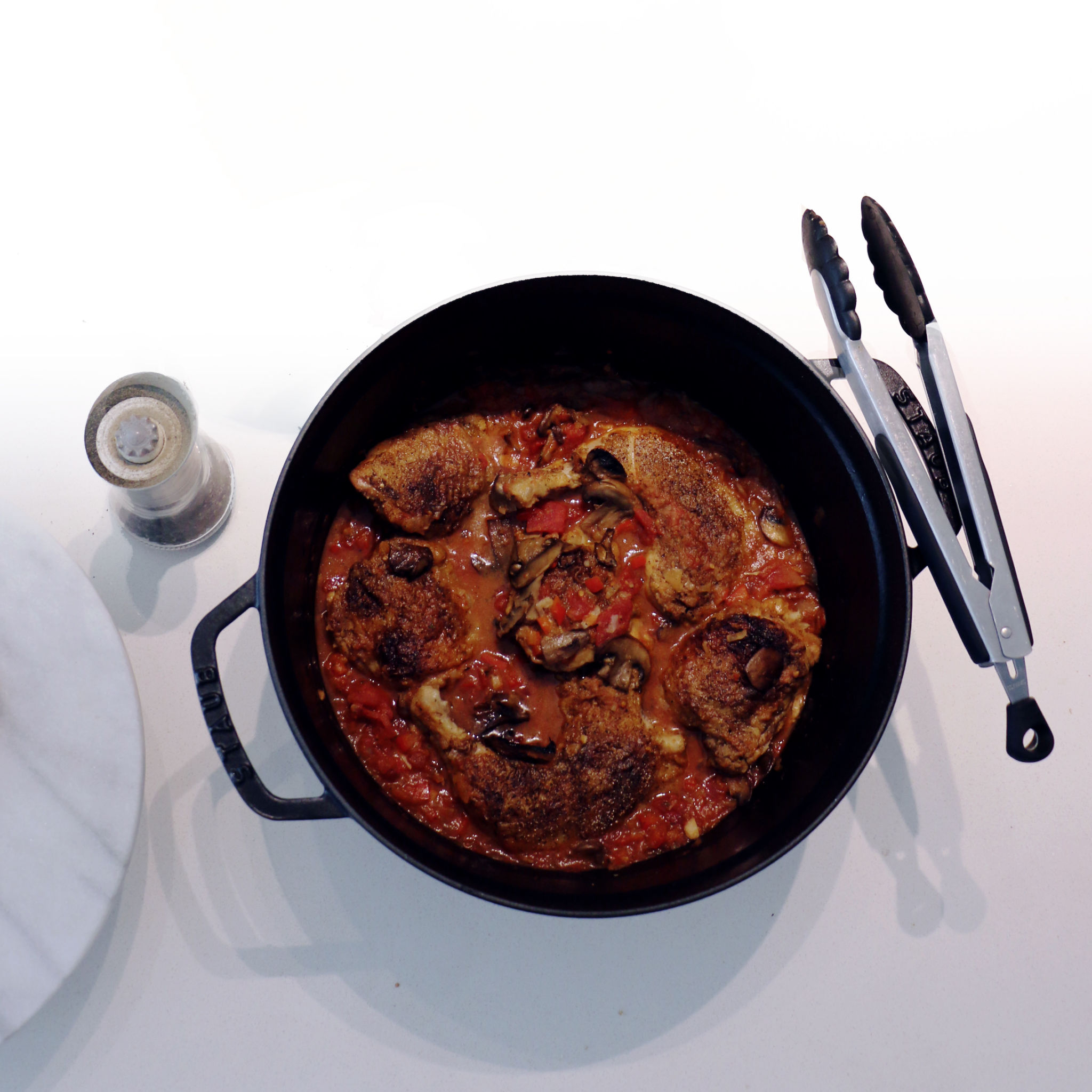 I'll admit, I'm not a trained chef. In fact, my comfort level in the kitchen is easily spooked when new appliances or paraphernalia are introduced in the environment. Hence, I voluntold a friend to help me out this week (thanks Mav) with a French oven recipe (aka, I let him do all the work while I helped myself to a glass of white wine and provided background commentary).
Chicken Cacciatore. The only dish I use to order at East Side Mario's after a high school volleyball game was now the target of our newest kitchen adventures. The thought of using a French Oven was quite terrifying, I can use it as a weight to do squats (no joke), but I quickly found out that it's a must own kitchen item. The even heat distribution browned the chicken beautifully and the sauce simmered to perfection. For something that tastes and looks just as beautiful, it was surprisingly easy to make. We used the Staub La Cocotte Round for this recipe.
Ingredients:
2 chicken thighs
2 chicken breasts with skin and backbone, halved crosswise
2 teaspoons salt, plus more to taste
1 teaspoon freshly ground black pepper, plus more to taste
1/2 cup all purpose flour (we used quinoa flour- see below for instructions)
3 tablespoons olive oil
1 cup mushrooms, chopped
1 large red bell pepper, chopped
1 onion, chopped
3 garlic cloves, finely chopped
3/4 cup dry white wine
1 ( 28-ounce) can diced tomatoes with juice
3/4 cup reduced-sodium chicken broth
1 1/2 teaspoons dried oregano leaves
Instructions:
Season the chicken pieces with salt and pepper then dredge the chicken in flour (i.e place the flour on a plate and coat both sides of each piece of chicken with flour)
Heat the olive oil in a pan (we used a French Oven- highly recommended!) on medium to high heat.
Place the chicken pieces in the pan/French Oven for about 5 minutes on each side until it browns- transfer the chicken to a separate plate and set it aside. We're not done with it just yet.. the best is yet to come.
Toss in the mushroom, pepper, onion and garlic into the same pan/French Oven and sauté until the onions are glazed. Season with a sprinkle of salt and pepper.
Add the white wine and simmer until it's reduced by almost 1/2.
Add the whole can of tomatoes (juice and everything), chicken broth and oregano to the pan/French Oven and transfer the chicken back into the sauce.
Let the chicken simmer in the sauce for about 20-30 minutes until the pieces are cooked through.
Once the chicken is cooked, boil the sauce for a quick 2-3 minutes so that it gets nice and thick!
Tips
We used Quinoa Flour instead of regular flour. It's easy to make:

1 cup of quinoa will get you about 3/4 cup of quinoa flour
In a non-stick pan, toast the quinoa lightly
Set the quinoa aside to cool
Toss it all in a blender or food-processor until the grains are finely ground
Sift that sucker so it's as fine as can be.

Toss in a tiny piece of garlic to see if the oil is ready. It'll make a heavenly sizzling noise if the oil is at the right temperature. Remove the pice of garlic so it doesn't make the oil bitter.
Cook the mushrooms separately so the water evaporates fully and then toss them into the sauce.
The chicken cacciatore tasted amazing as is but you can also sprinkle some fresh basil or parsley on top to kick it up a notch.
Special thanks to Zwilling + Staub for this incredible French Oven – what a fine piece of equipment.