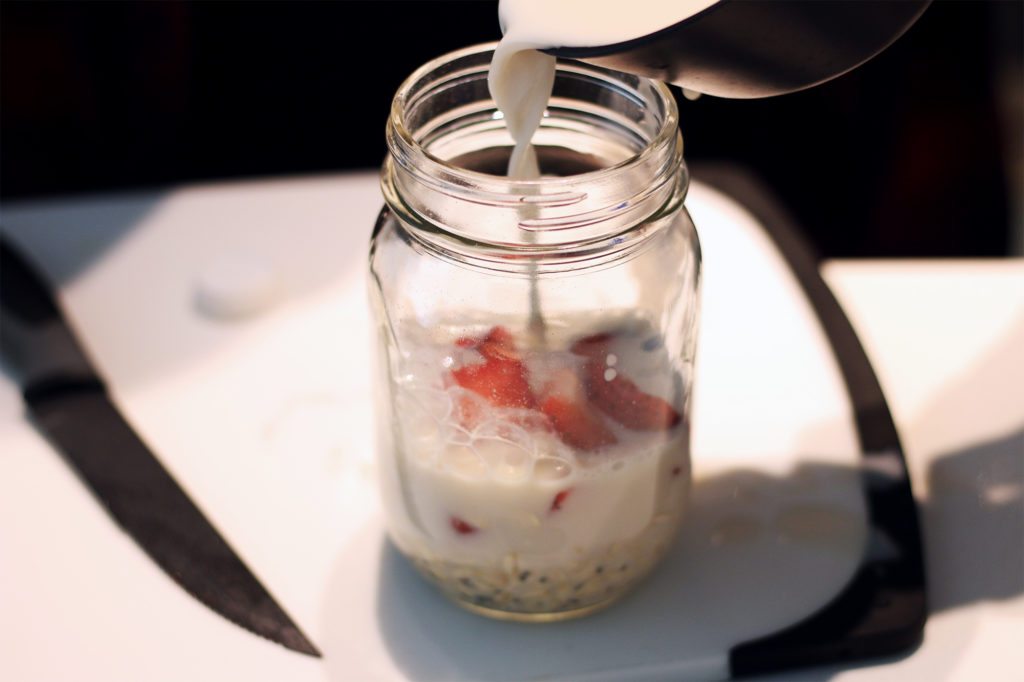 I officially said so long to leisurely morning breakfasts after starting a new job. Rather than waking up around 8AM and prepping a solid breakfast every morning before a hot yoga class, I now get up at 6:30AM, shower, throw on work clothes, draw on my face and rush out the door to get on the road before rush hour. Breakfast? No chance.
Then I discovered overnight oats. It takes less than 5 minutes to prep the night before, let it do its magic for 10 hours or so in the fridge and VOILA! As I run out the door, I grab my mason jar packed with goodness and life is good.
Since I'm lactose intolerant and also allergic to almonds, I opt to use coconut milk but please feel free to substitute with your favourite nut milk:
INGREDIENTS
1/3 Cup of Oats
1/2 Cup of Coconut Milk (I use full fat- it tastes better)
2 tbsp of chia seeds
2 tsps of vanilla extract
3-4 Large sliced strawberries
1 tbsp of Maple Syrup
Mashed bananas (optional)
INSTRUCTIONS
Grab a clean mason jar from your pantry or cupboard
Mix together the oats and chia seeds
Pour in the milk, vanilla extract
Toss in the strawberries, mixed bananas and whisk the mixture together!
Cover the mason jar and put it back in the fridge and let it sit over night. ENJOY!
This is a great breakfast for those of you on the go and can be whipped up in less than 5 minutes the night before. A solid breakfast is the key to a great day!