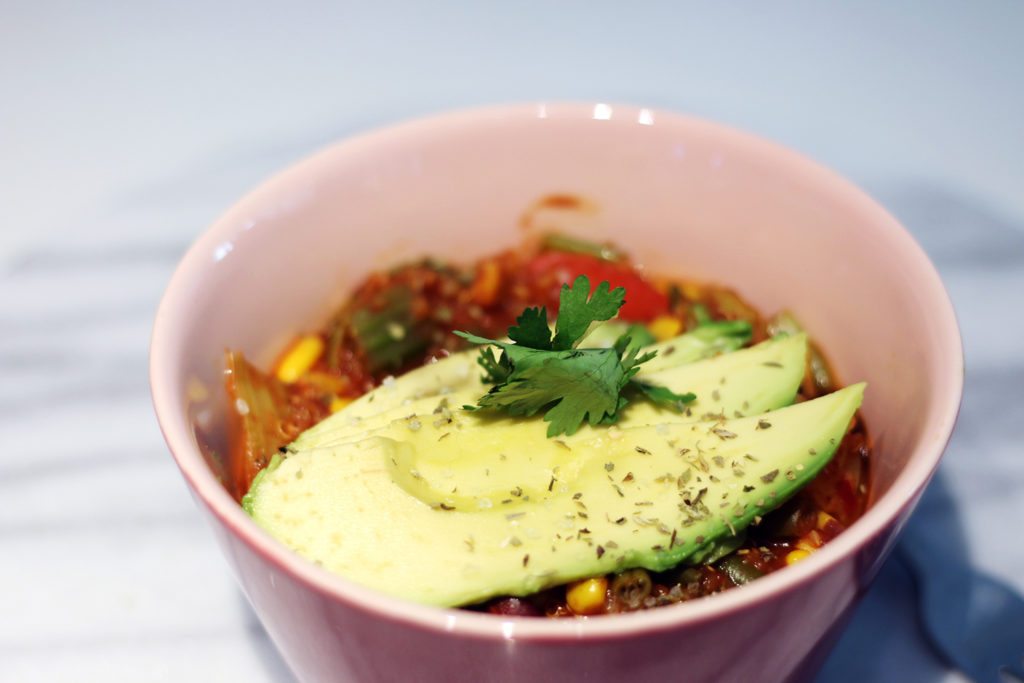 I use to be an obnoxious proponent that a meal wasn't really a meal unless you had meat in there. Blame the Korean BBQ lover in me. Then I moved to Costa Rica (you can read about that here) and became friends with health conscious, veggie loving folks. This changed the way I thought about food and when I came back to Canada, I found myself craving the veg-based meals we would have in Costa.
This vegetarian chili is rich in flavor and the quinoa is a perfect substitute for ground meat. Bonus: Easiest meal prep for a week's worth of lunch! You can freeze individual portions in little baggies or ziploc containers and take them out the night before you want to chow down.
Vegetable Selection
The beautiful thing about the vegetables you use in chili is that it's all about personal preference. I love my chili with texture and extra crunch so I always throw in chopped celery, carrot, broccoli, green beans and corn.
If possible, pop over to your local farmer's market or find the organic section in your store to supercharge your chili.
Spices
Hot Chili powder, extra pinch of cumin and a sprinkle of paprika to keep your sinus' fired up and clean!

Meat Substitute: Quinoa
Quinoa's built a power-food reputation over the years and it's well deserved. Even though you add it into the chili pre-cooked, it's ability to absorb liquids is what gave the chili its thick consistency and not mention, it fills you right up. We threw it into a rice cooker and it came out perfect.
Prep Time: 10 minutes
Cook Time: 30 minutes
Ingredients
2 tbsps of olive oil
Sliced Avocado
Cilantro (optional for garnishing. I'm not a fan so I opt for parsley instead)
1 Chopped Bell Pepper
1 Diced Zucchini
1 Diced Onion
3 Cloves of minced garlic
1 Cup of Broccoli (Don't toss the stem! Chop it up and throw it into the mix)
2 large carrots or 5-6 small organic carrots peeled and diced
1 Bottle of Tomato sauce OR 2 Cans of diced tomatoes
2 Cups cooked quinoa
1 Cup of chopped green beans (you can use frozen ones)
1 Can of Corn
1 Can of kidney beans or 1 can of mixed beans
1 jalapeno (optional for an extra kick)
3 tbsp of Chili powder
2 tsp of Cumin
Sprinkle of Oregano
Salt and Pepper to taste
Instructions
In a large pot, heat up the olive oil over medium heat.
First add the chopped onion, carrots and broccoli. Let it cook under the onion starts to look lightly glazed (about 4-5 minutes)
Add in the minced garlic bell pepper, green beans and jalapeño (optional) let all the vegetables cook for another 5-7 minutes while stirring occasionally so nothing sticks to the bottom.
Once the vegetables are cooking nicely, stir in the spices: oregano, cumin, paprika and chili powder. Go easy on the paprika if you're not a fan of spice. If you love spice, go bananas!
Mix in the canned tomatoes OR 1 jar of tomato sauce, canned beans and the cooked quinoa.
Bring the pot to a boil then let it simmer for about 20-30 minutes on low heat! Add salt and pepper till its just right for your tastebuds.
To keep the dish vegan, serve it with a sliced avocado on top (the creamy texture does wonders) and either parsley or cilantro to garnish!