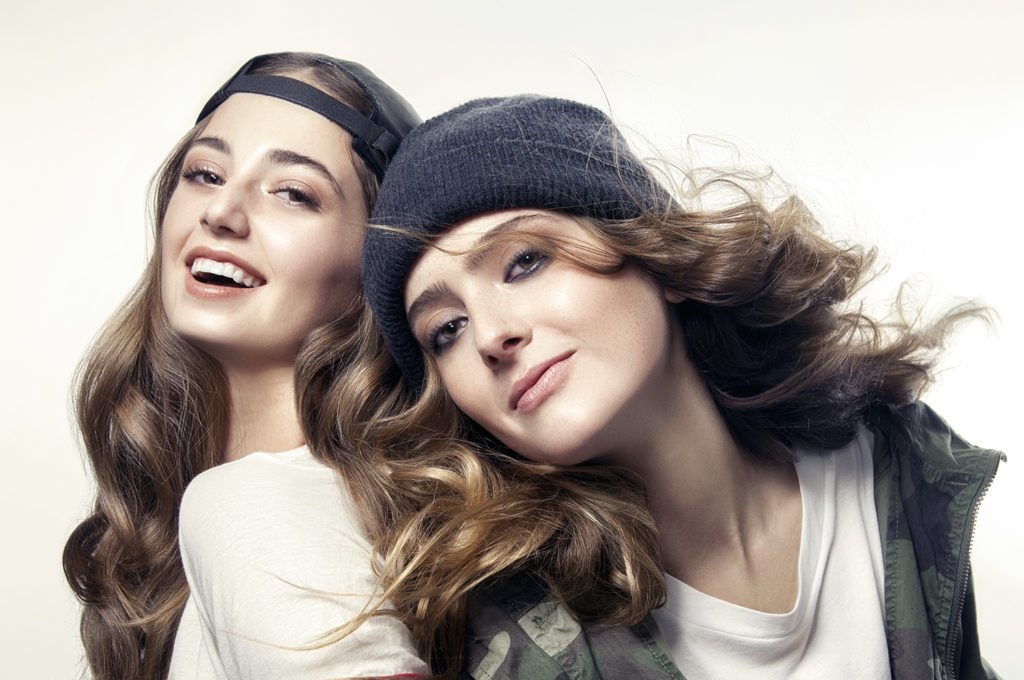 It's a makeup success story that leaves you in awe. Sisters Taylor & Ally, and cosmetic engineer phenom Jenny Frankel (formerly of MAC Lipglass fame), created NUDESTIX, a line that's simple, fun, and packaged beautifully in matte black tins complete with a built in mirror. The product retails at Forever21, Urban Outfitters, Sephora, and only continues its meteoric growth and rise, globally. URBANEBLOC fills in the blanks on how they came up with the idea, grew it, and became the entrepreneuresses they are today, with Taylor:
What was that moment like when your mom first approached you about running the NUDESTIX business? Was it an easy decision to say 'yes' or did it take some convincing?
The first time my mom approached my sister and I was during a flight back home from a family trip. She had explained to us all of the little "epiphanies" she has had throughout the last few months and how there was nothing out there in the market for a product that relates to our (the millennial) generation. The generation that wants "less is more" makeup. Ally and I were on board right away.
We've been surrounded by beauty our entire lives, so we've always loved product and makeup. It just made sense. We wanted to make girls feel beautiful, and comfortable in their own skin without the stress of so many different products to chose from or constantly looking through "moms" makeup bag. Right away we knew the name "NUDESTIX" would be perfect, since "NUDE" would be all shades of NEUTRAL (Ally and I never bothered to wear anything else but neutrals tones) and STIX would be all things pencil! Pencils were a no brainer since we thought brushes were way too complex.. and we're not makeup artist so how would we expect the girls who would buy our product to be makeup artist?
When did you feel, "Wow, I got this."? Was there a specific point when the uncertainty faded and you were confident in the decisions you were making.
The first time I was totally confident in our decision was after our very first press tour in NYC! From Glamour, Lucky to TeenVogue we were in AWE by everyones instant obsession with our multipurpose makeup pencils. At the back of our minds we were thinking "makeup pencils are such simple a concept that have been around forever and yet people were fascinated by it"? It just goes to show that the simplest of things are often forgotten.
So far, what's been the most interesting city you've launched NUDESTIX in or visited? Any funny cultural stories you care to share?
The most interesting city by far has been Singapore. I was completed amazed by how modernized the city was! Fun fact, they do not sell gum in Singapore because of loitering! It's incredible what a difference it makes! The city was SO clean.
As a family, how has running a business together changed your dynamic?
Running a family business has definitely made us all closer (physically and metaphorically lol). We are always travelling, talking about beauty/fashion and growing our NUDESTIX "baby" together. As a family, we never run out of things to talk about. We're constantly inspiring one another and there is never a moment when we are not throwing around different potential Nudestix endeavours.
If you could share 3 tips to aspiring entrepreneurs what would they be?
(1) Be passionate
(2) Build yourself as an trustworthy authority (blog, Instagram, youtube) in which ever world you wish to exist in (beauty/fashion etc.)
(3) Be unique.
What are 3 things you wished someone had told you before you went from normal teenagers to business women?
(1) Step 1… ORGANIZE YOURSELF!
(2) Master the art of networking and building important relationships
(3) Appreciate every single opportunity, because they will most likely never happen again.
I think each of us is 'imperfectly perfect' and we shouldn't hide behind a mask. What are some of your favourite 'imperfectly perfect' traits about yourself?
I would definitely say my unruly brows. Social media can be harsh sometimes and people tend to either hate or love them. Regardless I embrace them because they define who I am. Quirky and weird!
Who are your go-to artists to listen to before a big meeting?
I love Hozier and Miike Snow! They really calm me down and help me think before a big meeting or event.
For no-nonsense, girls-on-the-go, what NUDESTIX products should they use for a quick 5-minute face?
First things first, Concealer. It's an instant "wake me up" product for a you-but-better look! I love using it on my under-eyes, around my nose and my chin.
Mascara
Lip + cheek pencil in "mystic"! It's your lip liner, lip colour, lip balm and cheek colour all in one.
Eye pencil in "Stardust" to highlight inner corner of eyes, upper cheek bones and brow bones.
You can learn more about the products by visiting the NUDESTIX website, Facebook, Instagram, and Twitter.