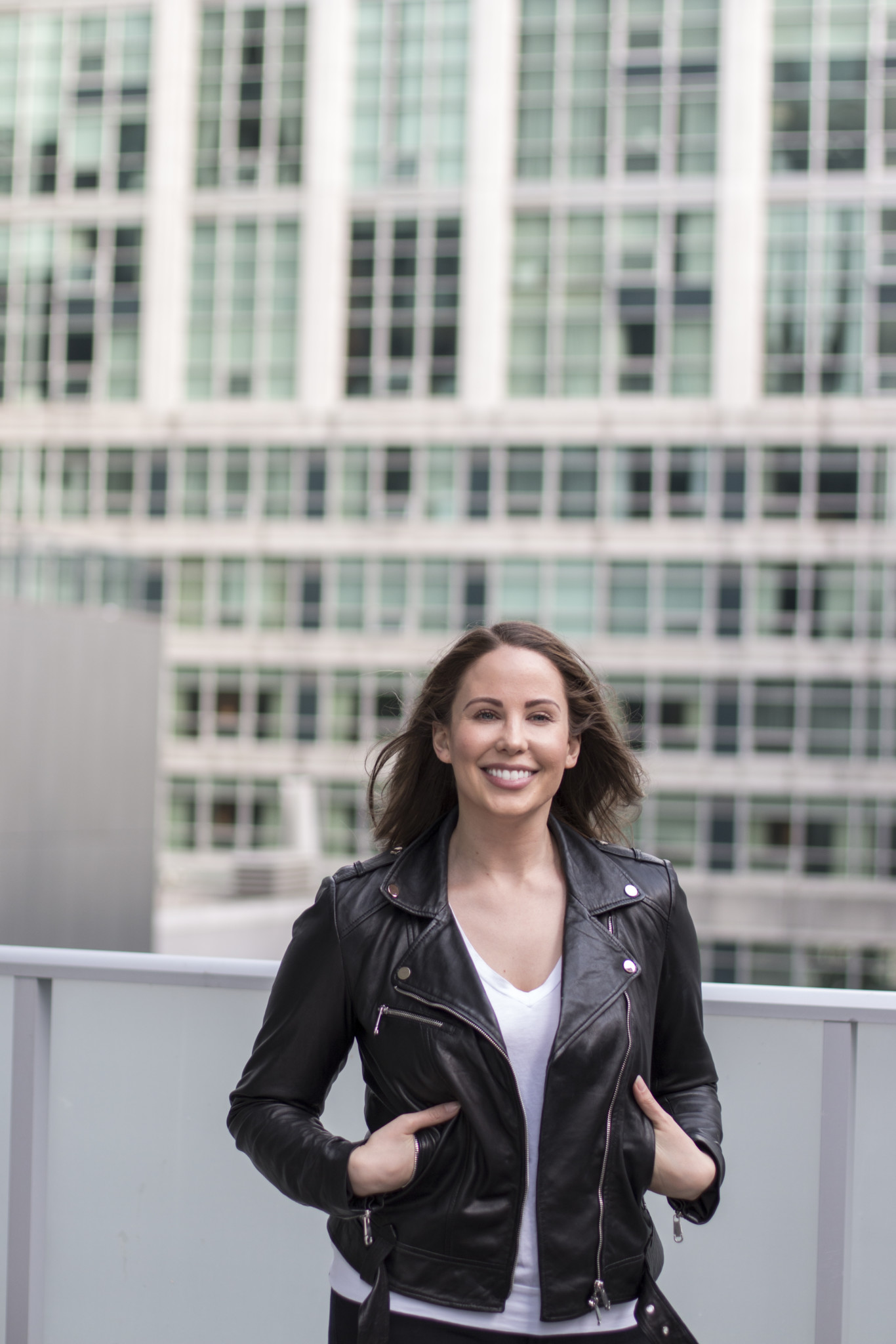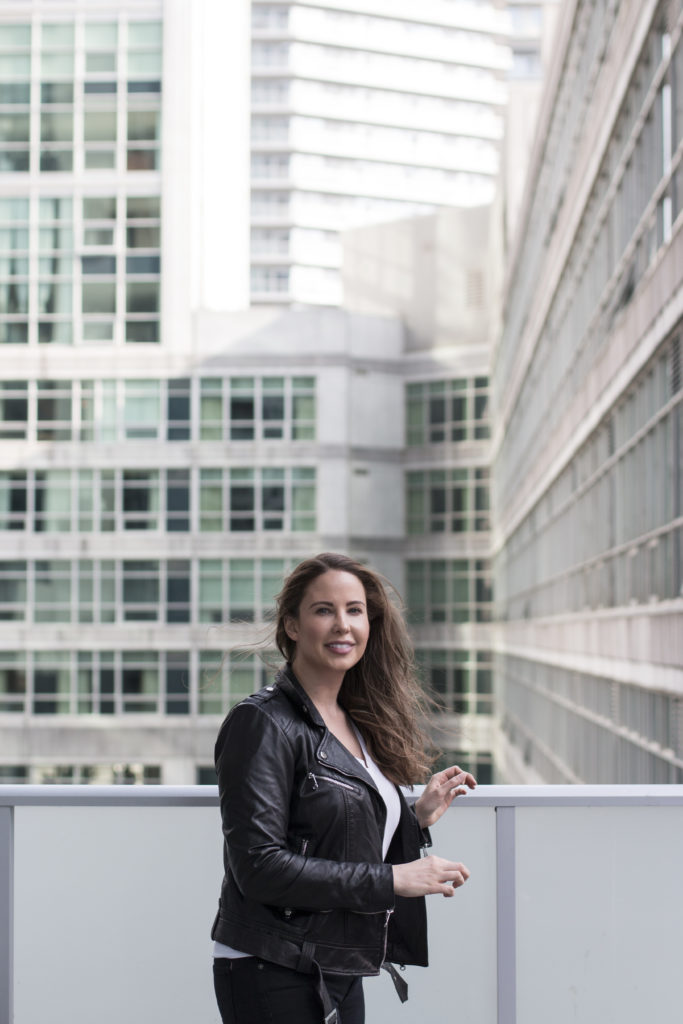 "You had me at Dr." – Arlene Dickinson, of Dragon's Den says of Dr. Sarah Saska. When you meet Sarah, you'll immediately note that she's a sharp listener with a beautifully articulate point of view. Adventuring into the world with her curiosity for people and cultures, she's travelled to far places with her company Feminuity, to spread the message of inclusion. Read on to learn about her experiences intersecting entrepreneurship and a love for people:
Who are you, and what do you do?
My name is Sarah Saska, I co-founded and now manage a company called Feminuity. We work with really cool companies around the world, and help them to embed diversity and inclusion into the absolute core of their business.
It's become such a global effort, there's really become a platform and conversation around that type of work. How did you find yourself in that space?
I came to this space from an academic background – my Ph.D. research explored why and how diversity is important to different types of innovation and technological processes. Simply put, if you don't have a diversity of people, perspectives, and experiences around any given table, you're more likely to design a product or a process, or to build a company that's not good for people and likely not good for the planet, either. Feminuity is my way of bringing this body of research to life; it's the practical application of it.
You've found that you've had clients from all walks of life and all types of companies. Where did you find the initial traction was? Was it immediately global?
"Diversity" looks and feels differently across cultures and contexts. In the Canadian context, we're largely focused on supporting women in corporate settings, or in engaging girls in coding programs (and I'd argue that we should be much more focused on supporting Indigenous Canadians and actively working towards reconciliation). Whereas, say in the U.S., conversations about racialized people and veterans are more commonplace. When we first launched, our first client, right out of the gate, was in Vietnam. We started working within the entrepreneurial ecosystem in Vietnam to embed a gender-lens into some of their SME policies.
How did they find out about you?!
To this day, I still don't know how they found us. Things just started, and we've been moving hard and fast from there.
Where does your work take you?
It takes me lots of places. Sri Lanka, India, Hong Kong, Beijing, the UK, the US a lot, and interesting as of late, a lot more in Canada. I missed it along the way. I was always so keen to see different parts of the world, and somewhere along the way, I forgot to invest time and engergy here in Canada. I'm hoping to make it to all provinces and territories by the end of this year, or next.
We pride ourselves so much in our diversity and culture here because it's such a mixed environment. What have you found has been the conversation here versus anywhere else?

In Canada, we pride ourselves on being welcoming to newcomers and generally very polite. I think that because we're such a diverse country, we assume that it will necessarily translate into private industries, and into our workplaces, but it doesn't. The majority of companies that we work with are tech-focused, and I can tell you, this is simply not the case. While we still lack a Canadian-centric benchmark, our tech ecosystem in Canada is still very white, male, and heterosexual.
On the theme of looking inward, when did you find that you had a 'trigger moment' that we weren't as inclusive as we thought?
I think the biggest thing that I've noticed is that discrimination and racism are much more explicit in other places around the world, and the U.S. is a great example of this. In Canada, we're our forms of discrimination, our racism is so much more implicit. For me, it's a lot easier to have a conversation with someone who is openly racist, or sexist, or ablest, than someone who is "polite" about it. In Canada, "diversity" can only be our strength if we design for it, deliberately, and intentionally.
With the work being about change and being global, how have you found you've been able to mediate, understand, and apply change for yourself? Everything in your work is so fluid.
For me, it's about my own personal and continuous commitment to being ally in this work. It's about always being open, self-reflexive, and just a bit curious. People talk about cultural competency as something you need to have as a future leader. I don't think we can ever be "competent"in another culture, so I'd rather stay curious.
How does someone integrate this understanding into your life? The more you know about cultures, the more sensitivities you need to develop.
I make mistakes in this work everyday, and while I'm committed to constantly learning and doing the best I can, when I mess up, I apologize, and I really mean it, and then I move forward. You need a lot of humility to do this work. I'm always trying to weed out language from my vocabulary. Like the word "crazy," for example. I'm actively working to replace it with other workds in my day-to-day.
How do you make people feel like they're not walking on eggshells on an ongoing basis?
Well, I really like to manage expectations for people. This work is hard, it's messy, it's non-linear, and we're all going to mess up as we go. It's part of the process.
How do you equip yourself to engage with another culture – whether it's a company or a place in the world?
A great starting point is the classic deep dive – reach out to as many folks as possible who may have traveled to the new place, or have spent time there. Try to get insider perspective. When I land in a new country, I spend the last few minutes on the flight reminding myself to be open and accepting of whatever comes my way.
What preps you for your travel work? The theme of the things you carry with you in travel are always fun – what do you need to bring with you?
I always bring some sort of hot sauce and as of late, hot mustard, too. I don't go anywhere without my Bose noise cancelling headphones; they're like an office in your purse. Lara bars are a must for me to prevent low blood sugar. I also love to travel with electrolyte salts, especially for climates that are a little hotter than Canada.
---
Follow Sarah Saska on Instagram and LinkedIn, and visit Feminuity.org