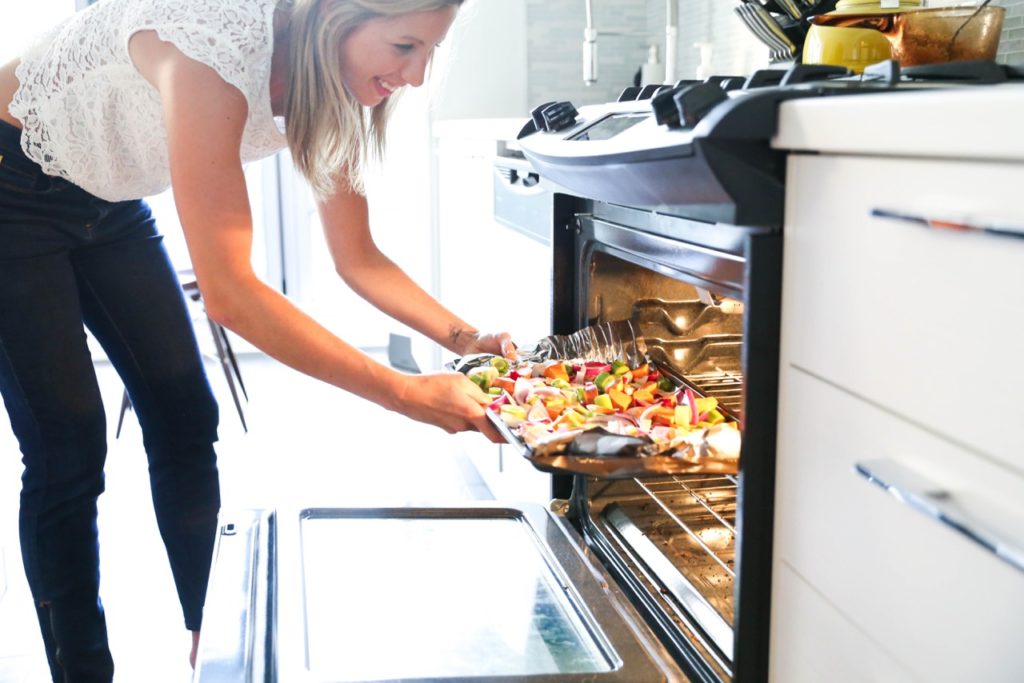 Abigail Keeso is a food wizard. Founder of That Clean Life, a subscription-based platform that makes meal planning and eating healthy simple and fun. A registered nurse by trade, she's taken the leap of faith and invested time to shoot inventive recipes for the site. She exudes a calm confidence, and breaks down the process of becoming an entrepreneur with a realness most don't know how to articulate.
That Clean Life is a stunningly curated website – it's approachable, its recipes don't have 17 ingredients, and you'll actually want to learn about the entrepreneuress behind the food.
Q: How did That Clean Life start?
It began when a few girls at work had asked me what I was preparing for lunch. I decided to release an e-book, and within the first month there were 500 downloads. I started to wonder if there was a business model behind this, and eventually built a series of e-books and a great following around them. My fiancé Chris (a software developer) and I decided to create a more sophisticated site that people could use on an ongoing basis.
"Our true north is to help people eat healthy while keeping it fun and simple. We don't want anyone to deprive themselves or any of that bullshit."
Q: What made you want to start eating clean?
When I was in university I struggled with body image. I tried all types of diets – obsessive exercise, unhealthy ways to lose weight. It took me years to discover that if I just ate healthy (fruits, veggies, good quality meats), and exercised regularly…that's all I really needed to do. All that time I was banging my head against the wall counting calories…but it really came down to a lifestyle. It didn't need to be hard, or painful. You can just find food you genuinely love.
It's not to say that you can't have cheat days. I don't deprive myself from things that I want to treat myself with on an ongoing basis. Avoiding binges is a good thing.
"My trial and error helps other people not have to go through it."
Q: Do you find it takes a certain element of creativity? For example, you recently did a Mac and "Cheese" using Butternut Squash. How do you find substitutes and make them appetizing?
My favorite thing to do is to take comfort dishes and make them clean. I get a lot of inspiration from looking at the internet, and I took a course called the Culinary Nutrition Program, which taught me a lot about how to work in the kitchen with certain foods. How to make things without dairy, but having the same texture. It's all practice, trial and error, and cooking every day. My trial and error helps other people not have to go through it.
Image Credit: Amber Ellis at Creating Light
Q: How do you continue through trial and error, if you don't get it the first time? How do you continue knowing that the next time around might not be it either?
That's the most frustrating thing – going through the process, spending the time and money, and not knowing that it's going to turn out. But you learn…and you won't make that same mistake the next time. It also helps having the mom test – I send my recipes to my mom and she spots things that I won't see, that better the recipe. As with anything in life…it's so easy to give up. All the good things happen when you persevere and keep going.
Image Credit: Amber Ellis at Creating Light
Q: How do you ensure things are affordable, good quality ingredients?
When it's affordable, I always try to buy organic. It's wild to see research coming out about what pesticides do to your hormones. One of the non-negotiables for me is meat. There's so much in the mass produced meat. If I can't get good quality meat, I would rather eat vegetarian or vegan, because it's just not worth it. More and more you can get great meats in typical grocery stores, or even local butchers.
"I think the way media likes to portray success is that it's overnight. It doesn't happen to anyone, it's not reality."
Q: What was it like dedicating more time to That Clean Life, and going part time at your nursing job?
It's hard when you go from working with a team of 8-10 nurses you love, to working at home alone while cooking, or at a coffeeshop. I think looking back (now that I'm 10-11 months into this), I think the way media likes to portray success is that it's overnight. It doesn't happen to anyone, it's not reality. It's going to take us years to get this off the ground…and it's a lot harder than I thought it would be.
"With eating healthy, you're changing people's behaviors. But it has the potential to have a massive impact."
Q: You talked about working solo, going to coffeeshops. Do you have any techniques around being disciplined, and how to not feeling isolated?
Routine is huge to stay on track. If I structure my day, I never catch myself making excuses to not be working. Know it's okay to not be working all the time…just because your laptop is open doesn't mean you're doing good work. There's no shame in stepping away when you need to. I get up, work out, hit the coffeeshop, hit the grocery store, go home and shoot everything.
Q: Your Co-Founder is your Fiancé – how do you work together and spend so much time together without throwing off the dynamic?
When we were building the platform itself, I woke up one morning and realized how much work we had ahead of us, and once we put it up, it would not just go away. I told him I didn't think we should do this. I think if anything it's brought us closer because we're so passionate about it. We brainstorm and get inspired together, and if anything it's strengthened our relationship.
"I find when you love what you do, you don't really need a "work balance". It's all kind of one thing, and happens organically. We're happy that way."
Q: How do you consistently stay on this path of doing something different, and build your own #ROGUESTORIES?
There have been so many moments of doubt. But I think it's about proving it to myself and everyone that may have doubted me. The satisfaction you get from changing lives and helping people overcome obstacles that you once faced, that's something you can't ignore. It's a gamble. But that's why you have to focus on what the mission is and what you want to achieve.
"A lot of people could have achieved great things if they just kept going."
---
LEARN MORE ABOUT ABIGAIL: Website // Facebook // Instagram // Twitter