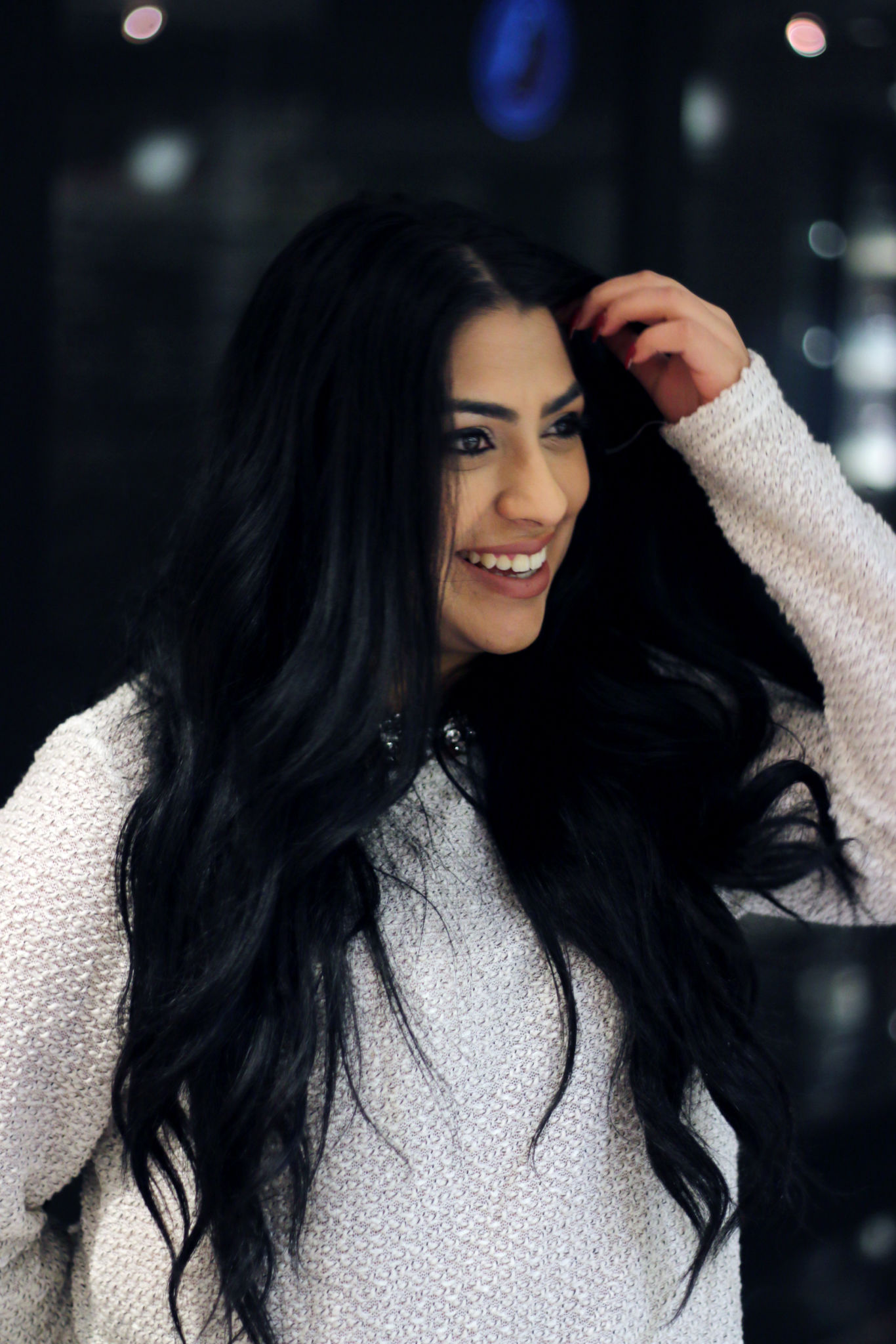 As if growing up wasn't difficult enough, having to expedite the timeline that you have to do it is even more challenging. I met Alysia Harji, a featured student for Seneca College's Because It Matters campaign to talk about her journey through what seem like paralyzing obstacles. Alysia's navigated a troubled teenage pregnancy, graduating high school, being away from her family, and had collected awards, accolades, and impressive titles along the way. Oh, and her positive disposition is unbreakable. She shares her shy enthusiasm and optimism over a late afternoon coffee.
How did the Because it Matters opportunity appear and what do you want to share from it?
I got a call when I came back from vacation about how the faculty wanted to share my story – it happened quickly. To me it's all about inspiring people and embracing difficulties that you face. No matter how many people tell you something, your belief is what matters. I got pregnant at a very young age, 17, and people told me that I wouldn't finish high school. They told me there was a ripple effect and that I wouldn't finish college, university, or do what I set out to do. I had a plan since I was 14, and knew I wanted to do marketing. I wanted to prove that I could accomplish my goals even if something strays off the path.
Tell me about the experience when you were 17, when something happens that might seem to derail it?
I was 16 when I found out I was pregnant, and I had a tough pregnancy. I got really sick and was in and out of the hospital. I also suffer from anxiety, and have been diagnosed with Generalized Anxiety Disorder and Post Traumatic. People tried to fill my head with all of these negative ideas, that I would get lazy, demotivated, incapable. I took a semester off, and went back to work because that's what you need to do as a single mom. Funny the way things work, when I returned I was doing way better in high school than before. I think everyone's negativity, constantly telling me that I couldn't do it…pushed me to give it my all. I graduated with high honors and straight A's, and I applied to Seneca.
"I think everyone's negativity, constantly telling me that I couldn't do it…pushed me to give it my all."
You make it look easy. But what are the coping mechanisms or the things you did to draw yourself out of the negative mindset? How do you get out of a bad headspace that's so easy to fall into and develop focus?
I definitely know how to put on a front when it comes to the difficulty. If you don't do well on something, it's okay to accept that not everything needs to be perfect. Because I have anxiety, I deal with continual anxiety attacks. My coping mechanism is just to breathe through it. Continuously remind yourself that whatever you do, give it 100%. You can't be let down if you gave it your all.
"Continuously remind yourself that whatever you do, give it 100%. You can't be let down if you gave it your all."
I keep organized with a calendar, an agenda, and many, many to do lists. Even if you're thinking big, set small goals. You'll feel so much better about every little achievement you make towards your big goal. I also try to keep separation in my life – focus on one thing at a time. When I'm with my family, I want to be a good mom vs. being a good student. Having that balance keeps me successful in all aspects of my life.
A question about fear – you were young when you had your baby, and so much responsibility and uncertainty came with it. What was it like to live through that fear?
I was definitely scared. When people tell you that you aren't able to do something, and you challenge them saying that you can, you put a lot of pressure on yourself to deliver on that. If I fail, I think that I'll let my daughter and others down. I realize that as long as I try, and put in the effort, that's what matters. Dealing with the fear through motivation is important. It's not just my career, it's about my daughter and being a good inspiration. I want to teach her to be independent, to teach her to grow. She's going to learn from my experiences of continuing my education. To me, I have those fears…but looking at her and seeing what she's going to learn out of it, keeps me going.
You mentioned Seneca was part of your plan – how did that start to play a role in the overall picture?
I did my research. I talked to people that went to Seneca, I went through every avenue to learn about the school and everything had been so positive. From my first day of class to the last day, I enjoyed it so much. I grew up in Waterloo my entire life, and moving away was nerve-wracking. I met some phenomenal people, I grew so much as a person. I was shy, quiet, and by the end of it I felt comfortable in front of thousands of people. Things that scared me, built me. My dad has gone to professors to thank them for the impact that they've had on his daughter. I learned that it wasn't about what you know, but also who you are and how you interact with people. Now I'm working on finishing my university degree, and will be graduating soon!
"Things that scared me, built me."
What's your daughter's view on you in school?
She had a hard time because I was away so early on when she was born. I miss her like crazy in class, but she'll see that I've made strides. She was excited seeing me as valedictorian, and she'll exclaim that "when I grow up, I'm going to university too". She understands why I'm away, and the little things she says keep me going and doing the right thing.
What are you hoping to learn before you find that next place in the world?
I've always been the type of person that likes to learn a little bit of everything. I just want to evolve and see what fits me as a person. People my age are still struggling to see what they want to do for the rest of their lives. I just want to learn from everyone I meet, and develop as a business woman. I want to work in marketing, with a touch of finance. If all goes well, CMO would be a title I'd love to have.
What are some of the things you're doing outside of your focus and your study, that keep you whole?
Dealing with anxiety has held me back from a lot of things, and made the process of finishing school harder. I've been looking into stress relief activities to improve the quality of my life. Being spiritual and practicing meditation and yoga – getting in touch with my inner self. Building a love for myself.
I've been so pre-occupied with everyone else since I was 16, I just want to appreciate what I've done and where I've come from.
It sounds like you have a lot of gratitude with school, family, and your opportunities. How do you find you're able to express that gratitude?
It's all about having a great support system. Don't forget the people that contributed to your experience. You lose people along the way, but not forgetting to do the simple things like saying thank you or having a coffee with your family.
Where does the journey go now? You have a clear vision of your career path, but what are the pie in the sky things that you see in your life?
Career is one thing, because you spend so much time at your job. It's about being happy in all aspects of my life, I want to be content. I'm not looking to break records with everything, or the money you make or the title you have. My main goal is to give my daughter the best life possible. I'd love to be able to give her everything she deserves – not just material, but being happy and comfortable. And to have a little home for me and her. I really want to travel – Thailand, Bahamas, a Europe Trip with my mom. Outside of being Alysia the Mom, the worker, the student. I'd love to have more Alysia time.
---
Follow Alysia's journey on Twitter, & Instagram, and BecauseItMatters.ca for her feature by Seneca College.