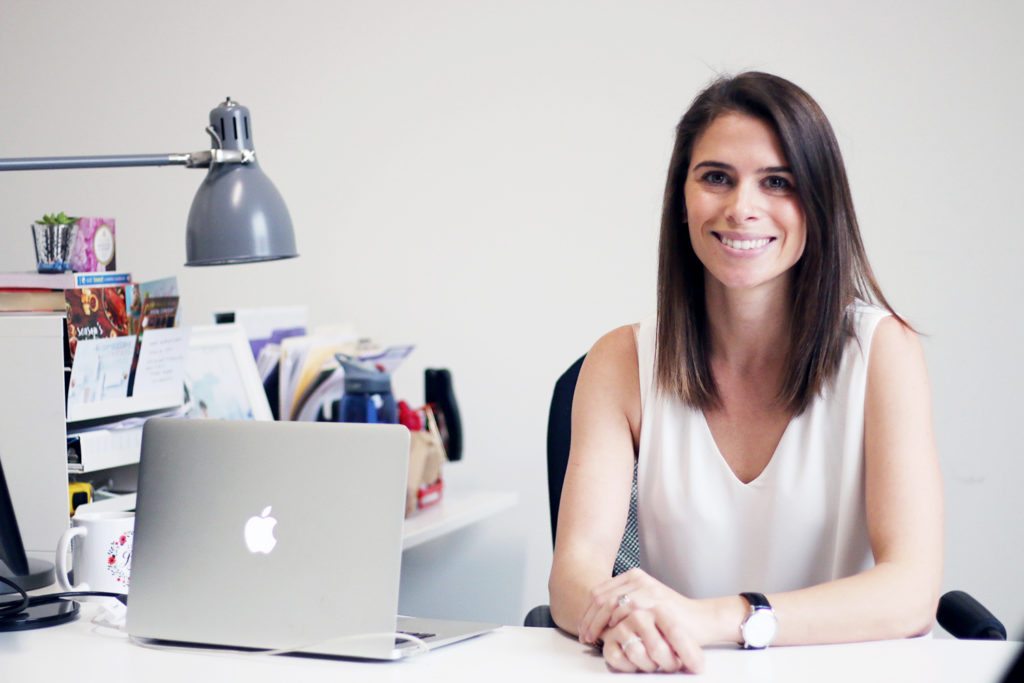 Amanda Riva is a powerhouse, packaged in an infectiously energetic and young personality. I was invited into THP Agency's offices, which is home to am enticing test kitchen, numerous mini photo studios, and a vibrant workforce. Oh, and they even have a prop room.
Recognized as a Top 30 Under 30 in not only Forbes Magazine, but Marketing Magazine, Amanda's positive and open personality is hard not to be enamored with. Gliding room to room in a loft-style building, she's welcomed with happy employees and clients, that aren't afraid to share their enthusiasm. This type of consistently sunny energy is rare, and I might call completely unique to THP. Amanda grew a business from starting small – a food stylist, with a glimmer in her eye when she found an opportunity.
It sounded like you started with humble beginnings, but experienced a lot of velocity. What was the growth like?
It all comes down to opportune timing – it started with when I was food styling, and seeing a lot of tier one brands have the same problem. When content creation was first starting to be an area of focus, agencies were taking on more in house work, and there was increasing pressure on everyone to deliver in this new area. My entire family has a background in technology, so I really wanted to look at the opportunity in the market in a different way. The first part was just finding ways to make content cost effect again. How do we make it accessible, simple, and fun for brands to do so they do more and more of it.
That's sort of where we first started, opening our first office in 2012. That was just full service recipe development – you got your recipe that was developed, tested, and your photo that was styled and retouched. The whole thing was $300 when we started, it's now $450. That kind of pricing and value was unheard of at the time. There also wasn't a one stop shop for anything. From there, we've grown to over 170 services, and that's how we kick started it.
You started by filming food videos at McGill, and then migrated into food styling. How did that happen?
I did the opposite of what everyone did when they went to university, and lost weight because when forced to eat residence food, it wasn't my thing. I grew up in a family where lots of amazing food was around, so when I moved into my apartment, I wanted to share my love for food and teach others. What went from being a fun way to document cooking became something that gain momentum.
It was always about breaking it down to creating a visual guide, to make food seem less intimidating. We really wanted to teach people to make things like risotto, the perfect chicken dinner, and equally easy but sophisticated recipes.
How have you navigated growth, especially so suddenly?
The first most important thing about navigating growth is keeping a close eye on metrics. I really believe you cannot manage what you don't measure. Measurement is incredibly important – we have a strategic calculator for the next thirty years. We want to forecast and plan for that growth.
"I really believe you cannot manage what you don't measure."
Figuring out what the right type of person to work at THP – HR is a struggle for fast growing companies. We've had a lot of amazing learnings and have really cracked that code for what we look for. Our team is made up of A players – positive, collaborative, and driven people. People that are passionate about what they do every day. Every person here contributes, every person is a worker bee. You should always look for ways to make the lives of the people around you better.
Lastly, it's really about innovation. One of the things that has helped us exponentially grow, is that we never stopped rolling out new services and products. We put processes in place to measure for quality control, and we measure each new service that plugs into this growth calculator that helps predict for our future success. We have to stay fresh.
How did you make the separation with the art and craft of food, and the business side?
Food and beverage is the industry we play in (we have over 270 customers in that space), but you always have to challenge yourself to grow in different areas. Things like fashion, beauty, sport, and baby. The creative side was where the need was. There's so many phenomenal agencies out there, but the missing piece has always been about developing physical content. We identified a need, and that was the area that we started in
You've had growth, and recognition in your successes (Forbes 30 under 30, Marketing Magazine 30 under 30), what does success look like to you now?
World domination is my answer. Recognition is lovely and fun, but the goal here is to help innovate an entire industry. When we get feedback from customers that we've really helped them bring their vision to life, that's validation for the value that we're bringing. Success that's measured on a day to day basis is the most valuable for us.
The global expansion is exciting for us. We always said 2016 would be the year that we would open a UK office. We're doing that in May. To achieve these things speaks volumes about our team in Canada.
"Success that's measured on a day to day basis is the most valuable for us."
Successful for myself has been being able to build a great team around me. To be the mom of a 10 month old. To be able to take on more of the role of CEO, to think long term and strategically.
Outside of cooking, what are other activities you spend your time on?
Hugo, my 10 month old is my be all end all. Also, something a lot of people don't know about me is that I'm an avid off-shore sailor. I've gone to Bermuda, I've gone up and down the coast from North Carolina to New Brunswick – it's 10 days at sea. Both sides of my family are avid sailors that spent a lot of time in New Brunswick. My first sail off the coast, two hours in we hit a hurricane. 40 feet swells, winds are blowing. It's wild but it's an adventure.
How do you create focus for yourself with so many things on your plate (no pun)?
The key to success is time management. When you can organize your time to be focused on certain activities, you can be so much more productive. It brings me a ton of peace of mind. I get almost 8 hours of sleep a day, and get everything I want to do in a day.
Failure vs. Fearlessness – to some degree you have to go into every opportunity knowing what the possible outcomes are. How do you manage so many new possibilities with a sense of fearlessness?
I don't think I'm a very fearful person, I'm a pretty straight shooter when it comes to what I want to do. Fearlessness also often associated with chaos. I used to be the book keeper, food stylist, tester, doing the nutritional value analysis, marketing, sales…you wear every hat. You go through that phase and the beautiful thing is getting to a stage where you're no longer feeling emergencies all the time, and motivating the team to be balanced, positive, and fulfilled.
But I'll still wash a dish every now and again.
---