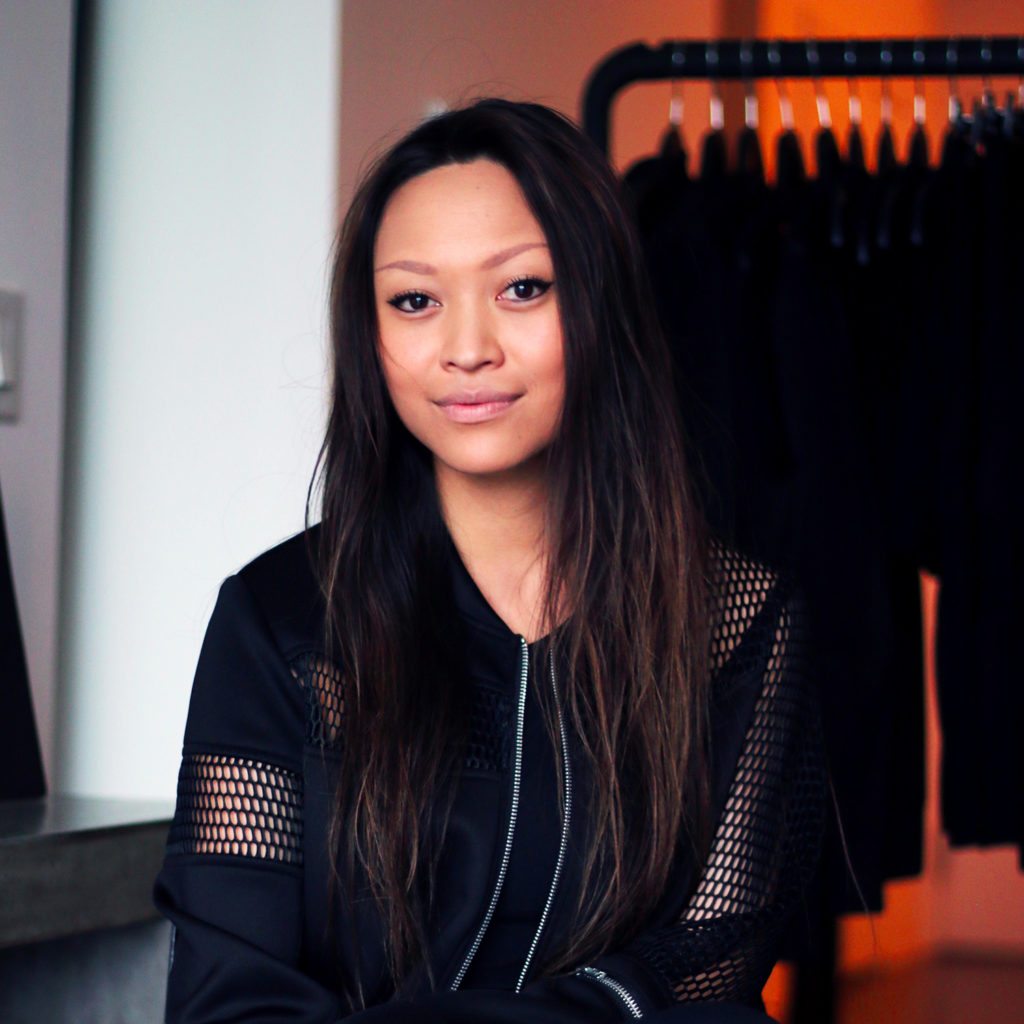 Cara Cheung's aesthetic and persona emanate cool. A designer for four years, her pieces are intricate, modern, and a byproduct of perfectionism. At first glance, you'll want to step up your edginess to fit into the clothing, and adapt your utmost tough-girl attitude. Now sold at Mendocino, through her web store, and private showings at her home studio, Cara keeps her clientele feeling exclusive, strongly outfitted, and feeling part of an elusive girl gang. Proudly local, read on for her journey to her clothing line's success:
There's a creative aspect and a business aspect to having your own line. What's it been like creating this brand, and starting it with your namesake?
There was definitely a big transition from the beginning to now. When I first started designing my focus wasn't on immediate sales. I wanted to distinguish myself creatively from other designers and the quickest way to do that in my mind was through pieces that were attention grabbing and unique rather than practical. Using my own name also made the brand that much more personal so I cared about attaching it to a "cool aesthetic" before building a business around it. As you start to think about what people are willing to spend money on, it then becomes more about the customer experience and tying that aesthetic into more wearable and accessible pieces. We cut down on a lot of embellishments and details for that reason and took the brand in a more minimalist direction.
How do you personally make the distinction between what a customer wants and your personal tastes / design?
You can never really separate your work from your personal taste, which is why I think it's about finding that balance between a fresh perspective and what the customer is familiar with without going too far out of their comfort zone. For instance, my brand is known for a lot of asymmetry and geometry, so I like to take classic pieces and give them a modern edge that's unpredictable. It's never easy though. Customers can love something aesthetically and still not want to buy it. Good or bad design is so subjective but if you're not selling it's not really a business.
"Good or bad design is so subjective but if you're not selling it's not really a business."
A lot of the time the frustration doesn't come from customer feedback, it's more so on the technical side. I care about the brand so much that when things don't come out right in production, some people might take it and sell it anyway whereas I'm reluctant to do so. I'm a bit of a perfectionist which can be a good or bad thing. You kind of have to decide whether taking a hit financially is worth it in the big picture or not. It's hard to change a bad impression.
There's an art to production because you work so far in advance of something being released. What's that learning curve been like in terms of bringing something from concept to tangible?

Every season you're bound to run into problems. All you can do is learn from your mistakes and remember not to make them again. When you're not doing everything on your own anymore, you have to be able to communicate really well and in depth about what it is that you want. You can't expect that they'll know anything that you don't specify. It's impossible not to forget any little detail too. You mention it the first two times, and you don't mention it the third and the third time they don't do it. Issues are money, basically. The longer you have a relationship with a manufacturer, the more you understand each other.
"Issues are money, basically."
How do you foresee people being able to perceive you as a person through the collection?
None of the collection is overly done up, even though you can wear it out and to a number of different occasions. I try to maintain the element of 'cool', not trying too hard, staying humble. Focusing on the actual product. The product can speak for itself. I'm not an overly promotional person.
What is 'trying too hard'?
It's a matter of preference at the end of the day. It's not my department to do a huge poufy ball gown. I like still being comfortable, and looking like you're put together and edgier. When you think wedding or fancy event, you just assume cocktail dresses. Maybe you can have more fun with two pieces, mixing and matching. You can wear it with pants later. I do have a lot of black, but so many different textures of black.
What has the process been like to relate to your customers? When someone is walking by a piece in a store, what is the emotional connection you want your customers to have when they pick up a piece?
If someone sees one of my pieces and likes it, it's so particular that chances are we are on the same page, even about something they've never seen before. The people I choose to work with even, our entire aesthetic is in line. The reaction that I want from a customer is that they feel like they've managed to find someone that understands their style. I want them to get excited that this piece exists.
It's an interesting dynamic to wear your own clothing – how do you do it with confidence?
It's pretty rewarding to have someone ask you where you got what you're wearing and to tell them that it's from your own line. Great conversation starter. I also use myself as a canvas throughout the design process, keeping in mind what my clients will want, so there's a lot of what I love in these clothes and it just feels natural when I wear them.
What's it like to work with your brother?
It's funny, we stumbled into working with each other. A few years ago I was working on my own up to fashion week, sewing until about 4am in the morning. My brother was in university and studying for exams, and moved his table into my sewing room. We did this every day for awhile, and we worked so well together. I needed the structure and the push.
I can sometimes be such a perfectionist that I get stuck on one thing, but having someone else there helps you move along quicker. I had a pop up shop a few summers ago, and it involved everything – making over a space from nothing. Everything from the floors we changed, the walls we painted, shelving we put in. Through the pressure of opening, inventory, finances, my brother and I did it together. As soon as he was done school he came on full time and it's been so much better.
You mentioned perfectionism a couple of times. Many entrepreneurs and females have that quality – how do you cope with that?
To this day my hardest struggle is coping with perfectionism. Sometimes you get fixated on an ideal that no one can see except for you. Done is Better than Perfect. Sometimes it's worth doing, and sometimes it isn't. I think the detail is so important when it comes to certain things like quality and fit, that separates good pieces from bad ones.
"Sometimes you get fixated on an ideal that no one can see except for you. Done is Better than Perfect."
At the end of the day I can't hide from it, my name is on it. People will associate a product with me.
Do you have opportunities to break away from focusing on your work?
I find it extremely tough to establish a proper work/life/vacation balance. Without standard work hours or a predictable income it always seems like you can do more. Should I go on vacation or invest in more marketing? You never fully forget about your own business and until you've "made it" there's always some guilt associated with taking time off. I'm such an extreme person that people around me have to remind me to take breaks or I'll lose my sanity. I try my best to listen.
When will you feel satisfied with your success / what does that look like?
The goal is to grow online, get into more stores locally and then internationally. People are more skeptical in the beginning…but the second that one major retailer or celebrity hops on and supports you, opportunities begin to present themselves without even going out of your way. I think that's when I'll feel satisfied, when business starts to snowball because of work that I've already done. You can always be bigger.
---
Learn more about CARA CHEUNG on Instagram, Facebook, and Twitter.