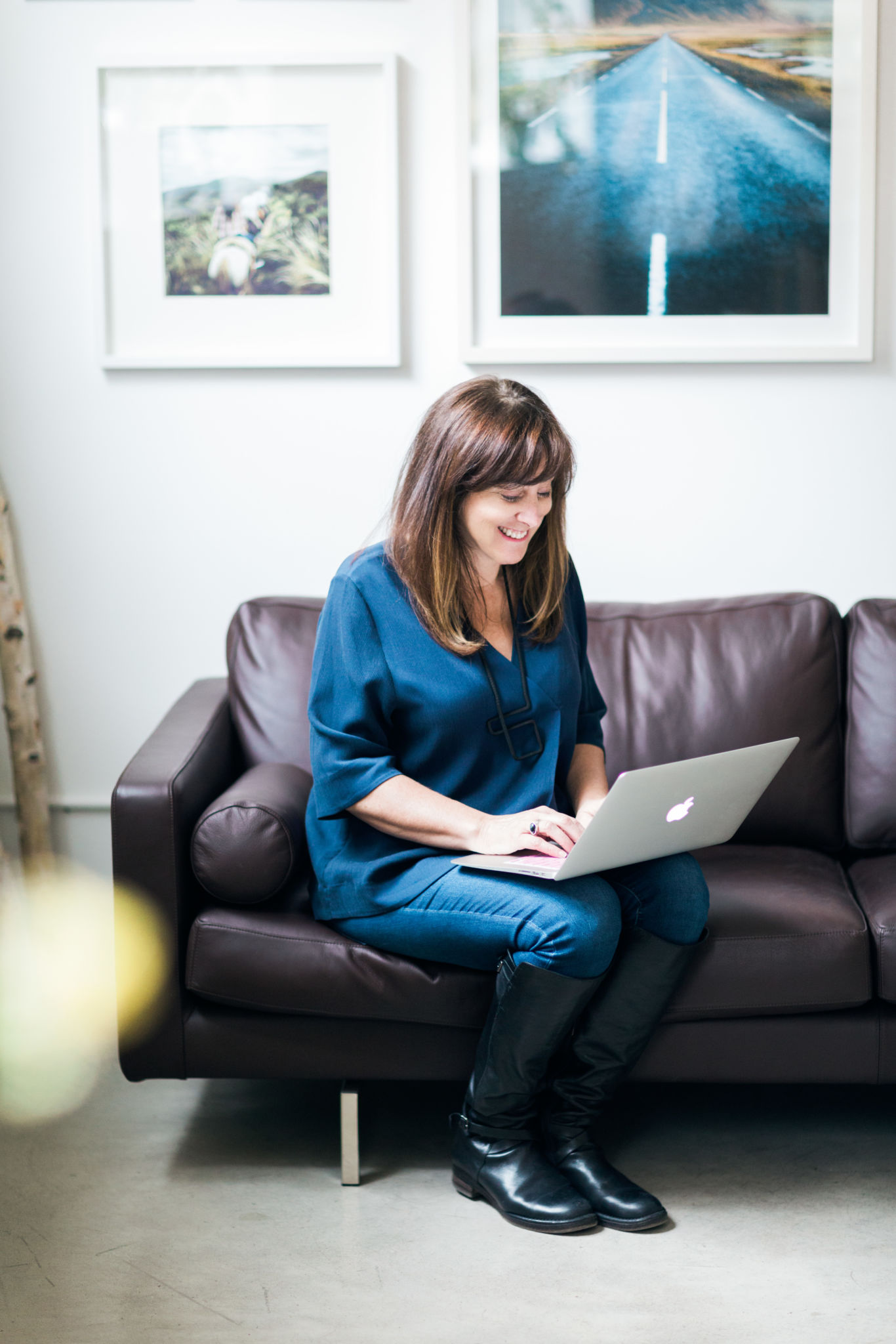 Daniela Favot makes a fabulous case for balance. Leaving behind a career in corporate sales, she founded her own talent management agency FUZE Reps—whose photography you've seen peppered all over the city's newsstands, billboards, transit system, and more.
Amid the visual delights and sensory fantasies she helps bring to life is a keen business sense, which keeps both her creatives and clients happy. Despite the advertising industry's plethora of talent and insatiable appetite for the unfamiliar, Daniela maintains a logical approach to matchmaking the right talent with the right client. That kind of well-roundedness has grown Fuze with both purpose and heart: a valuable tension that just might be found where we least expect ourselves. 
Read on to find out what lessons from corporate life have best served Daniela in a creative industry, what a compatible working relationship really feels like, and the principles that keep a workplace environment thriving.
What were you up to before diving into the talent management industry?
I'd been with Bell Canada for 15 years. I was doing sales and had been for quite awhile. When I had my second daughter, my husband thought it would be a good idea for me to stay home because she just did not like going to daycare. As a woman, it's hard because you're thinking—should I get a nanny? Do I stay at home? What should I do? But I was tired of what I was doing, so that's when I decided to quit.
Because I'm one of those people who like to keep busy, I needed to do something. I started helping out with my husband's photography business, and grew from there. I started cold-calling, because he didn't have a website at the time. Not very many people did. I called agencies and asked if I could bring along his book. And then another photographer asked me, and it grew very organically from there. As word got around and I got busier, I started to hire some people.
It's very different from what I'm used to. It's creative, and I'm not a creative person. I'm more business-minded. I've since learned it, but I lean on my team for the creative stuff. At FUZE, we work as two halves of one brain together. We've figured out what everyone is good at, and we've all got different strengths. That's what makes it work.
I'm guessing Bell was a little more corporate. As a talent management agency, FUZE epitomizes the creative workspace. Are there any similarities that you didn't expect?
There is still a sense of organization in what I do. In terms of the photographers—the ones who are creative but have a little bit of business sense within them excel a little bit better. At the end of the day, they understand they are providing a solution for the client. Creative as you are during that process, you're still providing a service. In cities like New York, photographers can be that type of artiste, have that kind of ego—but we work with photographers who have a little bit more of an understanding. Maybe it's because we teach them that.
You can want to push a client further in your creative ideas, but at the end of the day, if it's for marketing something and the client is driving this… if you don't pull back, they're not going to hire you again. It's a business solution.
"At FUZE, we work as two halves of one brain together. We've figured out what everyone is good at, and we've all got different strengths. That's what makes it work."
How do you imbue that business sense into your roster of photographers?
We take a photographer on maybe once a year, or every six months. We get asked a lot, but we try to take one on at a time and grow them first. In that dating period—when we're both trying to figure out whether or not it's going to work—we tell them how we work. That it's about working as a team. Are they going to be comfortable with having another photographer from the team on set with them? We try to make sure they're going to be the right fit for our team.
How big of a role do you play in developing the talent, versus managing it?
We don't try to change their style. We try to hone in on it. Some of the photographers who start with us would begin with a lot of different styles, but with time here, it will all come together. Some photographers do come to us with a full book, with a range of different clients and a real voice. In those cases, the development is only strategic.
We also experiment with different mediums if we think talent can apply there. Now the big thing is motion, mobile—so with some of our photographers, we'll encourage that. That way we can show our clients we're capable of a range of things. Without demonstrating range, clients can sometimes lose faith. If they're paying you and have entrusted you, they need to see that.
Are there any misconceptions or issues in the talent management industry you'd like to address?
In the business we're in, there are a lot of women in creative [roles], but there aren't as many in mid to upper management. At FUZE, there's a very healthy ratio of women involved. From producing to directing, business to creative—there's a lot of women.
Listening to clients is a choice we make. We do that so they're happy and they would come back to us, call us by our first names, on the weekend or after hours. That's what we do here within the company for each other, so we try to bring that outside to our clients as well.
I do think this field is very accepting of all types of people, which isn't something you can always get on the other corporate side. There's a very familial feel; we actually like each other.
We have never lived in a more visually beautiful age of information. How do you cut through the clutter? Who and how do you choose the photographers you work with?
When we lose a job, I always ask the client, the buyers, or producers why—whether it was the money, or look, or something else. We have a good enough of a relationship for me to do that. That way, we can learn from it. When we start losing out on a lot of [specific] types of projects, I'd know. If we feel we're missing something that a lot of clients are calling for, we'll go look for photographers to fill that gap.
It'd be great to take on someone who is very creative and out-there, but if you know the work isn't going to be requested, and if the photographer is hoping you'll take them on in order to get them the work… you can't just take on anybody. You have to be careful. The art direction in Canada is a lot safer. In Europe, it's a much more forward-thinking market. When the more avant-garde type of photographers start calling, they want food on the table. I've gone to sleep at night wondering how they're making money.
"When we lose a job, I always ask why. That way, we can learn from it."
What are the variables that feed into how compatible you feel with potential talent?
The chemistry of the conversation, for sure. My intuition is very strong. There are other reps out there who, I'm sure, [operate] on a good gut feeling. It feeds into our working environment; we are a family here and our clients can feel that. Creative people tend to be feelers. The fact that they feel more safe, secure, happier—it makes a difference.
What specific things do you do to encourage the type of workplace environment you're building here?
My team's been wonderful in helping me—well, telling me what I can do. [laughs] Some of them would have those yoga balls as their desk chairs, and I'd think, I should be getting those standing desks. We try to do little things like that to be healthy. Or we'd have to ban ourselves from the bakery next door.
"Creative people tend to be feelers. The fact that they feel more safe, secure, happier—it makes a difference."
---
For more about FUZE Reps: Website: www.fuzereps.com, Instagram: @fuzereps, Twitter: @fuzereps, Facebook: @fuze.reps