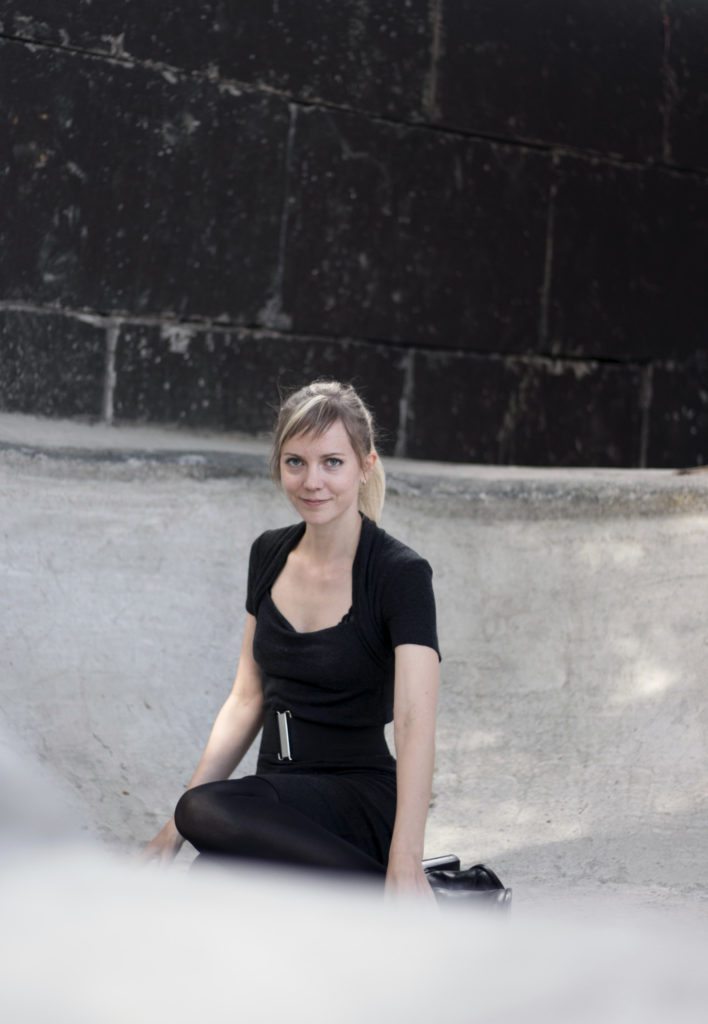 Danielle Meder is one of the first people I admired in the blogging space, working under the name and blog of "Final Fashion". She draws a beautiful honesty in her sketches, and embodies the perfect blend of deep intellect with unexpected humor. Catch her any day delivering universal truths with a hearty laugh and wisdom.
Danielle claims that her creativity was born where she was – living in the woods. Hot off the publishing of her first book,
Draw Fashion Now
, her work teaches others how to illustrate runway, street style, and red carpet. That, and it's fun and gorgeous to learn a new skill that leaves others marveling. Not a bad way to share a talent.
You just came back from two months in New York, with a book launch for "Draw Fashion Now" – can you tell me more about that?
To start with, this has been a really exciting year for me. I always talked about doing a four city year, and 2016 was the time for me to put my money where my mouth is. I started the year in Paris, spent a couple months in London, then some time in Toronto, and lastly New York. Concurrent with all of the travel activity, my first book was launched in August. It's about how to Draw Fashion Now – contemporary fashion, how to use both traditional and digital tools (touch screens for drawing), and a focus on how to capture gesture and attitudes to make your illustrations. I wrote a book to cover all of these topics (and illustrated it obviously).
I went to New York to promote the book because I had never done it before. It was an uphill battle, I sent out a lot of pitches and emails. I got a lot of ignores and rejections. It was difficult this season to chip through. I've been going to fashion week for 19 seasons and it's always up and down. This season was a struggle. But regardless, I'm so bloody minded I just keep showing up. And it's a good thing I showed up, because a few opportunities I had been working on finally chipped through a little bit. It's a giant nut I'm trying to crack open. New York isn't a fairy tale yet, but it's definitely a quest and mission and an odyssey.
How did you get started in Fashion Illustration, were there other mediums in between or was this it?
I always have been doing this. When I was a little girl I was home schooled and I had a lot of time on my hands. My parents were very open to allowing me to make decisions about how I spent my time. What I loved to do was look at books and go to the library. My favorite books were all about the history of costume. I was really interested in the fashion plate format – head to toe figure drawing of a person in clothing. I loved how people presented changes through the decades through clothing. I would create paper dolls with meticulous historical wardrobes.
Essentially, I'm still doing the same thing as an adult. It's definitely grown and expanded and modified so I can create a living from it. This imaginative expression of clothing through drawing and study…it's been going on since I was 4 or 5 years old.
It's nice that you started out with a focus, even if it wasn't intentional. What was the point in time where you felt this was a viable career for you? Often people grow up thinking they have to make a decision with what's "practical" and what they love.
I don't feel like I ever had to make a decision. I almost feel like my calling was chosen for me. I've always been a self directed person, and sort of soft started my business unintentionally by freelancing when I was in university. I would charge people $100 and be in business. I had temporary positions and part time positions when I graduated. In some ways I "failed to launch" because I had no real job. For awhile there it seemed like I was a total loser…even when I had a way to interview for full time opportunities I found interesting ways to self sabotage myself. I remember once I had a big interview at a company where I made an elaborate application package with a coverletter that had another company's name on it.
I'm not meant to be an employee at a company. When you spend your childhood in self directed learning, you're not good at taking instructions or directions from bosses or teachers. I was a good student but not a star student. I was only interested in learning if I was interested in it. I never cared about marks.
What makes you cut out for the other side, to work independently?
What I'm so grateful for is that in my work, I don't have to pretend to be someone else. I don't have to seem a certain way…the more like I am myself, the more suited I am for the job and the more qualified I am. As far as I can tell.
"What I'm so grateful for is that in my work, I don't have to pretend to be someone else. I don't have to seem a certain way…the more like I am myself, the more suited I am for the job and the more qualified I am."
My parents gave me this book when I was a child, that really taught me how to learn for myself. It's more about you go and figure it out, not teacher tells you what to learn or what to do.
How were your parents progressive enough to do this?
They were self directed people as well. They came from traditional families, but for example my father wanted to learn to build a log house on his own. So in his early 20s he went out and learned to apprentice with builders, and built his own house. He's someone that really believes that you can learn what you want to do, yourself. His project is creating that home environment for him and his family. My mother is a piano teacher / music teacher. Her focus is on practice. She emphasizes practice over performance, because without practice, there is no performance.
These attitudes have really informed the way I have created my own life and how I make my living.
How did you officially get started in illustration?
I had a part time job in Yorkville that I loved. Women would come in to tell you what they were looking for, and you had to connect her with the right outfit. If you found something that she loved, everyone would be happy. I enjoyed my time there, but it was a summer job and they no longer needed me after. Out of the blue, when that ended, someone had reached out asking me to sketch their collection for $3,000 and I thought…great! At that point, I didn't really want to look for another production assistant or retail job. I just wanted to be an illustrator.
I ripped up my resume and called my parents to tell them I wasn't getting another job. They were supportive. It was a struggle for the first couple of years because I made nothing. I was living on under $1,000 a month. That was how I lived my whole career as a student. It's something that is doable. I didn't care about having things or shopping, or any sort of comfort. I only cared about being a fashion illustrator.
Doesn't that seem counter intuitive if you're drawing fashion…yet you don't have the attitude to want that?
In fashion school you would have the fashion communication students and the design students. Often the communications students came from backgrounds where they loved magazines and liked shopping, and so they would become merchandisers and stylists. I noticed a lot of the design portion tended to be girls who didn't have access to the clothing they wanted, so they always tried to figure out how to make them. There was a real class divide.
"I didn't have the means to acquire things, so I was hungry for the skills to make things."
So how did that transition you to the skills that you want to have now?
What I'm really focused on right now is being a writer. I have a column with the Globe & Mail, and I'm an illustrator. Now I'm promoting this book on how to draw. It's been a long journey. After school I was missing the community of school. At the time I started a fashion blog and decided to explore the community of the Internet and blogging, so I started the Toronto Fashion Bloggers Brunch. I called my blog "Final Fashion" as a nerdy fashion blog. There wasn't exactly a purpose. But it was leading to all of these other things. It was all the practice of sorting through ideas and putting together images and text.
Final Fashion is sort of a joke on one hand – there's no such thing as final. But on the other end, fashion expires. It came to a decade of doing this work, and the theme of my work in blogging and illustration is the ephemeral nature of fashion, beauty, and fame. If it falls under that umbrella…it belongs in my domain.
I think one thing that is so appealing about your work is that it's approachable in a way that you're very human about it. There's still a lot of commentary about there being classes in fashion. But in illustration, you don't have that as much.
Like Bill Cunningham says, it's important to keep your eye on the street and your eye on the power. It's always a conversation between high and low. Fashion is a hierarchy. The whole thing is predicated on the appearance that it's possible to appear better than someone else. Notice how I said appear and not be?
It's dangerous to only focus on one part. You see people that get all of their information from fashion magazines…so you end up with people that produce the same kind of work. It's so important to keep an eye on what ordinary and young people are doing. The further I've gotten into the industry, the more interested I've become in the music industry. The music industry is where a fashion gets a lot of cues and inspiration.
What we're all really after is energy. There's a real sense of asking where energy comes from. Bill Cunningham went to all of the impressive events in New York, he was familiar with this elaborate network of social networks. All of this informs fashion. This is how power projects.
What I'm saying is that I don't feel like I am above or below either of these worlds. As an artist, it's up to me to transition back and forth. I have to be able to be comfortable at a basement punk show or a fashion show in Paris. Both of these inform my work.
"As an artist, it's up to me to transition back and forth. I have to be able to be comfortable at a basement punk show or a fashion show in Paris. Both of these inform my work."
For yourself, how do you cope with transitioning between the two worlds? You have to be able to find comfort to be adaptable.
I wasn't born an insider. I wasn't born within even a city, so my parents weren't able to hook me up with anything. I had to figure out how to enter the world myself, on my own terms. It's very much a world where your friend will get you somewhere. Finding out who your friends are is an important aspect of working your way into fashion.
You have to embrace the advantages and disadvantages you're given. If I had been born in Toronto, I may have started earlier. I might not have had as long of an apprenticeship. I'm still in the process of becoming and I'm in my 30s now. But I'm so grateful for where I started because I have such a terrific narrative.
"You have to embrace the advantages and disadvantages you're given."
When I walk into a fashion show in Paris, sketching. I can pinch myself and say that I used to be a little girl who lived in the woods. Literally, in the bush. I'm really interested in creating a legend, not just success.
People confuse the idea of fame with social media popularity. I'm not interested in social media popularity, I'm interested in living the kind of life that could be a best selling memoir. That's how I intend on constructing my life as an artist.
There's still this idea that social media popularity means importance, vs the old system being masthead hierarchy. I think both systems suck. Neither of them produce better ideas or better images.
I'm interested in figuring out a way that I can create a career, have a living, and after my basic needs are taken care of, what's the most interesting thing to do.
So what's your legend going to be?
When I started sketching in fashion shows, it was 2007. Next season will be 20 seasons of fashion sketching. That's going to be a book and a gallery show. I think it's suitable for what I'm doing because it's going to show a progression of work. When I started I was just doing pencil scribbles on 6×10 cards. Now I'm doing 11×15 water color paintings that sit on their own as works of art. I'm interested in making my 20th season into something that is really full. I'm going all out and not sparing any expenses.
I'm going to be creating a story around my final season of live runway sketching. And that's the kind of work that's driving me right now. I'm gathering my resources in Toronto to put everything together. I want to put myself in a situation to see things that happen. I don't know what those things are.
You always embrace uncertainty, and open yourself up to new opportunities. I admire that about you.
You just don't know. I went down to New York with no plan, and had so many adventures and learned so much. It's trite to say that you go to travel and learn about yourself. But when you put yourself in a new situation, you find out what kind of person you are.
---
Follow Danielle's adventures on Instagram, Facebook, Twitter, and her website.