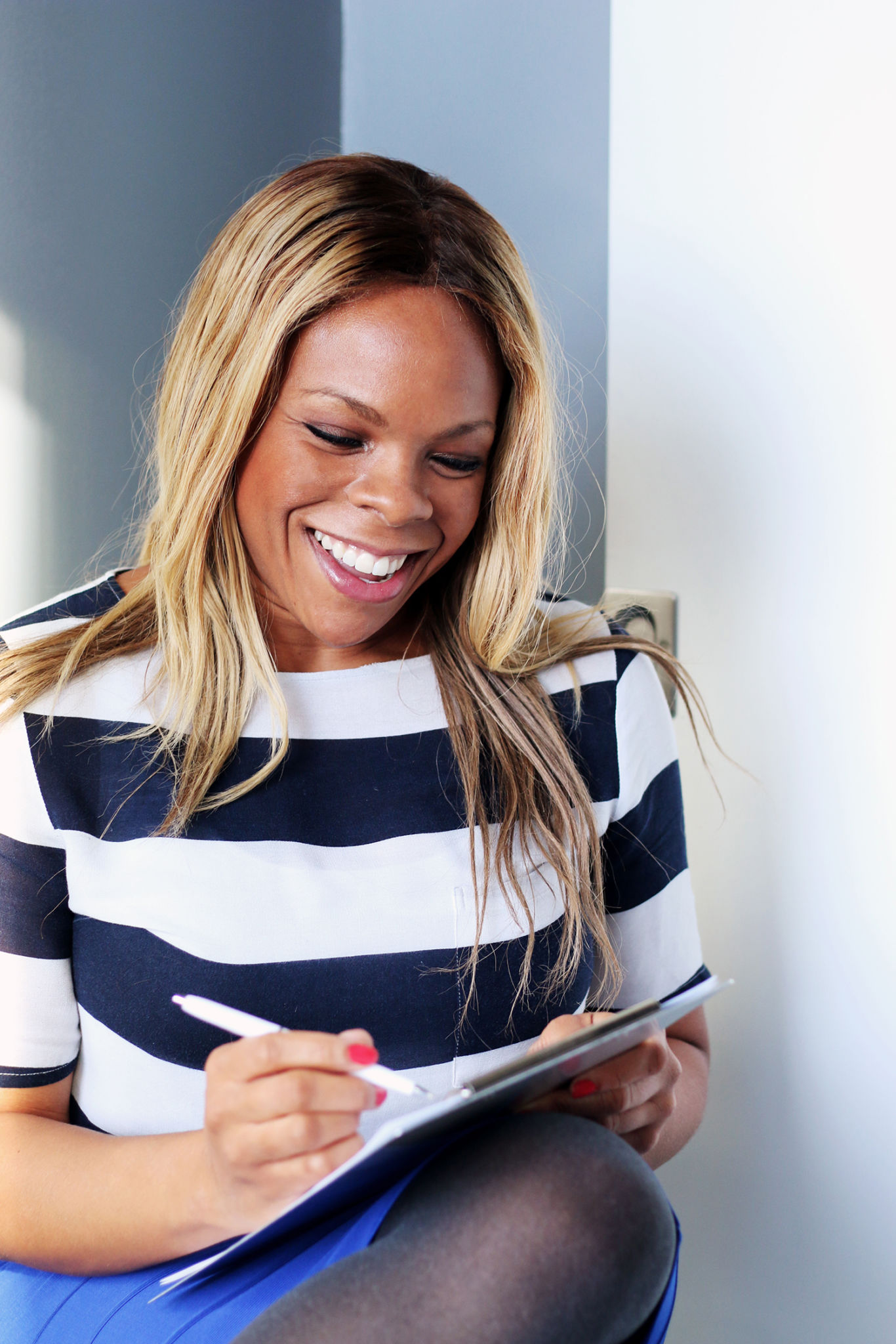 I met Dr. Liza Egbogah at a Toronto International Film Festival event, where she was providing 10 minutes of massage euphoria that not many get to experience on a regular day. Branded as a chiropractic massage, the techniques at the[fix] Toronto (Dr. Egbogah's practice) range from massages to adjustments and physiotherapy.
Dr. Liza's merciless drive had me reach out to her not only for a massage, but to learn more about the story of what brought her to owning two practices, and on her way to an Oscar's event.
What got you into the practice of being a chiropractor / being in the medical space?
As a kid, I always wanted to help people as a doctor, so going into university that was the plan. I went to university for pharmacology (the people that make the drugs). I decided after my first year volunteering at a hospital, that it wasn't the place for me. The next summer I went to work for a chiropractor just as a receptionist, and on the first day I saw people coming in with pain, and leaving the office laughing and smiling. I was sold after my first treatment. It seemed like a positive environment where I could make an immediate difference in someone's life.
What was it like investing the time to get trained, and then coming out of eight years of schooling to the work force?
While I was still in my clinic year, I looked around to see what practices would be a good fit for me, and I didn't find much. I said I had no choice, I obviously have to build my own clinic. I wanted a nice environment that was stylish and positive, where I would want to enjoy going into. Most of them were street level – I was one of the first few to go into the towers. Usually clinics want to be on the first floor because of visibility and signage. I felt it wasn't necessary because most people find out digitally, or there's word of mouth. My first clinic was on the 17th floor, and I opened my first doors in April 2008.
I knew at the end of the day that I would be opening my own clinic, I just didn't know it would be right away. You get positive feedback every day, it's easy to want to continue, and you know that you enjoy what you're doing.
What was it like to open up your own space to begin with? It's a huge undertaking with capital, etc.
Rent for an office space is daunting – luckily they have professional loans at the bank. They need to see a business plan, and they need to see you have your own capital too. You lose sleep because you need a certain volume of patients to pay your rent. If you're confident in what you're building, you will succeed.
"If you're confident in what you're building, you will succeed."
I knew I was a great chiropractor and that I had great patients. A couple of years ago I paid back the loan and had no debt, which as a business is awesome.
What was it like building your team and the space you wanted to create?
The hardest element was finding the team that fits the standards that I had. In the first couple of years we went through a number of receptionists, massage therapists, naturopaths. If you don't see someone working as hard as you are or supporting the clinic in the same way you would, it's hard to find a fit. At a certain point I realized that no one would work as hard as I would, because it's my business. You have to be realistic. If that's something that bothers you, maybe a smaller team is what you need.
What is a work ethic that you feel is the one that you have, and what you seek out in people?
For me, I don't think the work just happens when you're at work. I think you should be doing things outside of work that benefit it as well…you should be growing your patient base, and continue your practice. I don't believe in spending a lot for advertising when your patients can be sharing their great experiences with others. They should be your marketing team.
Who are your clients and what are the challenges with these clients?
The downtown Toronto crowd has their pick of the best. You have to be the best or your clients will move onto the next one, possibly next door. It's a largely educated population, so if you're going to be doing something you have to have research and evidence behind it.
What are things that you would say to people that are newer to a chiropractic experience?
Any people scared of chiropractors and adjustments need to know that we're improving movement into joints. We're not cracking bones, there are no bones to be cracked. It's all about releasing muscles and tension – not scary at all. You don't want to rely solely on your chiropractor too, make sure that your body is taken care of.
You should do work for your core, and you should move. If you're not moving, things will go wrong.
"If you're not moving, things will go wrong."
You had a large practice at one point, and you shifted to a smaller space – what was it like deciding to become a boutique business?
Honestly, it was probably the best thing ever. I felt that I made the right choice – I was happier everyday, and had time to do other things because I wasn't bogged down with admin. I was part of the medical team for the Pan Am Games, TIFF, TV Experiences, contributions to newspapers and magazines. Most importantly, I have time to spend with my 2 year old son. It's hard to run a business and be a new mom. When you have your own business, you don't have any leave. You never get to leave, it's your business and you have to be on it 24/7.
"When you have your own business, you don't have any leave."
One of my son's first recognizable things was "the[fix]", and it remains one of his favorite places to visit. Tons of sliding doors, moving tables, candy. The kids get it.
What are details that are important for your business, and for your customer experience?
I think every detail is important – from the way our office smells, looks, and sounds. I even pay attention to the air flow in the office. I went through every detail to focus on every sense, to create the ultimate relaxing experience.
Are there any things that you do to help you navigate uncertainty – from building your own business to doing an Oscars event?
I think my attitude comes from my parents – "What's the worst that can happen? If it's not bad, then don't worry about it". That's what I do, I don't worry about it.
I do things that I know are going to build my brand as well, not just directly but things that will create interest and chatter around what we're taking on. Choosing to be a part of an Oscars experience elevates the work that we do to our own customers and to new ones.
What's your ongoing mantra to deal with so many people, and personality types on an ongoing basis?
Everyone is fundamentally good. There's something unique and interesting about everyone. I can talk to anyone because everyone has a story. And all of this information can play a role in why clients have pain, because it results from stress.
"Everyone is fundamentally good. There's something unique and interesting about everyone, and that you can learn from."
I also learned not to trust everyone – if your intuition is telling you something, you have to trust that feeling.
Tell me about a challenge you had in building up your practice.
I sold my last business to someone that I didn't feel was the right individual. I was supposed to continue working at the practice, but two months after the sale the locks were changed. Suddenly, I was out of a job, at the clinic that I founded. I frantically found a new office space to renovate (when you see a space in downtown Toronto, you take it), and I was basically homeless when it came to work. I rented office spaces and used my portable chiropractic table to help clients. Every morning I set up a pop up office. It was exhausting, it was during the holidays…but it worked out for the better.
You're so sunny and positive about all of this, what makes you feel able to be so comfortable being positive about these experiences?
I believe everything happens for a reason, to put you on a different path that's better for me. And it's always true. Every bad thing that happens sets you on the right path. It's continuous, and I'll always learn from failures or bad decisions and not do them again. They're just lessons.
What's growth look like for the[fix]?
Growth wise, it would be having the boutique office in multiple locations eventually. It's about keeping the concept that's working really well, and expanding geographically. It's more personal.
---
Follow the[fix] Toronto on Facebook, Twitter, and Instagram.