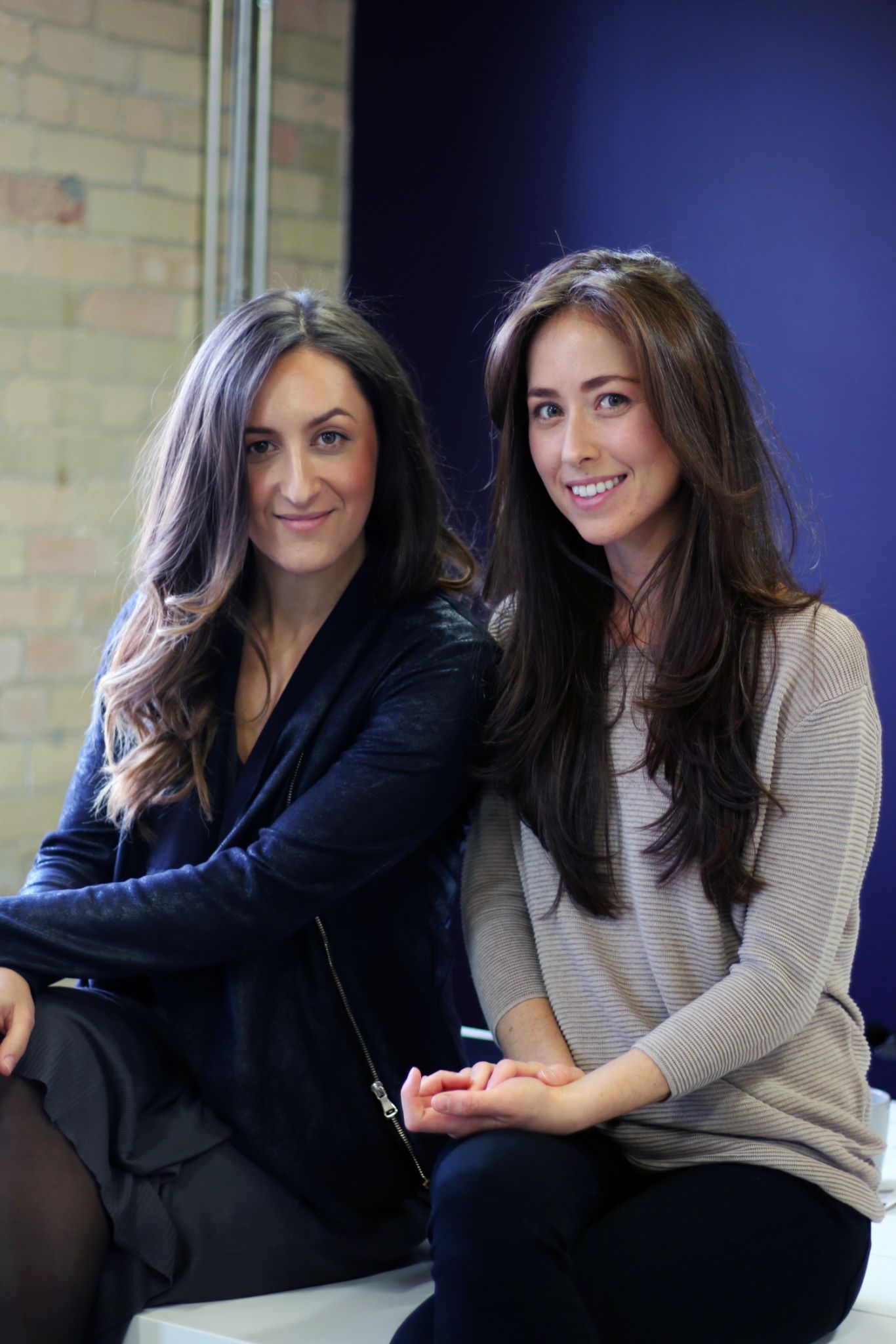 Building a business from the ground up is a process of careful calculation and precious planning. But you can count on the odd chance encounter or twist of fate to show up along the way—in fact, most often as the moments that define the journey.
Enter the founders of Fuzz Wax Bar, Jessica Frampton and Florence Gaven. Strangers until they weren't, they met over a seven-dollar sweater in a Leslieville vintage shop. One afternoon coffee led way to another, soon sparking a casual friendship that has evolved into five years of business partnership, and still going strong. The idea for Fuzz Wax Bar came by way of "the conversation"—as they both refer to it—where a mutual frustration over the city's lack of fast, convenient waxing options made them realize the potential for a membership-based, waxing only salon.
And the rest, as they say, is history—though Fuzz's future has never looked more promising thanks to Jessie and Flo's palpable chemistry as both friends and co-founders. Much like other famous duos, they are charmingly opposite in every way: As the brains behind the operations and finance, Flo is reserved and insightful, and Jessie's sunny disposition makes sense as the heart of Fuzz's branding and communications. We couldn't think of a better story to deliver a lesson on instincts-driven entrepreneurship.
Fuzz is incredibly focused on its mission: waxing done well. With so many different types of beauty services and delivery channels, was that a difficult decision to make?
J: Absolutely not. Flo had mentioned the wax bar concept to me, and after doing a bit a research we realized that not only was it all over Europe, but it was also thriving in the States. We then looked at each other and thought, why doesn't this exist here?
It came about by imagining what we would want as clients. We knew that Toronto could really use this, with the city full of avid waxing clients. There was no hesitation. In our eyes, the beauty industry was leaning more towards a niche market: blow bars, nail bars, lash extension bars. There was no wax bar.
Can you walk me through how you envisioned Fuzz Wax Bar from a client's perspective?
J: We wanted it to be fast. No one wants to lay on a waxing bed for 45 minutes to get a Brazilian. We wanted it to be convenient. In Toronto, you had to book your waxes around the esthetician's schedule. Because they are operating as full service salons and spas, it's not when you—the customer—wants to go in; you go when there's an availability. We also wanted it to be affordable. Waxing is a very low overhead, high profit industry. After some research, we realized we were being severely overcharged.
Lastly, we thought about what would motivate customers to come back every month. With traditional salons, people would sigh—it was a dreaded experience. And we thought: memberships. Not only are they fair, but they're more conveniently priced in terms of the market. We wanted to offer our members more incentives, so deeper discounts to ensure they're coming back routinely. Customers are charged every four weeks, because that's when the hair grows back.
It works. We're actually Canada's only membership-based salon. To date, between two out of our four locations, we have over 3,000 members. Those are people who come and get waxed every single month. Building this on a client's perspective definitely helped. Everything we put into it has value: fast, quick, affordable, and convenient waxing services that you're motivated to come back to because you're a member.
F: When you've been getting waxed for 15 years, it isn't just an obsession—it becomes a lifestyle. But our minds have always been in the business game. It could've been nails, or hair, but we felt like as waxing clients, this was the service that was missing the most.
It sounds like Fuzz was born through a series of ingenious ideas. Were there any ideas during the percolation process that didn't stick—forgive the pun?
J: We have been so blessed with our business. I think it's because of the hours and months Flo and I put into it. We weren't educated waxers, and had no business experience, so we equipped ourselves with as much knowledge as we possibly could. It was one of those openings where we prayed and hoped people would show up. From the minute the doors opened, people started coming in. There's no fine print in the memberships. We're open and honest, because as clients, we knew that was what we wanted.
"We're open and honest, because as clients, we knew that was what we wanted."
F: We stick with what we do best: memberships, waxing, and we don't do anything else. Everything makes sense with one another, like our products, which are all about waxing. The only service that [strays] from waxing is the vajacial. But it's still an idea that makes sense.
Can you tell me a little bit about how Fuzz has shifted your clients' perspectives towards their private parts—namely, that they're willing to own them more publicly?
J: We're really proud of this. Fuzz, as a brand name and logo, gets a lot of attention. We strategically did this so that when people walk by and see the name, they feel comfortable because we make it clear that we're comfortable. We don't want our clients whispering about what's going on down there. We're very open and honest, and we want that client-Fuzzologist relationship to be that way. It's in the attitude you feel when you walk in. Our locations allow you to be open and honest about what's going on down there. That's what allows our clients to own it—through conversation. That relationship begins at the frontline and continues throughout the entire experience.
"Our locations allow you to be open and honest about what's going on down there. That's what allows our clients to own it—through conversation."
Would you consider self-empowerment to be a big part of the Fuzz experience?
F: I think it's in taking care of yourself. It's something that people are proud of saying now; men and women. 20% of our clientele is men. Even in saying it out loud—asking for a Manzilian—helps.
J: Our memberships help with that too. It's maintaining your smooth, 365 days a year. You always feel empowered in knowing that, whether naked, or dressed. We've changed the mentality of our members because they have that inner confidence without saying it. They walk with the notion that they're hair-free and smooth and feeling good.
What are some other tenets of the Fuzz customer experience?
J: There's a Fuzz way of doing everything. We put our Fuzzologists and our reception through extensive training. There's a Fuzz way of briefing our clients, a Fuzz way of escorting our clients into the room, there's a Fuzz way of performing our Brazilians, Manzilians, and brows… everything has been laid out step by step. We want our clients to feel the same when they go into our Bloor Street location as they do when they go to our Queen Street location. Consistency is huge. That's so important when it comes to franchising; it has to be seamless across the board.
How do you choose who to partner with?
J: It's a process that's a lot harder than we thought. You've got to have that long-term mentality. But you can't have your expectations become too high, because the longer you know someone, the more you learn about them. We go off just general feeling—having conversations with them, mutual interests, and making sure they understand our brand. That's key.
A perfect example is when we sit down with a potential franchisee, and the second question they'll ask is: 'are you sure you don't want to do nails?' That's when we know they really don't get it—when the entire conversation is them trying to convince us to do something that's outside of out model. I think having a really good idea of what our business model is and how passionate we are about it, and that nothing's going to change, is really important. But it's also about vibe and feeling. Intuition plays a huge role when you meet anybody, right?
Like dating.
J: Exactly. It's totally like that. It's not going to be that first business meeting when we make that decision; it's going to be after two, three, maybe even five meetings that's going to determine whether or not we want to partner with them.
F: It's also a big investment for them, so they should have business savvy and some financial knowledge. But we always begin with the vibe.
It sounds like intuition is a huge part in what drives you both as entrepreneurs.
F: We always knew Fuzz was going to work. It was what brought us together, and made us feel like we could drop everything else. We were going to do it right.
J: We were blessed with immediate success. We knew Torontonians were hungry for fresh ideas, so that initial intuition that we felt, we've continued to build on over time. We've held onto that feeling, especially as women. We base all of our decisions off that. Without business education, sometimes intuition is all you have as an entrepreneur.
"We always knew Fuzz was going to work. It was what brought us together, and made us feel like we could drop everything else. We were going to do it right."
Speaking of which—let's talk about how you met as business partners. Did someone introduce you two?
J: It was so random. Flo had moved here from France. It was five days after she'd landed. We were both shopping in Leslieville, where we both lived, in a vintage shop. I usually never ask for anyone's opinion when I shop, but for some reason, I decided to walk up to her randomly and ask her how she felt about a sweater. She looked at me, like, 'who is this person?'
F: Yeah, I'm French. We don't do that. [laughs]
J: Like the nice Canadian that I am, I offered to show her around. And the next day she called me to get coffee. We went to a few things together. A couple months later, the waxing conversation came up.
F: I had just gotten back from France and gotten waxed there. There was this one particular place there that had memberships, but I just knew a better experience was possible. That's when I asked Jessie where she got waxed, and when the conversation happened. I guess we had a lot of free time on our hands. [laughs]
Sounded like it was fate. How did Fuzz come to life from there?
J: When you say fate, you're so right. It even applied to the personal things we were doing: We were both freelance. I was working in events and PR, and Flo was working in film and TV, which was tough. After meeting for coffee, we started researching the concept.
F: We were also neighbours.
J: Those five minute conversations turned into hours, and those hours turned into full eight hour days. That turned into an everyday meetup, where we could get inspired and stoked about the idea. Eight months later, we had this full package to brand. It was actually happening.
F: It happened very naturally and organically. It went from 'yeah, see you tomorrow,' to 'we're doing this now.' It took us about a year.
You two have amazing chemistry.
J: We've been doing a lot more media events over the past month, and people keep asking us if we're sisters. Maybe it's that [phenomenon] of the longer you're with someone, the more you look like each other. Like you said, it's that chemistry that people can't pinpoint or know where it comes from. It's been five years.
F: You just know what the other person is going to do, or say. Like, I know I don't have to say certain things because I know Jessie's going to.
J: Just like an old married couple.
How do you two complement one another?
F: We got so lucky with that. We are opposites.
J: It really happened so organically. Don't get me wrong—it was tough at first, trying to understand what our skills were.
F: And it wasn't just each other. We got to know ourselves, too.
J: It's split 50/50. Flo is all admin, operations; I'm more PR, marketing, branding. You'll ask Flo something creative, and she'll shrug. And put me in front of a computer, and I'll need her to take over. We've always really respected each other's roles, and we've never thought about crossing over. But at the same time, we both know when one another needs support. For example, I'm very indecisive; when I need those two minutes to go back on that brainstorming session, she'll get back to me. When she's away travelling, I'll do the day to day operations.
F: Everything is decided together.
J: We've sat down with consultants a couple times, and they always get it right away. They look at me, and think, 'Outgoing, so social media! Branding!' Whereas Flo is more quiet and reserved, so they know she's the financials and admin. People who have business experience know that's such a good combination.
What's next for Fuzz?
J: We've actually decided to stop corporately growing in Toronto about a year ago. Flo and I took about a year off to get a franchise consultant to self-educate, because we thought it was really important to be that guide and assistance for potential franchise partners. We'd been ready to franchise for years, but we thought the education aspect was really important. Now we're just about to start our franchising sales.
There's an untapped market we're really looking to break into, and that's Montreal. We're in negotiations for a lease, so we'll be opening up in the summer. They have no wax bar concept there either, and we saw the same opportunity. We also have clients who travel back and forth between Toronto and Montreal, who love Fuzz so much they save it for when they're in town. When that's done in a couple months, we'll be focused entirely on expansion from a franchising perspective.
Fuzz has such a great network of clients. What do you two have planned for growing the community of Fuzz users?
J: When Fuzz first opened, we were the first wax bar in the city. But great ideas catch on, and suddenly everybody's a 'wax bar'—though they do other things. As industry starters, we need to continue as industry leaders. What was going to set us apart from other boutiques was the way we communicate to the customer, so we've been doing more lifestyle [integration] with photo shoots. If you compare our website to competitors, you can see the difference.
That said, we have a community we've been building since our opening: 3,000-plus members of the Fuzz Free community. Right now our focus is on giving them a great and streamlined experience, so we can make sure our services are consistent across locations and tighten up our package before we really start to hone in on the community we've been building, We sometimes partner with local brands for incentives, such as David's Tea and Naked Bars.
F: But only what makes sense.
---
For more about Fuzz Wax Bar: Website: www.fuzzwaxbar.com // Instagram: @fuzzwaxbar // Twitter: @fuzzwaxbar // Facebook: @fuzzwaxbar