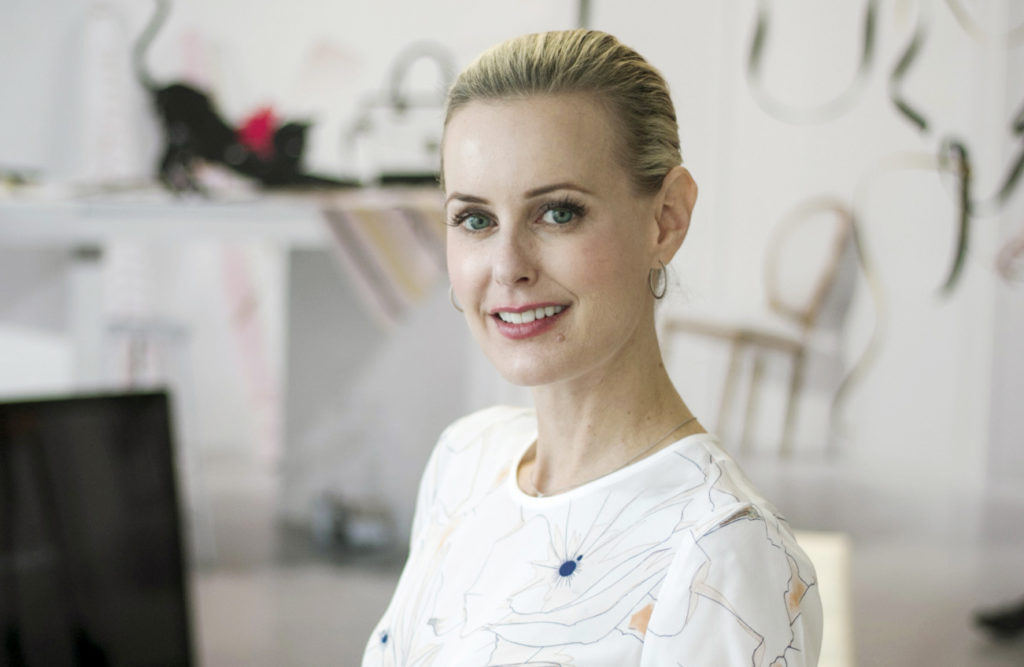 Krista Webster isn't afraid to win. Her fierce attitude about success and learning can intimidate many, but it's her infectious energy that is alluring and makes you curious about how she got this way.
I met Krista on a set of roller skates in passing, at the Veritas Communications Love In Party (each year they do an event in February in lieu of an end of year holiday party, as many of their clients are retail based). Not one to shy away from fun, this leader lets it be known that she has ideas and big plans for those around her. As to how she regenerates her ceaseless energy? Well, that's for you to read on and find out.
Krista narrates her life with a sharp humour, a dash of humiliation, and well placed honesty. Rarely pausing, here's Krista's take on strategy, business, and the art of public relations:
You started in journalism – how did you make the grand migration to public relations?
I went into journalism school as a masters program because I actually had a stronger desire to be a professor. I did English literature in my undergrad, and wanted to be an academic. My professors at the time said "That's great Krista, but you want a job". I decided to do a Masters in Journalism which was practical because I liked to write and tell stories. At the time there wasn't really a PR program at all. There were some courses, it wasn't really what PR was, but it really opened my eyes to communications.
My parents at the time moved to the United States, so I was orphaned and needed to pay rent and come into the world on my own. I freelanced for Maclean's and Marketing Magazine, and was a story producer for Canada AM. I remember always feeling tested. At that time I looked like a baby – a feisty petite woman who looked like she was about 12 years old. I worked a lot of genres and I think that I had the benefit in my career to be exposed to many different kinds of verticals. I'm just innately curious.
My first "job" out of university that I got paid for was an article on the CFL. I had to go down to the Skydome and go to a media scrum, with all of these sports photographers and media. When they asked if there were any questions, before I knew it I threw my hand up. I ended up writing a human interest story about one of the players of the Hamilton Tiger-Cats. The magazine told me that it wasn't what they wanted, but that they liked it, and I was hired.
Gen X women get very educated and get a job – that was the way that things were. I freelanced for about a year, and decided to find a full time job. I was recommended to National PR, and was hired to do pharmaceutical public relations. It was an incredible learning experience because it was so complex and regulated. I knew I wanted to do it, but didn't know why. I'm open to learning, and not afraid to be surprised. I like to be caught off guard.
"I'm open to learning, and not afraid to be surprised. I like to be caught off guard."
You've been president of Veritas for over four years. Any big challenges when you first stepped into the role, to where you're at now?
In the past, I was always open to learning new things, but I had some luck landing in places where management really gave me a lot of rope. I was given so much free reign to be who I am and learn. Because of that, by the time I was in my late 20's, I was a Senior Vice President of an agency, running huge accounts like Procter and Gamble out of Toronto, I was running global accounts, and then I moved to New York. It was at a time in my 30s when I had all of my infrastructure set up in Toronto. For me, that wasn't so much of a risk professionally, but personally it was a big risk. That was probably the best decision that I hadn't made for myself.
I went to New York and the recession hit in 2007/2008. It was a time when you regularly saw incredibly talented people get let go. But this instability actually stimulated me.  I was in a job that I was highly respected for and had a lot of deposits in the bank.  But seeing other creative people reinvent themselves due to loss, inspired me to see how great I really was, and try to be entrepreneurial – moving from a big job with a big title, to a start up. In the worst recession in the United States, I left and jumped ship.  Who does this?!  I did.  And it was successful.  But Veritas — the sister to my agency in New York — needed leadership.  So I had a big decision to make.  Do I go home and help Veritas or do I stay and move up in a global city and career?
Compounded with this was the worry about what going home meant intellectually.  The Canadian market is so different – we have so many smart and global people here. But the enthusiasm for an idea back then wasn't what it is now, and that was worrisome to me because I am a 'what's possible' kind of thinker. 
Ultimately, I knew in me that I couldn't just let this go, I cared a lot about the people at Veritas. And I innately love to fix things.  Deciding to focus on growing the company required a lot of hard and unpopular changes at first – staffing issues, etc. But I've had the huge benefit of being able to reshape and reform this agency, one that's been around since the 90s.
Something that I sense from you is a lot of decisiveness. It seems like it's something that comes naturally to you – are there points in time where that didn't come so quickly?
In an agency, you have to be decisive — you don't want to be in the middle of the road — and you have to be directive. That's what we're hired for, to do amazing things for our clients and have the courage to take a stand. I thrive when I am riffing with a brilliant client about a strategy.  Or selling in a new idea.
Where I have been challenged is in the agency operations. I can be decisive about things that are logical. But much of the decision making is soft, especially around the team. It's the people that are defining in Public Relations. My ethics and moral upbringing affect my work here. I care a lot, and sometimes that makes things gray.
If you struggle with being decisive as a leader, it can delay your growth as an agency. I think I've become better at it. I also think I've become easier on myself. There are so many incredible women that work in this industry (and more men than ever now), but we're so hard on our women leaders. In our profession, we create stories based on truth. But we're also incredibly good at coming up with stories about each other, that aren't always kind.
I know who I am, and when I receive hard feedback I lean into it. You have to be open to hearing things from your team and from the industry. I focus on the negative feedback to improve. I've spoken openly about some of these issues. I am who I am, I try to live with a code of ethics and be respectful every day. I'm highly competitive, and I want to surround myself with smart people. I'm also not going to ask for permission, because I have no problem challenging others.
"I'm highly competitive, and I want to surround myself with smart people. I'm also not going to ask for permission, because I have no problem challenging others."
I try to lead by example. You need to compliment all of this with sense of humour at the right moments (and as pressure release) and not take yourself too seriously.
You have a narrative that's always fun, diverse, and energized when working with these huge corporate clients. How do you start and maintain that creativity for so many clients around you?
I'm a visual thinker. Long before PR practitioners were incorporating visual cues into communications that our ad agency friends are so adept at, I was 'doodling' my way to a new way of communicating strategies and creative ideas. People have an enormous amount of information to consume every day. We're always emotionally moved by video and pictures. We need to enable a visual way of telling stories that compliments PR thinking — not advertising.   People want simpler but more sophisticated messages. We have a creative studio and lab that does have a really strong emphasis on design and content for PR ideas.
Tactically, we do a lot of video, animation and photography, and are always thinking of new ways to tell an influencer story. Pretty is the price of entry. If something looks good, you're more apt to read it. And if it's super intelligent, that's where the rubber hits the road.
"Pretty is the price of entry. If something looks good, you're more apt to read it. And if it's super intelligent, that's where the rubber hits the road."
It's about having a strategic communications discussion about solving a business problem. How do you turn that into something visual?
You talk about New York having a grand impact on your viewpoints. I'd love to understand more about your experience there. How do you take the bits and pieces of that culture and apply it to who you are now?
I was in New York when 9/11 happened. I was there for a meeting. It was like nothing I'd ever experienced, and I wasn't even an American from New York. It had a huge impact.  I always had an affinity for my colleagues in that city and 9/11 only brought me closer to them.  As I grew through my career, there was always two degrees to New York. The pace and language instantly made sense to me professionally and personally.  
Even though I visited New York a lot for work, I initially resisted moving there permanently.  I was in charge of a lot of things when I moved out there. I didn't really know anyone, and you would think that I would be very lonely. But I remember waking up in the morning in my 650 square foot studio apartment, walking out to the sidewalk heading to work, and feeling genuinely at peace. I felt so at home. New York has sunlight in that city is unlike anywhere else in the world. Even your skin and hair looks better there.  It must be a metaphor to the creativity and vibrancy that this city emits.
I loved the raw, entrepreneurial spirit of New York and the pressure of always improving.  Even if you did very well in that city, it sometimes felt like you were slumming it because the person next to you was likely doing financially better than you were.   I loved being a tiny fish in a bowl of interesting people that I learned from (and who learned from me), versus being the big fish in small bowl.  Anyone who prefers the latter will never truly realize what they are capable of.
---
Follow Krista and Veritas through their website, Instagram, Facebook, and Twitter.