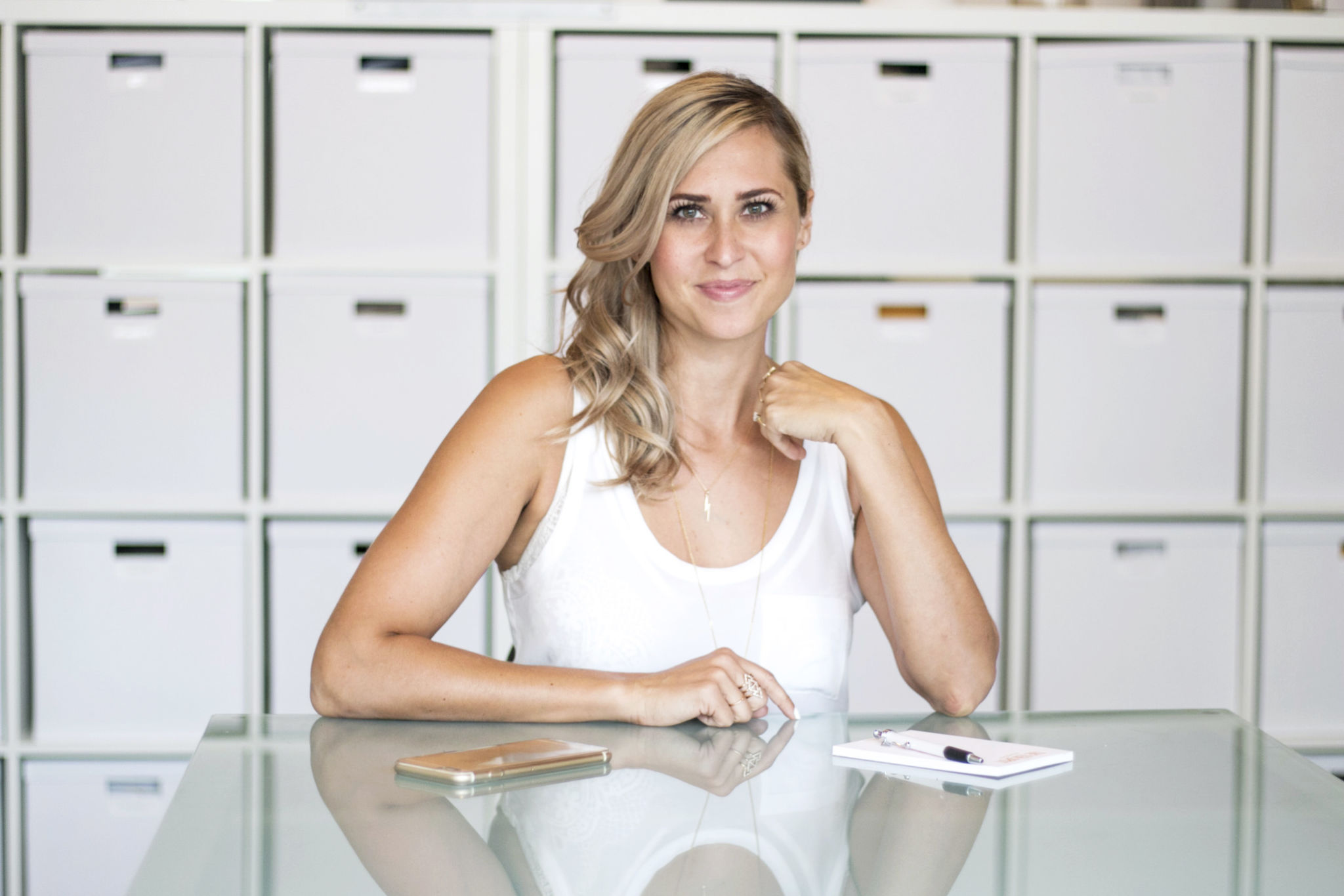 Photography by Gloria Chik
At first glance, Kristen Wood's founding story might sound like an entrepreneur fairytale. After all, she wrote a business plan in one night after getting laid off, opened up her first location three months later, and found national success in a few short years—but in real life, she's one of the most authentic people you'll ever meet. Equal parts self-effacing and admiringly confident, she is the soul of The Ten Spot brand: the godmother of Canadian beauty bars, whose combination of top-shelf-grade efficiency and warm vibes continue to influence aesthetic hotspots across the country.
As restless as she is determined, Kristen went from majoring in philosophy to interning at VICE (and moonlighting in a New York nightclub) to pursuing graphic design. She eventually landed at Queen West—a very different street ten years ago—where she was one of the first people to help reinvigorate it into the internationally recognized neighborhood it is today. Read more to find out how she honed her gut instinct into incredible business sense.
You have an amazing founding story. Have you always been a very "action!" type of person?
Yes. Brady—my husband—and my CFO now know they have to give me firm no's on things. Because they know if there's even the tiniest window of possibility, I'll do it. One time I asked Brady if he wanted to get a puppy, and he said, 'sure, we'll talk about it when I come home from work.' That night, he shows up, puppy's there. If it's not a 'no, you can't, it's over,' I'll find a way.
And how does that manifest at work?
My dad was an entrepreneur, so he's always taught us to find something we loved to do and make a business out of that. I went back to school. Graphic design was good, because I could work as a designer and eventually brand my own business when the right idea hit. I fell in love with it; it's my primary passion.
I moved back to Toronto to work at another company. Then I got laid off. The two weeks' worth of pay in lieu of notice seemed like so much money to me at the time: I was like, 'I don't have to come to work on Monday, and you're paying me for two weeks?' I thought it was a sick payout package. It was a sign: I'm going to start my business.
That night, I had pie with my friend Craig. We were on Queen Street—and this was ten years ago, when there was the Drake Hotel, and Czehoski's and nothing else in between. It was dope, and I told him this was the street where I was going to start my own business. I used to live above a nail bar in New York, and it would always be packed, but sketchy and gross. And Paula Abdul had just had her nail fungus thing. Why can't somebody do a cool nail place, where they could go for manicures with their girlfriends after brunch? I biked home that night and wrote my business plan. The next day, I took it to a bank, and got a loan.
You make it sound easy.
It was easy. The thing I tell people in business all the time is that it's always one never-ending to-do list. You can't stress about whether or not people are going to come before even having a business plan, for example. Once that's done, submit to the bank. Then register your name. You've got a million steps before you even need to worry about whether or not customers are going to come.
"The thing I tell people in business all the time is that it's always one never-ending to-do list. You've got a million steps before you even need to worry about whether or not customers are going to come."
What about Queen Street intrigued you?
It was gritty. There were these cute little stores, like diamonds in the rough, where you could go for brunch. And that was how I imagined The Ten Spot fitting in—something to do after biking down for food, then the park, and go home.
Because the concept of The Ten Spot was so social and communal, it stood out. It got a lot of attention. The marketing and branding was also very unique. I modelled it after how I would actually interact with people—putting out newsletters with inappropriate jokes, calling our services things like The Threesome Special, the male manicure the Handjob. Back then, brands didn't talk like that. Especially not spas. It was all about the towels and whale music.
Is that what you guys mean by the 'anti-spa' movement?
Yes. We don't have a hundred types of treatments; like the chocolate body dip with the coconut paraffin cream? No. It was going to be the manicure, the pedicure. We played loud music and had alcohol.
There were two markets at the time. On one end were the chop shops, where customer service would be nonexistent and the actual spaces would be shitty. Health and sanitization standards weren't good. But they were efficient, and they were for people who were on the go, with reasonable prices. And on the other end, there were the spas—where you'd have to get your mom to pay for you, or you'd go there armed with the gift certificate. We took the best of both worlds.
Can you tell me more about what inspired The Ten Spot's branding? It's so awesomely personable.
I knew what I really liked. If I put it out there and everyone hated it, then sure, I might have bad taste—but at least I wouldn't have any regrets. Like the color orange. It was fun, and gender-neutral, and nobody was doing anything like that at the time. Being authentic is all I can do. This applies to the type of women we serve too: just normal, everyday gals who want to feel polished and put together.
How does that apply to the way you build relationships? What's unique about your approach to networking?
I've always just been myself. I've never felt the need to put on a thing—find an actress I wanted to mimic, or something. But I'm just always… this. [laughs] I hope this comes across in our space. Spas can feel kind of impersonal and intimidating. When I go into a spa and wonder whether or not I can sit on something, or what I can do with my arms, and feel weird… I never want people to have that feeling at The Ten Spot.
That's so ironic, considering that you're supposed to feel relaxed and pampered in spas.
Totally. It's like when you get really dressed up to go with your girlfriends somewhere, and everyone suddenly becomes uncomfortable.
And you can't even sit down properly or eat what you want because your skirt is cutting into you.
Exactly. It's this air about it that makes it awkward.
Do you have any regrets?
There have definitely been opportunities that I decided to pass up. But you can't ignore the feeling that something's not right. You just have to go with your gut. The worst is when you listen to someone else's advice, and it turns out badly… not only are you coping with the fact that you made a mistake, but you're also like, 'I knew it.' Sure, there's fall-out, or money loss, but  months later you'll look back and realize how smart you were actually being.
It's like one of those things when you're like do I love him? If you're asking that question, you don't. You know. You have to have confidence. Otherwise it compounds the air around you.
"You have to have confidence. Otherwise it compounds the air around you."
Has that ever come in handy while working with people who have doubted you—such as people who might doubt female entrepreneurship?
I'm working in the beauty industry, which is more typical. If I was in oil or gas, it'll be a different story. There have been instances, though—such as this one head banker we met with. I was with my CFO, who is a full-blown CPA, and he just sat back and said, 'look at you girls! You don't even need me here!' If you'd subbed in any other group of people—race, for example—can you imagine how bad it would sound? It was so insidious.
There's also the anxiety and depression that comes with the responsibility of running your own business. Nobody can really know—not your husband or your friends—except for the people you actually work with. I've got over fifty employees; that's a lot of people who depend on me to make a living. There's been a lot of crying in the shower to the saddest songs. I'll be a baby for awhile, but you can't wallow in it. Because you're in the driver's seat. Nobody else can do it.
It's the tenth anniversary of The Ten Spot. What'd you guys do to celebrate?
Somebody asked me when I realized I'd 'made it,' and I don't think I'd ever feel that way. When I had one store, I wanted ten. When I had ten stores, I wanted a hundred. You never really get to where you're going because your goal just moves. But the tenth anniversary was so special. To see thousands of people lining up across the country—from P.E.I. to Vancouver—in such a crazy heat to get our services? It's such a testament to how great our people are, and how well we all work together.
It's so funny to think that on that night ten years ago, I could've just thanked my friend for the pie, said goodbye, and start looking for another full-time job somewhere else because that's the 'practical' thing to do. But instead, thousands of people were affected. I have my employees; my franchise partners, who have dedicated their lives and savings into what could've just been another fleeting idea. 
"

When I had one store, I wanted ten. When I had ten stores, I wanted a hundred. You never really get to where you're going because your goal just

moves."
---
Follow the Ten Spot on Instagram, Twitter, Facebook, and their official website.