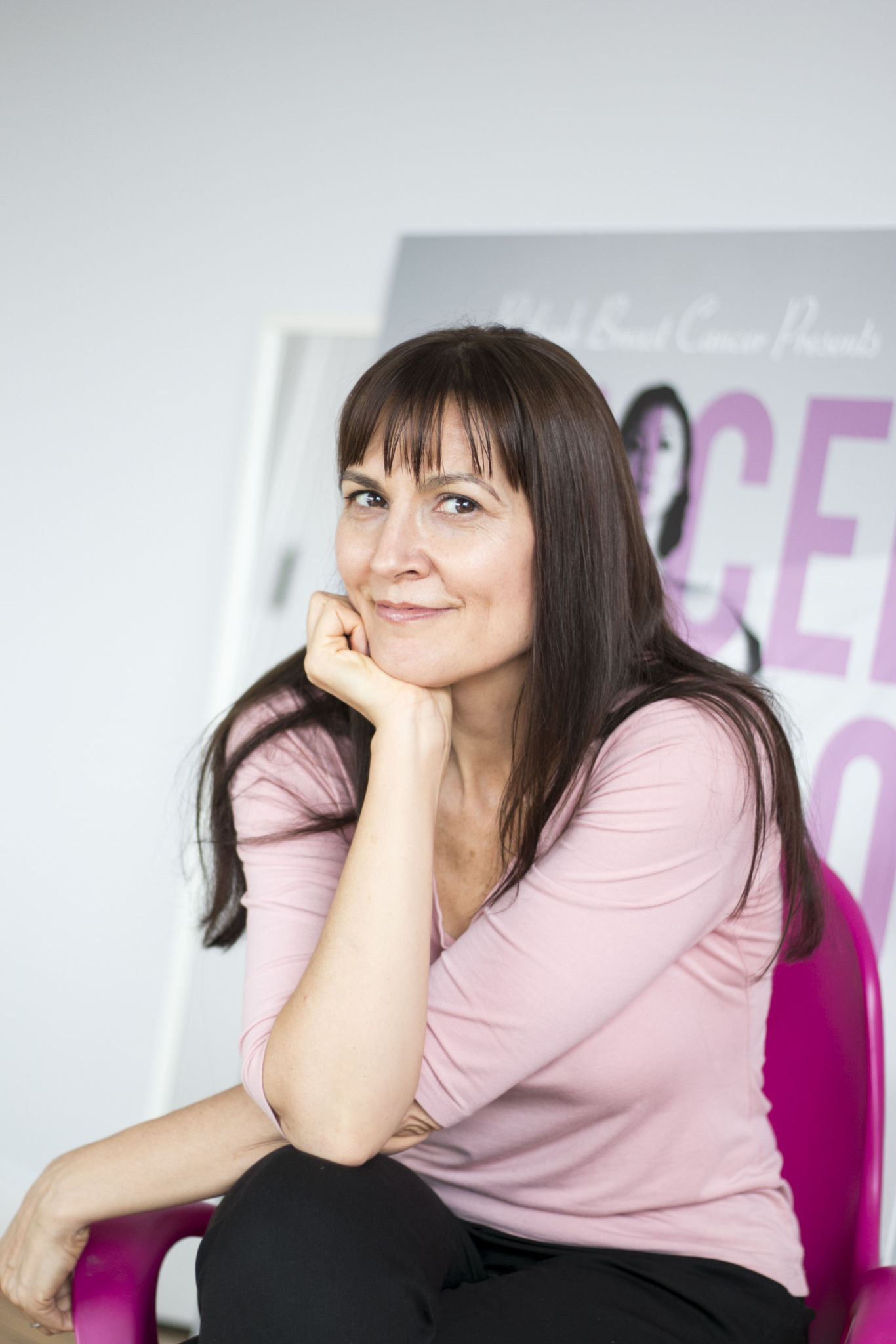 It's the week after Booby Ball when I enter the Rethink Breast Cancer office, downtown Toronto. Breast Cancer Awareness Month—October—may be over, but there's still a flurry of activity. I'm welcomed by MJ DeCoteau, who introduces herself with ease and confidence, and has a relaxed nature about her. Make no mistake, she's built an impressive team and following from focus, determination, and a constant willing to learn.
I'm welcomed into a hot pink accented office, where she makes her ideas come to life. There are contemporary prints on the walls, newly developed products that decorate the perimeters, and numerous chairs that demonstrate MJ's collaborative nature. We begin to learn about her story…
Can you tell me about Rethink Breast Cancer the organization, and how you're dispelling misconceptions about Breast Cancer?
The name Rethink Breast Cancer immediately triggers for people: what do they have to rethink? It's about letting people know that breast cancer isn't just an 'older woman's disease.' Our entire mission is myth busting. We're telling people that this affects the youth, and young women can and do get cancer, and we're here to give them support and resources and help them through it.
You have a Masters of Literature and Cultural studies, and you worked at a speakers' bureau. How did that inspire you to get started on Rethink Breast Cancer?
It was a personal experience, but I think my background and my early work experience helped shape the organization. Like most people, I got involved with this cause because my mom was diagnosed when I was a teen, and my grandmother had breast cancer just a few years earlier. My grandmother did well, but my mother's was a much more aggressive situation, and she passed away. I was at university, 22 years old. Having this experience, I was concerned and wanted to look for information.
Everything had a 65 year old on the cover. I wanted to get informed, but everything was so medical, clinical, textbook diagrams… I felt like I [could] worry about it later, and tuck away those brochures. There were no fundraising opportunities for someone who was young and interested in fashion. Back then, the charity events targeted an older demographic. Afternoon tea? Corporate golf tournaments? There were things out there, but nothing that fit what I or my friends liked.
Now we're a team of 10 people who do patient support, education, advocacy work, and fundraising. There's a lot going on here, but I think the education piece really helped me and help grow me. I didn't intend to run a national organization with global reach, with no real business background. I had to learn on the fly.
"I didn't intend to run a national organization with global reach, with no real business background. I had to learn on the fly."
When most people look back, they can see where the dots connect. What helped you when you had to pick up all these new skills you didn't have, but knew you needed?
When I started I was so young, naive, and excited, I just saw a problem that needed to be solved. I wanted to take information that looked drab and repackage it. I think I had the vision and the passion, and the commitment, but it was about inspiring amazing people to help me. From day one, it was the clear communication of what the problem was, to what our solution was. I got amazing ad agencies from the beginning onboard. I think people helped out because of the excitement of being a part of something special.
Rethink unleashed an entrepreneurial spirit I didn't think I had. It's about being about to conceptualize ideas and opportunities, and working quickly to find people to help.
How can people do more to contribute on an ongoing basis?
Events are a great way to initially plug in. That's still the model, but the committee members have changed over the years (we're 15 years in). I'm always so impressed at how the committee members are able to give their creativity and energy to help us make Booby Ball bigger and better. Millennials get a bad rep for being selfish. Over the years, we've been able to build such trust and authenticity for the event—and it started with the story of a young woman who was diagnosed at 23. Now the event is in four cities with Topshop as an official sponsor.
"It started with the story of a young woman who was diagnosed at 23. Now the event is in four cities with Topshop as an official sponsor."
Can you tell me about the ongoing work that Rethink Breast Cancer does or is working on right now?
I've really delved into the mission side more and more. We continue to try debunking myths for the average young woman. Every year, there are new young women that need to be educated. We're constantly trying to figure out how to get the best information in front of the under 30 crowd. Our most popular blog posts are the more immediate ones, such as "5 Things You Need to Know About Breast Cancer." When I started Rethink, we didn't have social media and people weren't walking around glued to their phones. We're learning to stay relevant and deliver content in the way that people want to read or consume it.
We're also committed to serving women with breast cancer. Hospitals and reference libraries can provide resources, but after we formed Rethink and started getting media attention, young women with breast cancer would knock on our door. There were reoccurring themes of "it took too long to get diagnosed" or "too young for breast cancer and we'll just keep an eye out." We would hear stories about how support groups didn't exist for [millennial] women. We were inspired to create tailored resources for the youth.
Lastly, we're working to drive change and lobby for healthcare options for younger audiences. We're lucky to live in Canada, but there's still so much that needs to be done.
A challenge we're seeing in Ontario is breast reconstruction wait times. Some hospitals have no wait, and others have up to two years. Like Angelina Jolie, some women have made the decision to have prophylactic mastectomy and want immediate reconstruction. It's part of care and treatment, not a bonus that can happen at a later time. We've been doing advocacy behind the scenes, and want to see change nationally.
"We would hear stories about how support groups didn't exist for [millennial] women. We were inspired to create tailored resources for the youth."
One theme I'm sensing is that you act first, instead of waiting for the need to act to be proven. Many people fear getting started because they don't know what the guaranteed demand is for what they're doing. How do you decide to get started, and it's just a bonus that you hear more stories?
I get a lot of people who want to take me out for coffee because they want to pick my brain for something they're starting. I think it comes back to the youthful naivety. Going on gut instincts. I rely on that more than someone that has an MBA and is constantly doing research or deciding what the strategy should be. I don't know if it's a personality thing. My mom's story is what got me involved in the cause, but my dad has the mentality of going after something and making it happen. Maybe I inherited that. I have that tendency as an academic to feel like I'm not ready… but for some reason I plow ahead.
You attribute the success of getting started to youthful naivety. How do you keep that feeling alive, especially as we're getting older, we create more barriers for yourself?
This will give you insight into my personality. I was finished my Masters at the University of Saskatchewan, and wanted to move to Toronto. I based my decision off getting a three month unpaid internship at Toronto Life. I told myself it would work out and that I would love to do that. I convinced my husband to do that too. I think I'm obviously an optimist [laughs]. I think part of that is hiring people that have the same passion and interest. You always need your naysayers to keep things real and in check. My job as a leader is to help inspire the team, volunteers, and our board members.
After 15 years, you have so many pillars where you feel like you can do more in a company. What's the next thing you're focused on?
Our Give a Care project. We had created care guidelines for young women that we would like to see implemented in every health care facility, and to complement what's already existing (not replace them). That work is slow, but we approached an agency (lg2) to help us approach the public about how to raise awareness for these issues. Sometimes affected women get the care they need, and sometimes it falls through the cracks. We want people to know that needs to change.
The idea initially was to amplify the conversation around the care guidelines. I thought we would get back ideas about taglines, billboards, and media stunts. Instead, our agency came back with a product line. It took us by surprise, but it turned out to be quite brilliant. Designed to ease the side effects of treatment, the idea was that the product line would all work together. The clever names of the products are meant to resonate with a newly diagnosed woman herself, and educate everyone else. The funds raised through the products go back to our education and support work.
The branding is beautiful and modern, and very much aligned with cool brands that millennials like. With each product that is purchased, the recipient will receive the care guidelines booklet.
I believe in empowering women to be self advocates and have a voice at the table when discussing your treatment. But it's not up to the woman being entirely in charge of getting the right care. The information is delivered through a storytelling format.
I think there's an opportunity here for people to support women they know who are going through treatment, or if you aren't involved directly but want to contribute and know that the funds are going back to the non-profit. We're like Anne Hathaway in The Intern, figuring out how to operationalize and pack these up. If the demand is there, then we can explore how to take this to the next level.
---
Learn more about Rethink Breast Cancer and MJ DeCoteau through their website, instagram, facebook, and twitter.