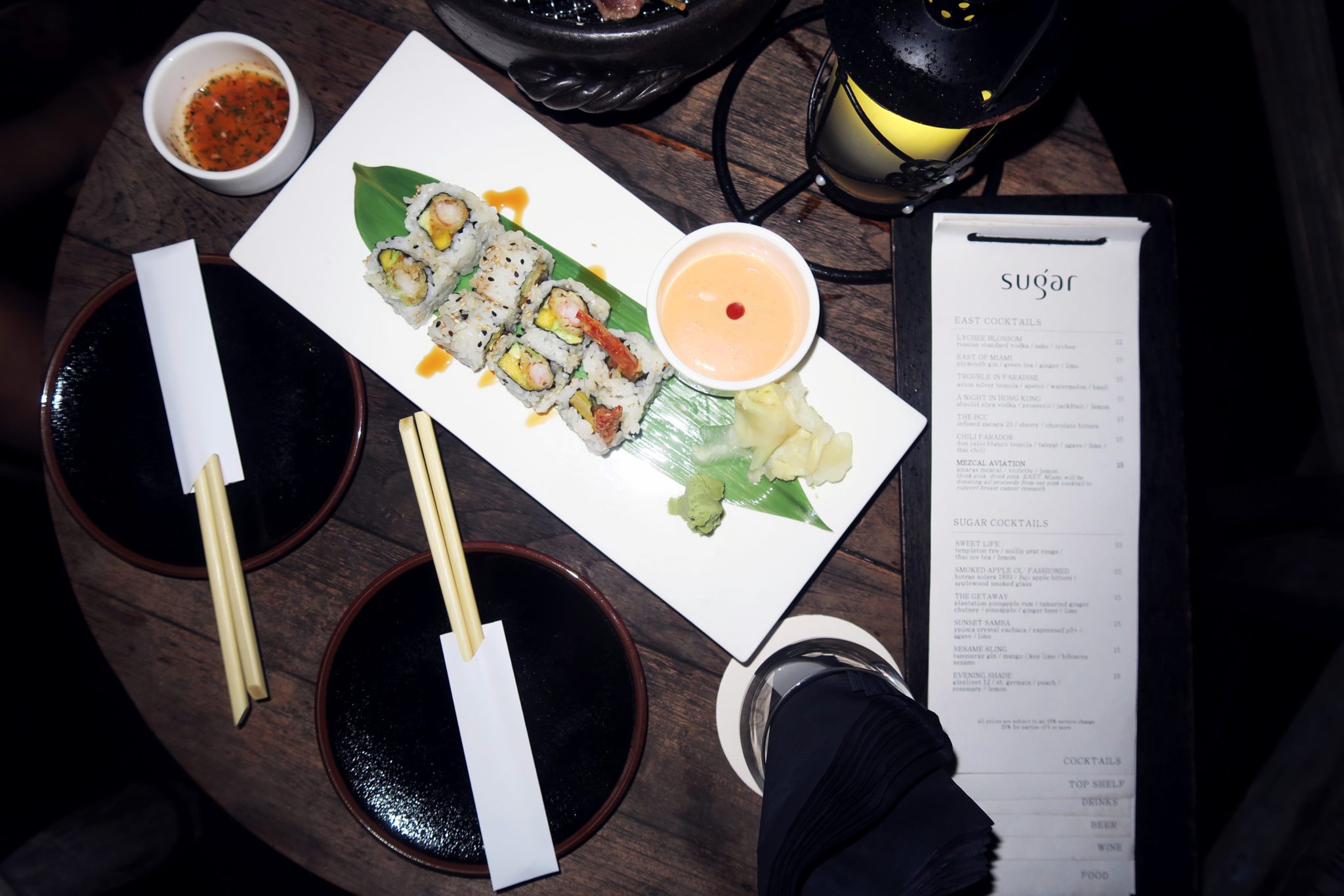 Imagine a smoldering night in Miami, people dressed to the nines and situated cozily on a muggy rooftop. The fear of a light drizzle hangs in the air, but people don't seem to pay no mind to the potential of frizzy hair and damp chairs. What matters is the view, the sparkling lights of the Brickell skyline, and great conversations over gorgeous food and drinks.
So starts the tale of our time at SUGAR restaurant, at the EAST Miami hotel. It's an unbelievable sight to drink in for our first night in Miami for Art Basel, our eyes hungrily searching the menu for our next food conquest. Here's what to order when you visit:


The Cocktails
Never have I ever had a jackfruit martini. But will it happen again? Yes. Sweet, tangy, and the perfect balance of liquor and juice. The cocktails were mixed artfully, and delivered with gusto.

Sushi
No Asian fusion meal seems to be complete without a spread of sushi. Gorgeously sliced fish with all the right fixings – we inhaled everything from sashimi to specialty rolls. Not without taking a few photos in between.

Alternate Appetizers
"Asian Tapas" = family style when it comes to eating a big meal. Try a bit of everything and make sure you bring good company. Beef and chicken satay! Prawn dumplings! Boneless chicken wings! The creativity doesn't end at all.
About the Hospitality
Our wildly attentive waiter for the evening made stellar recommendations. Frankly…we didn't have to do much work when it came to the menu, other than responding with an eager "yes" to each food item the staff proposed. While already being in high spirits from the trip, the staff at Sugar (including GM Michael) made sure we had an epic time…topped with a visit to their tea room (ask about it).