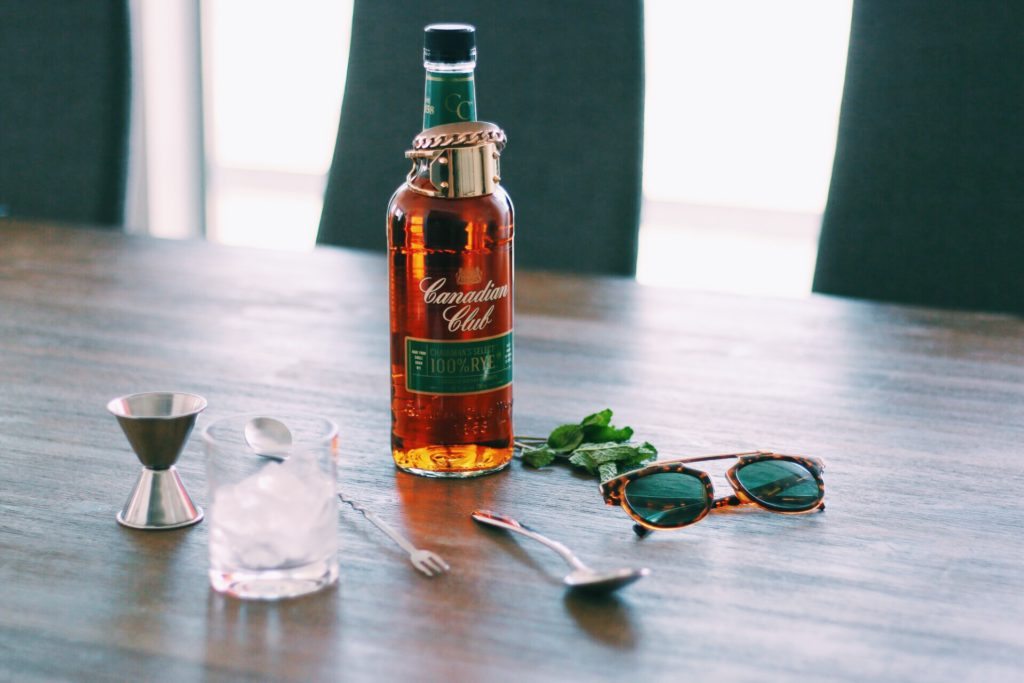 I see you over there, wanting a summer drink. Patio season calls for adventure – whether it's switching up your drinking taste palette to trying to create something on your own…summertime is bound to be exciting.
After a year long stint selling spirits (very sexy industry) in New York, I wanted to pay homage with my newfound skills of mixing and playing bartender. Thanks to friends at Canadian Club, we've put together three drink options with premium 100% rye whiskey, perfect for the day time or night. Refreshing yet smoooo-ooth.
So, I present you with "The Sappy Bastard", "Rye + Ginger (with a twist)", and "Mango Sipper". Mmm, hmm, after the jump.
The Sappy Bastard
This one's more of a shooter than a drink, and just consists of one prime ingredient – the ever charming Maple Flavor. Canadian Club's Maple is velvety smooth and sweetly spicy, complete with maple aroma and toasted oats. While it's smooth enough to sip, shooting this Sappy Bastard is always a great idea. Chill the CC Maple, pick up a few of these fun mini-red cups, and go to town.
Rye and Ginger, with a Twist
This one's for the ginger-enthusiast, who likes a little taste of the beach. Get yourself a low ball glass and a spoon for this one, 'cause here's the simple recipe:
1 oz Canadian Club 100% Rye Whisky
1/2 oz Ginger Beer
Tablespoon of Fresh Lime Juice
Lime wedge and Mint to garnish
In a lowball glass filled with ice, pour Canadian Club 100% Rye whisky, ginger beer and lime juice. Stir. Garnish with a lime wedge and sprig of mint. 
Mango Sipper
My fave – the mango sipper has all of the refreshing flavor of a summer cocktail, and the presentation with comfort. Let's compile and shake it like a Polaroid picture, shall we?
1 oz Canadian Club® 100% Rye Whisky
1/2 oz Bols® Mango
Iced tea
Shaken with Crushed Ice

Dried mango slice, garnish
In a cocktail shaker with crushed ice, add Canadian Club 100% Rye whisky, Bols Mango liqueur and iced tea. Pour into lowball glass or mason jar and garnish with a dried mango slice.
Who's really ready for summer now? You + us + chairs on a summer dock = let's go. Don't be surprised if I have a few chilled bottles of Canadian Club in tow.
Pppst – note that these guys are both available in Canada – Canadian Club 100% Rye is available in Canada, $27.45/750 ml bottle. Canadian Club Maple is also available here: $26.35/750 mL bottle.