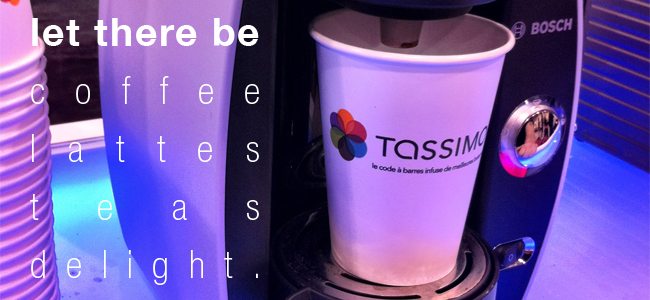 I had the magical experience of being sent a Tassimo machine from the very lovely folks at Veritas. I had a blast learning about the variety of goods that it produces (everything from teas to coffees to fanciness that consists of lattes, cappuccinos, hot chocolate and the list is endless). It's a slick machine with hints of metal, all the right curves, and it's compact.
The model that I received was the T46, which was on display at a convention show that I recently attended (and my, was I glad to see a familiar face!) It has barcode technology (not that I knew that these little devices that had kind of power packed into them) that determines the exact specs of every drink it produces – ensuring perfection. Automatic one button and auto cleaning. Not too shabby!
The main thing about it was that it was able to create so many different types of drinks, suitable for any user (with no 'taste transfer'). It's slick, beautiful, and my first real cartridge machine (so long paper filters! You're outta here).
I'm so excited for it to come with me to my new home (that I'm currently shopping for). Learn more about the Tassimo Product line (I was first acquainted a little while ago, and lusted for a good amount of time for one – THANK YOU Veritas!). The system can be purchased anywhere from Canadian Tire, Walmart, Zellers, Future Shop, Home Hardware, to the Bay and Sears. Have a look at the full listing of where to buy Tassimo Brewers in Canada.
Obligatory product monacle:
Slick silver packaging that the cartridges come in, number of cups depend on the type of drink that you'd like to entertain with. View all of the Tassimo Beverage Cartridges here. Nabob to Maxwell house – lots of familiar names.
Le fancy box with all of the styles. They really have their aesthetic down.