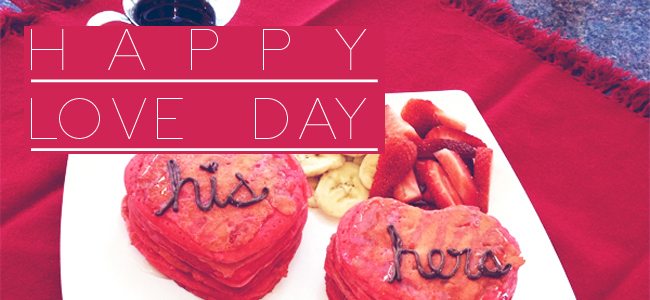 This Tuesday marks the day of love…my favourite holiday! So I thought I'd share the sexiest Valentine's Day meal ideas to prepare for your sweetheart! Each recipe features aphrodisiac ingredients…did I mention these dishes are sexy? Love will be in the air (from the kitchen to the bedroom) this V-day!
In celebration of love and romance, here's my helpful cooking guide for the sexiest, most romantic lineup of meals. They're perfectly fitting for the ultimate day (and night) of LOVE. Prepare these dishes with your sweetheart for best results – there's nothing sexier than teamwork 😉
I know the order of meals is typically breakfast, lunch, then dinner (+dessert)…but for the purpose of Valentine's Day eats, I'm going to start with dinner, followed by dessert (which should ways be its own meal in my books), and finally round off with breakfast. Valentine's Day is, after all, a celebration of love and romance so the fun really starts in the evening and (if you're lucky) ends in the morning!
Enjoy the recipes and then some 😉 (Full recipes are listed at the bottom of this post!)
DINNER
Match Made in Heaven Asparagus & Garlic Pasta
This sensual dish will have you and your partner craving more! The star aphrodisiac ingredients are upfront and centre…Asparagus and Garlic. Aside from its shape (not much imagination needed here), asparagus is filled with nutrients needed for healthy hormone production. So you can count on this veg to get you in the mood! Worried about "garlic breath"? Don't fret, the 'heat' in garlic is said to stir sexual desires. Share it with your partner and the smell will be the furthest thing from your mind!
DESSERT
Bananas About You Chocolate-Dipped Frozen Bananas
When I think of Valentine's Day dessert, I think of feeding each other something covered in chocolate! But, instead of the typical (bo-ring) chocolate-covered strawberries, here's a fun alternative with three main ingredients that are ALL aphrodisiacs! Bananas are rich in potassium and B vitamins, necessities for sex hormone production, while the almond has been a symbol of fertility throughout the ages. The aroma is thought to induce passion in women. And last, but never least, chocolate. Need I say more? It gets everyone excited just at the thought of it!
BREAKFAST
Pretty in Pink Pancakes
Here's a perfect start to V-Day with your sweetheart or keep the love going with a "morning after" meal! Plus, these pancakes are heart-shaped and pink for the special occasion The star aphrodisiac ingredients here are bananas and honey. I know I already have a banana recipe on the menu, but I couldn't pass up sharing my favourite pancake recipe (modified from a recipe by a very sexy chef, Jamie Oliver). So here's an added fun fact about bananas: an Islamic myth tells that Adam and Eve actually succumbed to a banana in the Garden of Eden instead of an apple. So the sexiness of bananas goes way back! Medieval seducers tempted their partners with Mead, a drink made from honey, and lovers on their "Honeymoon" drank mead to "sweeten" the marriage. I don't think the name is a coincidence!
---
Recipes: 
Match Made in Heaven Asparagus & Garlic Pasta 
Ingredients:
1 bunch of asparagus
150 grams of short pasta (penne, fusilli, rotini, rigatoni, bow ties etc.)
2 cloves of garlic (diced)
3 tbsp. olive oil (more as needed)
2 tbsp. bacon bits or 4 strips of bacon, diced
1 tbsp. salt
Parmesan cheese – grated (to taste)
Parsley (to taste) finely chopped
Supplies:
Medium-large pot
Strainer
Extra bowl/pot
Hand blender (or equivalent)
Directions:
Fill medium-sized pot with water, bring to boil
Rinse asparagus, cut off tough ends (about 1 inch off the bottom of each stem)
Once water is boiling, add asparagus (can cut in half if they don't fit)
Let asparagus cook for about 5 minutes or when they become tender
Once cooked, remove from heat and strain the asparagus BUT save the water they were boiling in (strain into new pot) *Will be using this water for the pasta!
While the asparagus is cooling down, return the pot of asparagus water to the stove, add salt and bring to boil (again!) –talk about infusing the pasta with asparagus 😉
When water is boiling, add pasta
While pasta is cooking, fill a medium saucepan with the oil, diced garlic, bacon bits (or diced bacon) and place over low-medium heat (do not burn the garlic)
Dice the cooked asparagus and fry with the oil, garlic and bacon for about 3 minutes on medium heat, stirring regularly
Lower heat, separate half of the fried asparagus mixture into a small-medium bowl, blend (with hand-held blender)
Once pasta is cooked (taste to test), strain pasta, but again, save some of the water!
Add pasta to the saucepan with the full asparagus bits, and stiff in blended asparagus mixture until it coats the pasta (add asparagus water if too dry, one spoon at a time)
Stir in parsley, parmesan cheese and salt to taste
Bananas About You Chocolate-Dipped Frozen Bananas
Ingredients:
2 cups milk chocolate chips or cooking chocolate
1/3 cup vegetable shortening
2 bananas, peeled and frozen – Peel bananas and wrap in plastic wrap, place in freezer for 6-12 hours
1 cup sliced/shaved almonds
*DO NOT remove bananas from freezer until just before dipping, it's important that they remain fully frozen before dipping in chocolate
Supplies:
Medium-large pot
Small stainless steel or glass bowl
Tongs
Wax/parchment paper
Directions:
Fill pot with water (1/4 full), bring to boil
Place cooking bowl over boiling water (make sure the water isn't touching the bowl, pour out some water if needed) and fill with chocolate chips, lower heat, stir every minute or so until all chocolate is melted
Add vegetable shortening to thin out the chocolate, stir until silky smooth
Fill a small plate with almond slices (flatten)
Remove bananas from freezer and slice each banana into 6-8 bite-sized pieces
One piece at a time: With a small set of tongs, quickly dip bananas bite into melted chocolate and immediately roll in almond plate until the whole bite is covered in almond slices, place on wax paper to set
Serve immediately!
Pretty in Pink Pancakes
Ingredients:
1 1/4 Cup self-rising flour
1 cup milk
1 egg
1 banana (diced)
Pinch of salt
1 tbsp. red food colouring
2 tsp. honey
½ tbsp. butter
Supplies:
Griddle or large pan
Medium-large heart-shaped cookie cutter
Small tongs
Directions:
Whisk flour, milk, salt, egg together until smooth
Stir in diced bananas
Add food colouring, stir until consistent, deep pink colour (add more food colouring if necessary, the colour will fade a bit once cooked).
Add butter to griddle or large pan on medium heat
When the butter begins to bubble, place heart-shaped mold on pan and fil with enough batter to just coat the surface area inside the mold (don't over-fill and don't remove the mold yet)
When the edges of the pancake begins to darken and dry, remove the heart mold with tongs (if it does not freely come off, cut around the edges with a knife or wait a bit longer)
Flip until both sides are evenly cooked and rest on serving dish
Drizzle with honey
Garnish/top with fresh fruit, yogurt, chocolate or other desired flavours